PASCAL's KEVIN COYNE HOME PAGE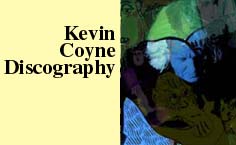 DECEMBER 2, 2004
Extract from Beautiful Extremes, a book by Clive Product:
- Is there anything in life you regret doing?
- Oh, far too many to mention here. (Thinks). Upsetting people...
- Can I ask, are you frightened of dying?
- No, I'm not really. I rather look forward to it, to be honest. (Laughs). No, I do! Sometimes I really like the idea. l'm really looking forward to what's on the other side, most of the time. Sometimes I think there's nothing there.
- Do you believe in reincarnation?
- Well, I don't know, really. When you look around you it's hard not to. I really don't know. Strange, mystical, odd things happen in one's life, and they happen when you least expect them. But I think it's good to build up a good basis of spirituality and live life with strength. I don't think any other way works.
- Finally, when you get to heaven, what will you talk with God about?
- Oh, I talk with him anyway. Absolutely! I'm not talking to myself when I say a prayer. (Laughs). I have conversations with God often. And l'm sure he listens 'cause things happen. Things come right.
(from a 1997 interview)
---
So sorry to have to give these news, I just spoke to Helmi: Kevin died this morning. He had been unwell yesterday but had rallied but this morning he died peacefully with her. Sorry, not much more I can say right now
Pascal (
Kevin Coyne Group
)
---
The divine service - last party - takes place on Monday, 13th December 2004, at 12.30 h, Friedenskirche, Am Palmplatz, Nürnberg, Germany.
The funeral takes place on Monday, 13th December 2004, at 14.00 h, St. Johannis Friedhof, Nürnberg, Germany.
---
Singer-Songwriter Kevin Coyne Dies
Thu Dec 2, 8:00 AM ET Mike Lipton [Kevin's guitar player in the US)
British singer-songwriter, painter, writer, and rock 'n' roller extraordinaire Kevin Coyne passed away today (December 2) at his home in Nuremberg, Germany, at the age of 60. While Coyne remained a cult figure in the U.S., throughout Europe he was a revered, legendary and--with more than 40 releases--wildly prolific artist. Coyne's music was rooted in the blues, but he used it as a jumping-off point to venture into nearly every genre imaginable, from sentimental love songs and full-on rockers to catchy pop songs and twisted ballads. His lyrics--always improvised on the spot--were full of vivid and wild imagery, and his voice was one of the most powerful and distinctive in all of rock. Coyne was "discovered" by the late John Peel and, in 1971, when Doors frontman Jim Morrison died, Coyne was asked to fill his shoes. Although Coyne was diagnosed with lung fibrosis two years ago, he continued to tour, record, paint. and write. His most recent record, Donut City, his best in years, was the first release on his own Turpentine Records.
Launch http://story.news.yahoo.com/news?tmpl=story&u=/launch/20041202/en_launch/220410
---
I've been asked to tell more about Kevin's passing. There's not much to say: Kevin did not feel very well on Wenesday and he had a day of promotion for the forthcoming big show in Nuremberg so he was kind of tired. In the night, he woke up feeling bad, Helmi helped him back to his bed and he died there, peacefully, in her arms. In a way, this is probably the best way for him to go, not in a hospital or alone on the road. And with Helmi. This is probably how he wished to go. Pascal (Kevin Coyne Group)
---
Press release: Kevin Coyne. Singer, composer, writer and painter. Born Derby, UK, January 27th, 1944 Died Nuremberg, Germany, December 2nd, 2004
Singer Kevin Coyne never forgot his early years spent working as a social worker and a psychiatric nurse. His 40 LPs - beginning in 1969 - always favoured emotion and sincerity over success. One of the first artists signed by Virgin Records, Coyne never found the popular success he deserved although his albums as well as his shows assured him of a faithful international following. With his strong lyrics, his powerful voice, his ability to improvise - both live and in the studio - Coyne will stand as an artist who never compromised his art.
Stand out LPs include Case History (1972), Marjory Razorblade (1973), Millionaires and Teddy Bears (1978), Babble (1979) and his most recent album, Donut City (2004).
Following a nervous breakdown and increasing difficulties with drink Coyne left the UK in 1985. Settled in Nuremberg and having given up alcohol, he never stopped recording and touring, as well as writing books and exhibiting his paintings.
Diagnosed with lung fibrosis in 2002, Coyne died peacefully at his home. He is survived by his wife Helmi and his sons Eugene, Robert and Nico. http://www.kevincoyne.de http://www.kevincoynepage.tk
---
Kevin Coyne, multi-talented artist, musician, writer and painter, died this morning at the age of 60 years. He has passed away calmly and peacefully at his home in Nürnberg/Germany, in the arms of his wife Helmi Coyne. Our thoughts and hearts are with his soul and with his family". Ruf News
---
OBITUARY A songwriter of perception
IVAN BEAVIS remembers singer-songwriter and Morning Star supporter Kevin Coyne, who died last week aged 60. Singer-songwriter Kevin Coyne has died aged 60 from lung fibrosis. He had just finished a triumphant tour of Britain and was about to embark on a prestigious round of dates in Europe when he finally succumbed to the disease that had necessitated him using an oxygen cylinder on stage. In a career spanning some 40 albums, Coyne had attracted a loyal fan base throughout the world that included John Peel - for whose Dandelion label he recorded two albums - and musical heavyweights such as Sting and John Lydon. He was even offered the honour of replacing Jim Morrison when he topped himself but refused on the grounds that he didn't think that the Doors were much good. Coyne eschewed commercialism, preferring instead to produce perceptive but disturbing songs about the dispossessed and less fortunate. His music arose from his experiences as a social worker working with the mentally ill or those ravaged by alcoholism and addiction. He championed those who many prefer to forget through songs like Marjory Razorblade, House on the Hill and Weirdo. He made 10 acclaimed albums for Virgin Records during the 1970s and '80s and label boss Richard Pullover tried to make him a star with heavy promotion of Millionaires and Teddy Bears, but, inevitably, it was bound to fail, since his next excursion was a collaboration with Slapp Happy's Dagmar Krause called Babble, which explored the relationship between the Moors murderers. Not the greatest career move, but an outstanding album. His personal life in ruins and having gone through a mental breakdown, Coyne relocated to Germany at the beginning of the 1980s, gave up the booze and fags and enjoyed a renaissance both personally with new wife Helmi and in all areas of his professional life with a series of outstanding albums featuring his sons Robert and Eugene and a fine array of supporting musicians such as Jon Langford of the Mekons. He was also able to attain proper recognition as a painter, cartoonist, short story writer and raconteur throughout Europe and the US. He was feted in his adopted home of Nuremburg where his teddy bears adorned the local children's museum and where he was about to play at a joint collaboration of his words and music before he died. Coyne was a staunch supporter of the Morning Star and often gave us a few bob for the Fighting Fund as I drove him the wrong way to gigs. He had even agreed in principle to do something for our 75th anniversary, provided that I could satisfy him that I was able to organise the proverbial in a brewery and pay him as well. However, mortality intervened yet again to disrupt the forward march of socialism. We will get there, Kevin. Thanks for a lifetime of joy and sheer class. Morning Star
---
Kevin Coyne Idiosyncratic singer-songwriter
04 December 2004. Kevin Coyne, singer, songwriter, guitarist, painter, poet and writer: born Derby 27 January 1944; twice married (two sons); died Nuremberg, Germany 2 December 2004.
Best known to mainstream rock fans as the man who turned down the job of replacing the late Jim Morrison as frontman of the Doors because he didn't fancy wearing the leather trousers, Kevin Coyne was a formidable talent in his own right.
A prolific singer-songwriter, he recorded more than 35 albums and was also a painter, poet, dramatist and novelist.
Coyne's work as a psychiatric nurse, as a therapist and as a social worker informed his stream-of-consciousness "songs of hate and pain" and set them apart from the mundanities and clichŽs rock music often falls into.
His haunting singing style (somewhere between Roger Chapman of Family and Joe Cocker), his blues-infused open-tuned guitar playing and his intense live performances earned him a dedicated following in France, Belgium and Germany, where he settled in the mid-Eighties. "It's practically a badge of honour with me never to play a song the same way twice," he said in 2002.
Coyne was born in Derby in 1944. When he discovered Bill Haley's "Rock Around the Clock" in a pile of 78s, his outlook on life changed. For him, early rock'n'roll created "a whole new dimension of expression and feeling that had always been there but had been smothered".
In the Sixties, he attended the local art college and played in a succession of groups around Derby before moving to Lancashire to work as a therapist in a mental hospital, teaching art and music to the patients. "What I learnt about making art is that when people are in the turmoil of breakdown, they become more direct," he said. Their masks fall away, they paint from heart to hand. I incorporated those concepts into my music. The first thing that comes into your head is often your best shot."
After moving to London in 1968, Coyne worked as a drug counsellor and a social worker but still found time to play music with the guitarist Dave Clague.
Calling themselves Coyne-Clague, the duo sent a tape to the BBC DJ John Peel but, in typical Sixties fashion, forgot to include a return address. Peel was so impressed by the demo that he took to pasting "wanted" notices on lamp-posts around London.
When the duo eventually contacted him, Peel signed Coyne-Clague to his Dandelion record label. They recorded two singles for Dandelion and evolved into the five-piece group Siren, issuing two critically acclaimed but poor-selling albums - Siren in 1969 and Strange Locomotion in 1971 - on the label.
Following the death of Jim Morrison in Paris in July 1971, the three surviving members of the Doors and the Elektra Records president Jac Holzman cast their net far and wide, considering obvious replacements like the Stooges frontman Iggy Pop, but also looking to the UK and canvassing Kevin Coyne, who turned the offer down.
Instead, he went solo, releasing his début, Case History, on Dandelion in 1972 before becoming the second artist signed to Richard Branson's Virgin Records in 1973. Released a few weeks after Mike Oldfield's Tubular Bells, Coyne's first album for Virgin, the double set Marjory Razorblade, again drew excellent notices but was rather overshadowed by Oldfield's groundbreaking effort. "I was disappointed by the reception Marjory Razorblade got. I felt I was tapping into something exceptional," Coyne said. I'd managed to transfer Englishness into blues form, those crackly old records coming through the ether that touched something inside me . . . But it didn't reach people properly, it was misunderstood."
In later years, Coyne complained that he "never received any royalty statements" from Virgin Records, but Branson's label released a further seven of his albums and gave him enough financial backing to tour the UK and the rest of Europe repeatedly throughout the Seventies.
The advent of punk put Coyne's fractured music in a different context and, after collaborating with Dagmar Krause on Babble, in 1980 he recorded Sanity Stomp with the Ruts before signing to the independent label Cherry Red.
However, Coyne's lifestyle and radical approach to songwriting was taking its toll on him. He had been battling with alcoholism and depression himself for years. "I didn't know I was mad," he said later. I literally woke up one morning, and realised I had been in a dark tunnel for months. Once you start to really believe in the entirety of the creative fancies with which you work, they become dangerous. You're tapping into all kinds of psychic possibilities, all kinds of strangeness when you write.
In 1985, he left England for a short tour of Germany and simply stayed there. "I remember the first two years there, I was in post-breakdown shock. I was thinking in a spaced-out way," he recalled. "And I'd lost touch with the things I love: music, football. I didn't play records for years." But with the help of his second wife, Helma, Coyne came out of his shell. He began recording again. "I wanted to make consciously happy music, in reaction to the darkness I'd been through," he said.
The new millennium saw Kevin Coyne working with his son Robert on the albums Room Full of Fools (2000) and Carnival (2002) and seemingly making peace with his troubled past.
He became a prolific painter, exhibiting all over Germany, published two collections of short stories, The Party Dress (1990) and Show Business (1993), and wrote an opera about Syd Barrett, as well as collaborating with the British singer and guitarist Brendan Croker on the bluesy album Life is Almost Wonderful in 2002. In Britain, Coyne remained something of an acquired taste.
Andy Kershaw once referred to him as "a punk before the movement existed; our great unsung national treasure."
Pierre Perrone
The Independant On Line edition
---
Rock star who gave up chance to join The Doors BY KAREN HOLT 09:30 - 07 December 2004
Amusician from Derby who turned down the offer of replacing Jim Morrison as front man of The Doors has died at his home in Germany. Kevin Coyne (60), a songwriter and guitarist as well as a talented painter, poet and writer, died on Thursday in the arms of his wife, Helmi.
For the last two years Mr Coyne had suffered from fibrosis of the lungs, a condition which restricted his breathing and movement. Despite his illness, Mr Coyne still performed passionately with an oxygen pipe in his nose and reviews stated he was as good as ever.
During his career Mr Coyne recorded around 35 albums and was Richard Branson's second signing to the Virgin record label in 1973. His album Marjory Razorblade was released weeks after Mike Oldfield's Tubular Bells. Over the next eight years Mr Coyne went on to make 11 albums. He recorded with the likes of Andy Summers, who became a guitarist with The Police, as well as Carla Bley and Zoot Money, before signing to the Cherry Red label.
Previously, he was championed by the late BBC DJ John Peel after he sent in a recording of himself with guitarist Dave Clague. Coyne-Clague, as the duo were called, forgot to include a return address and Mr Peel put up posters on lampposts in London in a bid to find them.
Hundreds of fans have posted messages of condolence on Mr Coyne's website in the last few days.
Mrs Coyne said: "I have had 18 wonderful years with him. Kevin was the greatest."
Originally from Kitchener Avenue, in Normanton, Mr Coyne went to the Joseph Wright School of Art, in Gower Street, between 1957 and 1961, before going to Derby College of Art, in Green Lane, between 1961 and 1965, where he studied graphics and painting. He left Derby in 1965 for his first job as a social therapist at Whittingham Hospital, in Lancashire. In 1968 he moved to London to work as a counsellor for drug addicts, before signing to John Peel's Dandelion label. When Jim Morrison died in 1971, Mr Coyne turned down the offer of replacing him, apparently because he did not fancy wearing tight trousers. He moved to Germany in 1985 but remained a loyal Derby County fan.
His sister, Angela Holt (65), of Mackworth, said her brother loved music and drawing from an early age. She said: "He was very determined and very strong. He had lots of fans in Derby and every gig he did there were always full." He last performed at The Flowerpot, in King Street, Derby, two years ago with his son Robert. He also had two other children, Eugene and Nico. Mrs Holt added: "Kevin was larger than life and he was a very loving brother. He will be greatly missed by his family, his friends and his many fans."
Mr Coyne's funeral will be held on Monday in Nuremberg, Germany.
This is Derbyshire, the website of the Evening Telegraph
---
Kevin Coyne Singer-songwriter respected by his contemporaries but lacking their chart success
Alan Clayson Monday December 6, 2004 The Guardian
In 1973, the singer-songwriter Kevin Coyne, who has died of lung fibrosis aged 60, released his second album, Marjory Razor Blade. It was well received by critics, although his wantonly mannered and guttural delivery, exploration of unorthodox song structure and often improvised lyrics concerning unsavoury topics were not conducive to chart success. His dour and self-effacing manner did not help in interviews, either. Indeed, Virgin's press office referred to him as an "anti-star".
Nevertheless, largely through Radio One presenter John Peel's championing, Coyne built a cult following. What he was proving was the artistic merit of sweating over something new while more celebrated contemporaries turned out increasingly ordinary albums. He toured New Zealand and North America, and released a further seven Virgin albums - while their spin-off singles were worthwhile marketing exercises.
If he meant nothing in the Top 40, Coyne was appreciated as a songwriter's songwriter, and collaborated with musicians such as Zoot Money, Andy Summers, Carla Bley, Robert Wyatt and, for 1979's Babble, Dagmar Krause, the mainstay of Slapp Happy and Henry Cow.
He earned, too, the admiration of Johnny Rotten and Sting. Coyne was infinitely less precious and artistically self-centred than other artists of that era, such as Nick Drake, Melanie Safka and James Taylor, whose primarily acoustic albums appealed more to self-doubting adolescent diarists than fans of heavy metal, jazz-rock and similar genres that dominated early 1970s rock.
Born in Derby, Coyne was educated at Joseph Wright school of art from 1957 to 1961 and then studied graphics and painting at Derby school of art from 1961 to 1965. He was also performing, mostly in folk clubs, where he sometimes provoked the extreme audience reaction that became more pronounced after he turned professional.
From 1965 to 1968, Coyne worked as a social therapist at Whittingham hospital, Preston. He then worked for London's Soho Project as a drugs counsellor. These experiences - and a fondness for the grippingly personal styles of black rural bluesmen - informed his early attempts at composition as a vocalist with Siren, a blues-rock quartet, contracted to Peel's Dandelion record company.
Aided by plugs from Peel, two singles and two albums sold steadily if unremarkably before Siren disbanded in 1972. By then married and a father, Coyne quit his day job and struck out on his own with a solo album, Case History, and a European tour with other Dandelion artists. He also ventured into musical theatre via a revue at London's Institute of Contemporary Arts. Then came the contract with Virgin.
Coyne was to become particularly popular in Germany, location of the in-concert Live Rough And More album - and, in the early 1980s, he formed a German backing outfit, The Paradise Band. This was more convenient for commuting to an ever-increasing workload, the strain of which, combined with a messy divorce and worsening alcoholism, had caused a nervous breakdown.
He took up permanent residency in Nuremberg, and managed to balance a resumption of his recording and touring schedule with making headway as a painter, exhibiting principally in the Netherlands and Germany.
Many buyers of his work were unfamiliar with his rock past. He also wrote Show Business (1993) and several other books of poems and short stories - some in German, most recently Ich, Elvis Und Die Anderen (2000). While he continued to be received with affection elsewhere, Coyne concentrated on Germany, where he balanced a consistency of presentation with experiment and keeping consumers guessing what he would be trying next. There was also a rumour that Coyne had been approached to replace the late Jim Morrison as lead singer with the Doors. "I didn't," he said, "show much enthusiasm." Morrison was to be, however, a central figure in a Coyne play based on posthumous squabbles between dead pop icons.
His 1995 album, The Adventures Of Frank Randle, was based on a stage musical about an English comedian - with Coyne in the title role. It also starred his second wife, singer Julia Kempken. His sons from his first marriage, guitarist Robert and drummer Eugene, were recruited into the touring ensemble, and were heard on latter day albums, which included Knocking On Your Brain (1997), with guest guitarist Gary Lucas, once of Captain Beefheart's Magic Band; Room Full Of Fools (2000), with Brendan Croker; and Carnival, featuring the track Rolling And Tumbling, a nod to the blues that had captured Coyne's adolescent imagination. He is survived by Julia [!], and Robert and Eugene.
Kevin Coyne, singer, composer, writer and painter, born January 27 1944; died December 2 2004

[so many errors in an obituary is just incredible...]
---
Brendan Croker writes [to The Guardan]: The CD that Kevin Coyne (obituary, December 6) and I worked on together was not Room Full Of Fools, but Life Is Almost Wonderful (2002).
He lived in Germany, and I in Leeds, but unusually for these days of media files and broadband, we conducted the long-distance collaboration through tapes, letters and drawings, and benefited from the time gained for reflection.
As for the story about him being invited to sing with the Doors after the death of Jim Morrison in 1971, Kevin confirmed that the offer had been made. His answer? "I think they're crap!", at which point he was shown the door sharpish. Subsequently he would make me laugh by asking, "Brendan - do you think I made a bad career move?", to which I would reply, "No, Kevin - you done it right mate ..."
---
Mojo, Jan 2005: obituary by John Langford (The Mekons), later used as liner notes for the One Day in Chicago CD, and a letter
---
Word obituary
---
---
TIMES ON LINE. December 07, 2004 Kevin Coyne Singer-songwriter whose experience as a therapist influenced his music and who was dedicated to remaining an outsider
THE 1960s produced many great singer-songwriters but few as idiosyncratic and singular as Kevin Coyne. A qualified social worker and therapist, his experience working with young drug addicts and the mentally ill provided the source material for many of his uniquely striking songs, in which he gave voice to society's outcasts and misfits. He found an unswerving early champion in John Peel, who signed him to his own label, and he maintained a prolific output of almost an album a year in a career lasting more than three decades.
Throughout his career he jealously guarded his reputation as one of rock music's permanent outsiders and once said that his greatest fear was "to walk into a room full of hit records." His distaste for the commercial dictates of the music industry famously led him to throw away a front row ticket to fame and fortune when he declined an invitation to replace the late Jim Morrison in The Doors.
In later years he settled in Germany and continued making records for his devoted cult following, while also developing a reputation as a painter and author.
Born in Derby in 1944, he was educated at Joseph Wright School of Art and then Derby College of Art, where he studied graphics and painting. His earliest musical heroes were Little Richard, Fats Domino and Chuck Berry, but at art college he discovered the blues, developing a lifelong passion for Muddy Waters, John Lee Hooker, Elmore James and Jimmy Reed among others.
In 1965 he became a social therapist working with mental patients at Whittingham Hospital, Lancashire, before he moved to London in 1968 and joined a Soho-based project counselling drug addicts. With Dave Clague he also formed the group Siren. They were immediately adopted by John Peel, who invited them to record several sessions for his BBC Radio One show. When the disc jockey launched his own label, Dandelion Records, in 1970, Siren were one of the first signings and recorded two blues-influenced albums, Siren and Strange Locomotion (1972).
The former included an astonishing song called Asylum, essentially a monologue about a man losing his sanity, delivered by Coyne against a stark acoustic guitar and pointing the way to his later work. But like most acts on Peel's label, Siren sold records in minuscule quantities and broke up in 1972.
Peel kept faith with Coyne's distinctive guttural voice and increasingly raw songs, and in that same year Dandelion released Coyne's debut solo album Case History, which took up where Asylum had left off, drawing heavily on his former work with mental patients.
When Dandelion's mounting debts forced the label to close its doors, Coyne became one of the first signings to Richard Branson's Virgin imprint. By then he had rejected an invitation to join The Doors, who were in need of a new vocalist after the death of Jim Morrison. Joking that he didn't fancy wearing the leather trousers, he opted instead to continue on his own unconventional solo course, a decision that appeared to be justified by Marjory Razorblade (1973), a critically-lauded collection of 20 songs-as- character-studies, ranging from the harrowing Old Soldier to the acid satire of Eastbourne Ladies.
Coyne stayed with Virgin for a further ten albums. After Blame It On The Night (1974) he recruited a heavyweight band including future Police guitarist Andy Summers and keyboard player Zoot Money to play on Matching Head and Feet (1975) and the following year's Heartburn.
His live performances were unpredictable but frequently thrilling and often featured lyrical improvisations. Several were recorded for Peel's radio programme and a selection of them was later collected on the 1990 release The Peel Sessions.
By the time punk arrived to shake up the music scene in 1976, Coyne was already into his thirties. But his uncompromising pursuit of honesty over finesse fitted the punk ethos and he was hailed by Johnny Rotten as an influence. He reciprocated with the 1978 album Dynamite Daze, the title track of which was a paean to the energy of groups such as the Sex Pistols.
After another strong set in Millionaires and Teddy Bears (1979) he recorded the controversial song-cycle Babble, with the German singer Dagmar Krause. The songs told the story of the Moors murderers, Myra Hindley and Ian Brady, and protesters picketed the theatre when the work was turned into a stage production.
Two more albums followed in 1980, the difficult Bursting Bubbles, on which Coyne howled like a man possessed, and Sanity Stump, which included contributions from another great English eccentric, Robert Wyatt. But the new decade brought a commercial imperative to the record industry and when the accountants took a look at his sales chart, Virgin dropped him.
The raging voice heard on Bursting Bubbles turned out to be an uncomfortably accurate reflection of his own mental state and, by now a serious alcoholic, in 1981 he suffered a breakdown. He recovered and signed to Cherry Red Records, for which he made three troubled albums, Pointing The Finger (1981), Politicz (1982) and Beautiful Extremes Etc (1983).
After a painful divorce he emigrated to Nuremberg, Germany, in 1985, hoping that a change of environment would help him to sort out his problems. The plan worked and by 1987 he had given up drinking and relaunched his career with a new ensemble, The Paradise Band.
He remained in Nuremberg for the rest of his life and recorded a further 11 albums, many of them limited-edition releases available only in Germany. They included Tough and Sweet (1993), which featured his sons Robert and Eugene; The Adventures of Crazy Frank (1995), which was also performed as a stage musical about the life of English comic Frank Randle, with Coyne playing the title role; Room Full of Fools, recorded in America with his son Robert sharing the songwriting credits; and Life Is Almost Wonderful ( 2002) with the guitarist Brendan Croker.
His most recent album was Donut City, released on his own Turpentine Records this year. He exhibited his paintings at galleries in Berlin, Amsterdam and Zurich and wrote a number of books, including The Party Dress, a collection of short stories and poems; Show Business, about the music industry; and The Secret Lives of Teddy Bears, a German children's book. Lung fibrosis was diagnosed in 2002 but he continued working. His last visit to Britain was to attend John Peel's funeral in November. He is survived by his two sons. Kevin Coyne, singer-songwriter, was born on January 27, 1944. He died on December 2, aged 60.
---
The Herald. Kevin Coyne NEIL COOPER
December 09 2004 Kevin Coyne; born January 1944, died December2, 2004.
When Kevin Coyne was offered the job as lead singer with The Doors in 1971, just days after Jim Morrison was found dead, he was being handed on a plate what was arguably the greatest job in rock. With typical northern grumpiness, Derby-born singer/songwriter Coyne, turned down the offer. The rumour was that he didn't fancy having to wear the leather trousers Morrison was so fond of sporting. Ironically, more than 30 years later, another northerner, Sisters Of Mercy frontman Ian Astbury, was more than happy to squeeze himself into attention-seeking attire to embark on a greatest-hits stadium tour with a now grey-haired band as full of themselves as they ever were. If Coyne had taken the Doors gig, who knows how things would've turned out.
As it is, he took a more wayward, peripatetic path, becoming a marginal, if cherished figure on the music scene, admired by such disparate figures as Sting and John Lydon. His death last week after a prolonged battle with fibrosis of the lungs, marks the loss of yet another great musical character. Some might even say he was a genius, albeit of a wonderfully wayward kind that the mainstream will never understand. Coming so soon after the loss of John Peel, the DJ and a long time champion of Coyne, music looks more homogenised than ever.
Over 40-odd albums, Coyne embraced everything from gravel-voiced Brit Blues to left-field stage revue torch songs and even early-1980s, primitive, synth-led soothsaying. Consistency and commercial imperatives were never Coyne's thing. His preference for spontaneity and emotional candour left an embarrassment of riches unmatched by more highly regarded figures.
His work as a painter and writer of fiction, too, is marked by an eccentricity that is both hilarious and unsettling. Born in Derby in 1944, Coyne attended Joseph Wright School of Art as a junior, then Derby College of Art, where he studied graphics and painting, graduating with a national diploma in 1965.
During the late-1950s, he played in a rock'n'roll band called The Vulcans, but, by the time he had left college, the Blues boom was in full swing. Coyne moved from being influenced by Little Richard, Fats Domino and Chuck Berry to Muddy Waters, John Lee Hooker and Jimmy Reed. Rather than pursue a serious musical path, Coyne's first job was as a social therapist at Whittingham Hospital in Lancashire. After three years, he moved to London to work as a drugs counsellor with the Soho Project. Coyne had already been writing and recording with the former Bonzo Dog Doo Dah Band guitarist, Dave Clague, by this time, with much of the material stemming from observations and experiences in Whittingham and Soho. Together, the pair formed Siren.
They went on to release five albums on Peel's Dandelion label, which also released material by Bolan. In terms of subject matter, one Siren song, Asylum, a first-person monologue set in an institution not unlike Whittingham, paved the shape of Coyne to come. It may, too, have influenced Elektra Records, who initiated the approach to Coyne about The Doors. "One of my greatest fears is to walk into a room full of hit singles," he said of his resistance to the trappings of big-time success. Instead, he signed to Dandelion as a solo artist, debuting with Case History, the crazed narratives of which ploughed a similar lyrical furrough to Asylum.
The following year, Coyne was approached by a youthful Richard Branson, who signed him as the second artist to his nascent Virgin Records. The first was Mike Oldfield, setting the tone on a label that, for a few years at least, would embrace all manner of post-hippy oddities from London's underground scene. Coyne's first Virgin release, Marjory Razorblade, was a double album many regard as his finest work, even though its American release was truncated to two sides on account of the record company's observation that Coyne sounded "too English".
Over the next decade, Coyne released 11 albums and worked with the likes of future Police musician Andy Summers, Zoot Money, jazz pianist Carla Bley, and, on 1980's Babble - a controversial musical based on The Moors Murderers - ex-Slapp Happy and Henry Cow vocalist Dagmar Krause.
The follow up, Bursting Bubbles, was equally bleak in tone. Another double set, Sanity Stomp, which featured collaborations with Robert Wyatt and The Ruts, marked the end of Coyne's tenure with an increasingly corporate-looking Virgin. By this time, Coyne was in the midst of a divorce and he had become over-dependent on alcohol. Combined with an overload of work, a complete nervous breakdown was inevitable.
Artistically, Coyne moved back to the underground, and signed to cult post-punk independent label, Cherry Red. As well as releasing two albums, he appeared on the seminal compilation, Pillow & Prayers, a full-length compendium of the label's roster. Featuring Quentin Crisp and Everything But The Girl, it retailed at 99p and was one of the biggest indie sellers of the year. Through this, Coyne shared bills with other Cherry Red acts, playing to younger, punkier audiences who'd come to see the likes of The Nightingales.
In 1985, he dropped out of view almost entirely when he moved to Nuremberg, Germany. Here he found a second wind, embarking on a fresh recording career, quitting drinking and becoming an equally prolific painter and author. His book of short stories, Show Business, features black, absurd tales culled from the dark corners of rock, including one that finds a bunch of real-life crash-and-burn rock star icons getting together in the afterlife. In between books and exhibitions, a revitalised Coyne released several albums, including The Adventures Of Crazy Frank, which evolved into an improvised stage show about the life of the English comedian, Frank Randle. Coyne played the title role.
Coyne's musical collaborators included his two sons, Robert and Eugene. He also worked with former Captain Beefheart guitarist Gary Lucas and on a recording of duets, the tellingly named Life Is Almost Wonderful, with British country folkster Brendan Croker. An album recorded with The Mekons' Jon Langford in 2002 was being mixed just hours before his death. Coyne's most recent British tour, which included a session for Andy Kershaw's Radio 3 programme, took place last month, and required Coyne to use an oxygen mask onstage. No matter what such hardships brought, it didn't prevent his distinctively gruff tones belting out skewed tales from an off-kilter dark side he knew only too well.
---
Kevin Coyne 1944-2004 by John Keenan December 8 - 14, 2004 I've just heard that Kevin Coyne has died. He'd been suffering for some time from a debilitating and complicated condition, resulting in fibrositis of the lungs. As well as having been a great singer-songwriter, he was an author, a painter-cartoonist of renown, and a droll storyteller. Anyone who saw his show at the New Roscoe a few weeks back would have thought he was at his peak. He played a blinder, even though he was breathing with the aid of an oxygen cylinder. Brendan Croker, who was there, said today, "We were privileged!" Kevin was one of the great British characters, yet Britain didn't recognize it, so he went to live in Germany, where he was appreciated. It says a lot for his talent that when Jim Morrison died, Kevin was offered his job in the Doors, and he turned them down. John Peel noticed the extra magic that set Kevin apart from the rest and signed his band, Siren, to Dandelion records. "Marjorie Razorblade" was an oft played track on Peelie's show in the early '70s. I promoted Kevin several times but felt frustrated because I could never bring in the crowd he deserved. That's the problem with BritainÑwe don't support our true originals until they are departed. What's the betting that there will now be glowing eulogies in the papers and magazines that largely ignored him? Rest in peace, Kevin. Village Voice
---
The Shed News: Kevin Coyne 1944 - 2004 Kevin Coyne died on Thursday 2 December. Kevin first performed at The Shed in 1993 and was one of the finest performers that ever lived. A singer, writer, painter and actor, Kevin Coyne was a real artist and his death is a huge loss. Our love goes to Helmi and the boys
---
Gary Lucas Remembers his Friend Kevin Coyne
Gary recently posted this reminiscence of his friend Kevin Coyne to the Beefheart discussion group Fireparty: Yes, this is really a sad time. Coming on the heels of his champion and friend John Peel (I first heard Kevin in the context of Siren, who recorded 2 amazing albums for Peel's label Dandelion) this is just unbelievable, a double tragedy for music. Kevin Coyne was truly one of the unjustly unrecognized geniuses of music. On the tracks we did in 1997 for Kevin's double album "Knocking On Your Brain" I showed up to the studio in Dusseldorf with two intact instrumentals in my head which I thought would make great music for Kevin to sing to, ran them down to Kev and his sympathetic German band for the very first time in about 5 minutes, the band and I then recorded the tracks very quickly without overdubs -- and then Kevin stepped up to the mic and totally extemporized the lyrics and melody. And he was stone brilliant. We stopped and started a few times for the first tune, "Wonderland", which Kevin originally called "Disneyland", singing "I'm goin' to Disneyland" as the refrain, until I warned him we might be open to legal action for using the name Disneyland without permission (especially in the context of the lyric, where Disneyland represented...well, you'll just have to go dig up this album won't you). The second tune "English Rose" flowed just like honey, and both of them I think are two of my best song collaborations, certainly ranking with "Grace" and "Mojo Pin" which I wrote with Jeff Buckley. Same collaborative methodology, with me giving the singer/partner a finished instrumental to complete -- except Jeff would go off for sometimes months at a time and come back with lyrics and a melody to match my instrumentals--Kevin did it right on the spot. And Kevin was always never less than amazing; he had one of the sharpest fastest minds I have ever encountered in action outside Don Van Vliet. And a rich, theatrical voice that would melt your heart one second and then nail you to the wall as he shouted the blues. He admired Don's work and I actually saw him the last time at a Beefheart festival in a little town in Holland near the Belgian border in 200I. Coinciding with an exhibition of Don's paintings in a museum adjacent to the outdoor performance area, we were both booked as the musical talent that night paying homage to CB. Kevin and I recorded 5 more unreleased tracks in a studio in Nurnberg in 2000 when I stayed a few days with him and his lovely wife in the midst of a solo European tour. His paintings were really great too, the man also wrote funny and beautiful stories for Serpent's Tail Press you would do well to seek out (same publisher of recent Nobel prize winner Elfreide Jelinek, another fantastic maverick artist). What a drag. Gary Lucas http://www.garylucas.com/
Friday, December 03, 2004 Perchance to Dream
Had the weirdest experience yesterday, early morning...
While lying in bed in that suspended state of reverie between dreams and waking, I flashed on a recording session with Kevin Coyne I took part in in Dusseldorf in 1997. For those unfamiliar with the man's work, Kevin was one of the great unheralded geniuses of contemporary music, a mad English singer/songwriter/poet/painter and larger than life diamond geezer, once dubbed "the British Beefheart" (he was much more than that), once bruited as a replacement for Jim Morrison in the Doors, a favorite of the influential UK radio host John Peel who issued albums by Kevin's first band Siren in the late 60's on Peel's own label Dandelion. I first heard Kevin in all his bluesy whimsical glory after I sent my parents on a mission in the spring of 1969 on one of their regular trips to London to bring back for me my boy Syd Barrett's first solo album "The Madcap Laughs", and the clerk in the shop on Oxford Street pressed a copy of Siren's first album on them to also take home for their Anglophile son (he also talked them into bringing me back a copy of Black Sabbath's debut...guess which album I wound up treasuring...in fact, I think I'll burn the first Siren album into ITunes right now). Many years later I came to collaborate with Kevin after the booker in a club in Belgium I was playing solo casually mentioned that in his estimation he thought the two of us would be a good fit playing together; I jumped at the suggestion and took Kevin's phone number from him (Kevin had relocated to Nurnberg Germany), called the man up, and we hit it off instantly,.. it is thus on such impulse that many of my best collaborations are born (the producver Hal Willner similarly casually suggested to me a collaboration with Tim Buckley's son Jeff for a tribute he was putting together for Tim's music, the rest is history...) Anyway I arrived at the studio in Dusseldorf some months later with two full instrumentals I had composed with Kevin's voice in mind, and finally met face to face with this rather ruddy, Dickensian looking gent with a twinkle in his eye and his young German band of rock-jazz adepts, and we were off. I quickly taught the band their parts and we cut two backing tracks like one two three...and then without so much as a break Kevin strode into the vocal booth and completely and spontaneously off the cuff extemporized the full lyrics and melodies to "Wonderland" and "English Rose"! And--what songs they were--they were perfect! (Well, I did suggest that he change the title of the first from "Disneyland" for fear of possible copyright infringement...the chorus "I'm goin' to Disneyland" actually referred to something else there again, I'll leave you to track down a copy of the amazing double Kevin Coyne CD "Knocking On Your Brain" on which these songs appear to find out just what that was...) Kevin had the amazing ability to come up with the goods, each time, on the spot, with no interference of right/left brain mediation to inhibit the flow, it just poured out of him...and he wrote whole albums this way, well over 40 I believe at last count. My favorite later album besides "Knocking On Your Brain" is "The Adventures of Crazy Frank". And I rank these 2 songs as on a par with my work with Jeff, they were that good. In fact, we cut another 5 unreleased songs in 2000 in a studio in Nurnberg when I stopped over to stay with Kevin and his wife for a couple days off in the midst of a lengthy solo tour...and there are some real gems among them. Anyway I was lying in bed yesterday morning in a hazy dreamy state, ruminating on the details of this first encounter in Dusseldorf, and finally fully woke, around 8:30am, shuffled out of bed, went over to my computer to get my email from the night before, and discovered in the form of a terse message from my friend, the English music writer Mike Barnes, that Kevin Coyne had passed away that very day. I was staggered by this...and my wife, also surprised, remarked to me that I had mentioned my working with Kevin to her in a very recent conversation. Kevin had been knocking on my brain. And I will add that I have been sorely grieved by his loss--he was, besides being one of the greatest writing partners I've ever worked with, a really really warm, sympathetic, and down to earth guy, with no use whatsoever for the petty posing and snobberies of so many of the characters I've met up with in this business of music. I will miss him dearly. Along with the recent loss of Kevin's good friend and champion John Peel, this has been a very sad time for music indeed. Postcript: I had lunch later in the afternoon yesterday at Doma with my friend John Cameron Mitchell, the creator and star of "Hedwig and the Angry Inch"--an extremely gifted actor (he was superb as Laura Bush in a recent benefit production of Tony Kushner's new play here at Cooper Union), and an extremely nice guy--and his natural grace and good humor did much to dispel the rather dark cloud hanging over my head by the untimely death of my friend Kevin. Gary http://www.garylucas.com/
---
Jeffrey Lewis website: We are sad to report the passing of Kevin Coyne, who died peacefully on Thursday, Dec 2, at his home in Nurnberg, Germany. He was an irrepressible creative spirit and improviser of lyrics and songs, with over 40 albums recorded since 1969, plus artwork and books and stage plays etcÉ my favorite one out of the 4 or 5 albums that I've heard is the very strange and unsettling solo acoustic "Case History" from 1972, originally on John Peel's Dandelion label. The Jeffrey Lewis Band had the honor of performing with Kevin in Paris in February 2004. For more about Kevin and his life's work see www.KevinCoyne.de and the chapter on Kevin in Rich Unterberger's book Unknown Legends of Rock & Roll.
---
Nick Hobbs is a concert promoter, musician/lyricist and champion of original music. He organised a tour for Kevin in the early 80s). Here is his posting to the Beefheart 'Fireparty' web group: "how very very sad i'd known kevin off and on since the mid 70s, he was not only an extraordinary performer (often the live versions were much better than the recorded ones) but an extraordinary man - difficult, sometimes self-destructive, moody, tetchy - but also incredibly warm-hearted with a humanity, intelligence and love that would make the hardest nuthead soften" nick. ( "Nick was also manager of Henry Cow and Pere Ubu and Spotlight Kid for Beefheart on a UK tour. His own music is very original - aka Nik Galen"
---
Letter: Kevin Coyne Monday December 13, 2004 The Guardian John Gill writes: Babble, the 1979 collaboration of the songwriter Kevin Coyne (Obituary, December 6) with singer Dagmar Krause, a daring and provocative meditation on the love affair between Myra Hindley and Ian Brady, is one of the most extraordinary recordings I have heard in more than a quarter century as a music journalist. Wedded to his melancholia, Coyne deserves to be ranked alongside Robert Wyatt and classic Randy Newman; maybe even Ian Curtis of Joy Division. Guardian Unlimited
---
Coyne of the realm. News comes this weekend that Kevin Coyne died on Thursday of lung fibrosis, at age 60, in his adopted German home. Coyne's music has been difficult to come by for the past decade or so, and I wouldn't be surprised if few readers ever heard or heard of him. He's perhaps most notorious as the guy who refused to take over Jim Morrison's job in the Doors, but the comparison is misleading. Perhaps imagine Captain Beefheart if he were a British children's-book author, or Johnny Rotten (who cited him as an inspiration) somehow mingled up with Robert Wyatt, or PJ Harvey as a balding older guy, perhaps PJ Harvey playing Joe Cocker in a film biography directed by Bob Dylan. But all such comparisons don't do justice to the singularity of his voice. Alec Bemis in the Chicago Reader five years ago claimed that Coyne might be "the only British musician who ever really had the blues." Coyne bridged the folk-blues-rock of the 1970s with new-wave art-school atavism, the compassion of the former psychiatric-ward worker he was and a sweet drunken-wanderer's romanticism that was all his own. As you may guess from that description, John Peel was an early supporter, releasing a couple of Coyne's first efforts on his own label, Dandelion. More recently, Will Oldham (Bonnie Prince Billy) has shown his devotion. Some of Coyne's albums - out of the 40 or so he made - such as 1973's Marjory Razorblade, 1978's Babble (with Dagmar Krause), 1980's Bursting Bubbles and 1981's Pointing the Finger, stick in my head with a true twisted penetrating claw of heartstrong, headsick poetic potency. He also painted paintings and wrote stories and seemed, despite his psychological and other troubles, to live life as life asks to be lived. You can learn more in this interview, and this later one, this obit or this profile. You can hear a live 1994 performance, if you fastforward the stream past a few minutes of Flemish news. (Belgium is one of the few places Coyne ever had a hit.) And much more. It is sad, and too soon, and goes too much unnoted, but reports are that he died at home in the arms of the woman he loved, and after a restless life there is beauty and comfort in that. As Coyne sang, Learn to swim, learn to drown. Zoilus
---
Here, an obituary by Karl Bruckmaier in "Nürnberger Nachrichten" (04.12) (Bruckmaier, a Coyne friend, also spoked at the funerals)
Here is an English translation of this very good article (thanks for the translation Goodie):
ONCE IN DERBY
The great musician Kevin Coyne has died. Especially the Belgians loved him. "Marlene" was a hit in that country 30 years ago. If his name is on a poster nowadays in Lüttich or Brussels, there will always be a few hundred people, sometimes a few thousand. You can't disappoint these people, even if you are seriously ill, can only travel longer distances in a wheelchair, and need oxygen all of the time. It is always possible to do a show. Full house, full commitment. Today it would have been Vienna, Kevin Coyne wanted to disregard the "unimportant cold" with a few pills, but it wasn't' possible: his small, compact body which housed the voice of a rock'n'roll god and the liver of a long standing drinker and the assertive will of an English labour supporter and the intellect of a poet, painter, musician, this body misused in such a manner, could not keep up on Thursday morning. Kevin Coyne has died. He was born 60 years ago in Derby in the English midlands, Bill Haley and Elvis Presley showed him the way into the dangerous freedom of an American music world, the way into the bohemian world of swinging London, the available girls, the cheap drugs, the loud music. But Kevin Coyne always had a deep mistrust towards the revolution of the citizens, the double standard of the private school graduates with their shaggy hair and sports cars. He had to earn a living in psychiatric institutes and as a social worker: his deep feelings and his compassion had their origin here, the knowledge about this shabbiness, backstabbing, misery, which are also part of manhood. He recorded two early records on John Peel's Dandelion label, and he was the first contract artist of Richard Branson's Virgin label alongside Mike Oldfield. Against all odds, Kevin Coyne was even successful with his uncompromising music and his very sad stories. On the internet, the music reference site www.allmusic.com states that only a few musicians had made such outstanding records during a comparable period. But the constantly wilder life took its toll, the contradictions tore Kevin Coyne apart, they shattered his ability to cope with the world. He barged through the eighties and early nineties like the well-known slogan "no future" of British punk who accepted the small man with the sarcastic smile as one of its biggest influences. Finally, Kevin Coyne found love, peace and friends in Nürnberg, and, thanks to cable TV, he could watch any football game from his English home and describe to bewildered guests how wonderful it was to get a mug of hot water and to dissolve a stock cube in it at the stadiums of Derby or Wimbledon. In the last ten years, Nürnberg also meant a new, second life as an artistic all-rounder between music and painting, which he had studied at Derby college of Art. Nürnberg has lost an esteemed citizen, the world has lost a great musician, and his friends a person who has not only been loved by the Belgians.
---
Read here "Am Ende ist der Mensch ganz allein", last interview by Steffen Radlmaier.
Here is an English translation of this interview (thanks for the translation Goodie):
"In the end a human being is all alone". The last interview with the artist and musician Kevin Coyne.
Kevin Coyne wanted to give a concert next week with friends and like-minded in the Nürnberger Tafelhalle. The internationally known artist who has lived in Nürnberg for 20 years has died suddenly. A few hours before his death, this interview originated in Coyne's small flat in Nürnberg-Johannis. It has now become a type of legacy. The sad news spread like wild fire in the music scene. The health of the 60 year old painter, musician and author was not at its best for quite a while. He suffered from lung fibrosis, and had therefore serious breathing problems. The illness did not stop his creativity until the end. The workaholic, as he called himself, painted and wrote as always and also performed at concerts.
Kevin Coyne, who nearly became a rock star in the seventies, was one of the most opinionated artists of the rock scene. The singer with the strong blues voice who has published about 40 albums during his variable career had cult status with a worldwide fan community.
The Englishman, born 1944 in Derby, ended up in the loved-hated Nürnberg during a personal crisis, he overcame his alcoholism here, he found new creativity here. Coyne's death is also a great loss for the music scene in Nürnberg: he opened new horizons for a lot of musicians as provider of ideas and catalyst. Coyne, who staunchly refused to learn German, lived in a relatively withdrawn manner and was entirely taken up in his work. The intellectual football fan, bookworm and TV fan who reacted with derision and mock to fashion foolishness was a thoughtful, humorous and endearing contemporary in his private life.
- Mister Coyne, Phil Collins has already finished his first "farewell tour", are you also planning your final concert?
- Kevin Coyne: No, I haven't got the intention to call it quits. I am happy that I can still perform despite of my poor health. It is of course more difficult than before, but I will continue as long as I can.
- How do you deal with the illness?
- Coyne: The biggest problem is oxygen. I continually have to have large oxygen bottles with me which is very inconvenient on tours. Journeys by plane are nearly impossible, as a lot of flight companies refuse to take the oxygen bottles on board. But my brave musicians help me as much as possible on tours, they have to act as nurses.
- How are you able to sing in this state?
- Coyne: Oddly enough, this works very well. I recently performed in Belgium, England and East Germany. Tomorrow I will give a guest performance in Vienna. My voice sounds better than ever, maybe this is due to the artificial oxygen.
- Have you adjusted to your illness? What has changed in your life because of it?
- Coyne: There is no choice but to accept it. Otherwise, you would be continually depressed or in a bad mood. I paint, write, sing as before and don't think much about the illness. I mainly regret that I cannot travel very much anymore, in particular to America. It is a novelty for me that I am continually dependant on the help of others, I don't really like that. But without my wife I would not be able to do anything. I am not a free person anymore.
- A new documentary about you is called "One room man". Is the withdrawal into a room a result of your illness?
- Coyne: No, it has always been like that. All my creative work takes place here in this little room. I come from a poor working family and I am not the type of person for large apartments. Even when I was earning a lot of money now and again, I did not know what to do with it. At heart I am still an old socialist and believe that we need a fairer order of the world. The thing that I have understood during the course of my life is that us people are alone in the end. Everybody is responsible for their own life. This basic experience, this feeling of isolation defines my work.
- A lot of stage artists say that they need the love of the public...
- Coyne: That is rubbish. My work does definitely not appeal to everybody. As an artist you can get a lot of aggravation as well. A lot of people react aggressively to my lyrics or paintings. If I was looking for love, I would have maybe become a priest or a guru. Being an artist is something else. Of course there are people who like my work, and I am happy about this. I receive nice emails from all over the world on a daily basis. But I don't need that. I would even sing if nobody would listen to me. I believe that an artist cannot be any different. He has to do what he is doing.
- Is singing a type of therapy for you?
- Coyne: No, I try to reach the listener within. I don't like singers who only make the right noises. Contents and emotions are important. On the other hand, I don't only depend on music to express myself. I also paint and write.
- You have never had commercial success. What does success mean to you?
- Coyne: Success means for me that there are a few people who like my work. Of course I would not object if I landed in the charts. But this has not happened. Hits don't make you happy. I am content.
- Do you feel that you are an outsider?
- Coyne: Yes, in art and in life. You cannot put me into a certain category. I want to tell the people something about their life, they should think during the concert. I hate any type of routine. That is why improvisation in art has always fascinated me. I approach the music with a certain jazz attitude. The result is open. You can fail, but it stays exciting.
- Are you more conscious of time since you fell ill?
- Coyne: This is a typical German question (laughs). Art, but also humour and trust in God help to endure the absurdities of life. I think of death every day, but I still have so much to do. The darkness, or whatever comes next, is closer than you think. But I have a spiritual trust that things somehow carry on after death. This strengthens me.
Interview: STEFFEN RADLMAIR

A French translation of this last interview by PLAISANTLOUIAN
---
Kevin Coyne (1944-2004)
"Those of you attending the shows will probably note my reliance on a small oxygen tank and plastic pipe throughout. Recent advice from my doctors has led to this. Bravely puffing and panting through songs without extra air is now forbidden. I must preserve my health. This rotten lung fibrosis of mine demands I do what they say."
So wrote Kevin Coyne in October 2004, in what would be his last online newsletter. He was able to preserve his health until December 2nd, when the rotten lung fibrosis he'd struggled with for a little more than a year killed him, at age sixty. Throughout his thirty-plus year career, Coyne had been portrayed as an empathetic chronicler of social outcasts writing songs that were, among other things, influenced by the feral immediacy of the Delta blues. A deeply confessional (and occasionally confrontational) songwriter, Coyne shared little of the polite, fervent, sentimentality that marked many of his peers. Perhaps this had to do with writing songs that suited his thick, muscular voice, a baritone bray that sounded like a mutant conflation of Son House and leather-lunged Brit legend Roger Chapman. Even when he tried to be cloying, there always seemed to be a touch of acidity to his songs, as if he couldn't resist alerting us to the dark clouds hovering just above an elusive silver lining. Nowhere is this weltanschauung more compellingly displayed than on the jacket of his 1976 live LP In Living Black and White. The front shows Coyne politely smiling and bowing to an unseen audience; the back has the same photo taken from the rear, with him clutching an open straight razor.
As did many of his generation growing up in early post-war England, Coyne fell in love with American Blues and R&B. He played in the pre-Beatles era band the Vulcans in his native Derby, quitting to attend art school. After graduation, he continued to pursue music, teaching it (and art) as a therapist at the Whittingham Psychiatric Hospital in Lancashire, then moving to London's Soho to work with mentally ill alcoholics. What he gleaned from these experiences was a belief in creative immediacy, an intensely emotional, almost unmediated situational response he brought to his songwriting. "I write books and things," Coyne told Richie Unterberger in 1997, "and have concern for language, the written word. But when I do songs, I tend to be very spontaneous. I like to mirror the moment and the time. That all sounds very idealistic, but I'm a great believer in that."
In 1969, along with Dave Clague and Nick Cudworth, Coyne formed the pub-rock-ish Siren and were signed to John Peel's financial disaster of a record label, Dandelion. Siren managed two LPs, and Coyne squeezed out a solo record (the appropriately titled Case History) before the label went belly-up. Then, in one of rock history's unlikeliest scenarios, Coyne was briefly considered as a replacement for the recently deceased Jim Morrison in the Doors. Despite being the polar opposite of Morrison, physically – Coyne was short and round with a sort of pushed-in face – there was actually meeting at Elektra's London office (the label was familiar with his work, having distributed Dandelion); Coyne blew off the opportunity, showing little interest in the band and claiming he wouldn't be caught wearing leather trousers.
Just as he was about to return to social work to provide for his wife and young sons, Richard Branson, a Siren fan (think of that the next time you're watching Rebel Billionaire) phoned and made Coyne (along with Mike Tubular Bells Oldfield) among the first artists signed to his fledgling Virgin record label. During this period (1972-1980), Coyne was at his peak.
"I love 'em all [the Virgin recordings]," he told Unterberger. "I think I was at my very best then. I was wild and idealistic and younger, and I thought there was great passion in what I did." This fertile creative period was helped along by a great band that, at various times, included Andy Summers, Zoot Money, Jean Roussel, and members of the Ruts (Segs, Dave Ruffy, and Paul Fox). As for the recordings he loved so, it's quite a list: Marjory Razor Blade (anchored by arguably his greatest song, "House on the Hill"), Matching Head and Feet, Bursting Bubbles, Millionaires and Teddy Bears, In Living Black and White (featuring a heartbreaking rendition of "Fat Girl" and the proto-punk "Turpentine," which advocates, as the Clash would a couple of years later, burning down the suburbs with half-closed eyes), Sanity Stomp, and the tortured, galvanizing song cycle Babble, recorded with ex-Slapp Happy/Henry Cow vocalist Dagmar Krause. Babble, and the handful of shows supporting it, created controversy when Coyne admitted that this tale of lovers who share an inability to communicate was loosely based on the lives of Ian Brady and Myra Hindley, the pedophile killers known as the Moors Murderers.
Cancelled shows and controversy over subject matter proved to be the least of Coyne's worries as he entered the '80s. Convinced that Branson underpaid him during his tenure at Virgin, and frustrated at the way his records were being released in America (many of the two-disc sets were heavily edited into single volumes), Coyne signed with indie Cherry Red, went through a divorce, and sank deeper into the alcoholism and depression he'd been struggling with for years. The records came less frequently and were only intermittently interesting; chaos, madness, and drinking had exacted their toll and convinced many (myself included) that Coyne would never again record with the ferocity, intensity, and feeling that defined nearly all of his Virgin output.
Fortunately, we were mostly wrong. In 1985, Coyne left England to tour Germany and stayed. He got sober, remarried, and started making records again, and in doing so became, in the words of one his more recent songs, a happy little fat man, who remained incredibly productive right up to his death. Working with his sons Robert and Eugene clearly re-energized him and his recent records Room Full of Fools, Carnival and the wonderfully-titled collaboration with guitarist Brendan Croker, Life is Almost Wonderful displayed an older, wiser Coyne who, still filled with piss and vinegar, seemed at peace.
"I wanted to make consciously happy music," he said at the time, "in reaction to the darkness I'd been through." And while many of us prefer singer-songwriters who articulate despair and rage rather than cheerfulness, Coyne's decision was consistent with the music he'd been making all his life, writing about people who, in their own difficult, inchoate, and idiosyncratic way tried to claim a place in a world that didn't seem to want them.
Coyne championed outsiders, not only because he'd shared a clinical setting with them, but because he was one too, and he tried to reflect this life honestly. "I've never romanticized depression," he told a MOJO writer in 1999, "and at the same time I don't take myself too seriously." On the track "Highway of Dreams" from 1999's excellent Sugar Candy Taxi (the cover art features a smiling man and women in a smiling car, plunging off a cliff) Coyne sings, "I want to take you to the highway of dreams/ Introduce you to all my plans/ And a million schemes/ That'll make you feel good/ When the darkness comes." That's a view of life fully cognizant of the pitfalls, yet filled with compassion, solace to anyone brave enough to be called an outsider.
John Dougan | Jan. 3, 2005
---
"Death of rock star who turned down The Doors (because he didn't like tight trousers)", by Karen Holt, Derby Telegraph
---
Funprox webzine
---
---
The announcements
---
Kevin Coyne gestorben
Der grosse Musiker und Autor aus Derby ist tot: Kevin Coyne ist am gestrigen Donnerstag im Alter von 60 Jahren in Nürnberg verstorben. über die Todesursache ist derzeit noch nichts bekannt. Coyne hatte gerade die Arbeiten zu seiner neuen Platte "Live Rough And More!" abgeschlossen.
Coyne hatte seit 1985 in der Frankenmetropole gelebt. Der Nürnberg Oberbürgermeister Ulrich Maly (SPD) betonte, der Tod des Musikers bedeute für die Kulturszene einen gro§en Verlust. Coyne war auch als Maler sehr aktiv und erst in dieser Woche noch mit gro§em Engagement live unterwegs gewesen. So hatte er in Wien die Fans und Kritiker ausnahmslos begeistert. "Are you lost in the wilderness, are you crying on your own? You're not the only one, you're not the only one, you're not the only one ... to be alone, on your own!" heisst es in dem Song "The Only One" (aus "Bursting Bubbles", 1980). Hoffen wir, dass er jetzt nicht alleine ist. R.I.P.
German Rolling Stone
---

Eigenzinnige artiest Kevin Coyne (60) overleden vr 03/12/04
De Britse singer-songwriter, schilder en schrijver Kevin Coyne (60) is overleden. Hij leed aan een longziekte. Coyne was een buitenbeentje in de muziekwereld. Hij had lak aan roem en rijkdom en stond bekend om zijn krachtige en scherpe stem. Tijdens zijn carrière trad de Britse artiest dikwijls op in ons land, onder meer op Torhout Werchter in 1979. Kevin Coyne werd in de jaren 70 ontdekt door de invloedrijke dj John Peel en was een van de eerste artiesten op het Virgin-label van Richard Branson. In 1971 werd hij nog gevraagd om de overleden Jim Morrison te vervangen als frontman van The Doors. Coynes voornaamste invloeden waren bluesmuzikanten als Muddy Waters en John Lee Hooker. Zelf componeerde hij nummers in de meest uiteenlopende genres, van catchy popsongs tot eigenzinnige ballades. Een van zijn bekendste nummers was "Marlene". Door zijn compromisloze houding ten opzichte van de showbizzwereld bleef hij een buitenstaander die niet makkelijk in een hokje onder te brengen viel. Kevin Coyne bracht veertig albums uit 1973 was voor Kevin Coyne het jaar van de doorbraak. Hij tekende een solocontract bij Virgin en bracht het dubbelalbum "Marjory Razorblade" uit. Op acht jaar tijd maakte hij elf platen. Zijn hele oeuvre telt veertig albums. In 1981 kwam de terugslag. Door het harde werken en te veel alcohol werd Coyne het slachtoffer van een zware zenuwinzinking. Maar in 1985 verhuisde hij naar Nürnberg in Duitsland, waar hij The Paradise Band vormde. Zijn levensstijl veranderde drastisch. Kevin Coyne was niet alleen in de muziekwereld actief. In de jaren 80 legde hij zich toe op schilderen en schrijven. Kevin Coyne had nog enkele concerten gepland in Belgi'. Zijn laatste optreden op Belgische bodem vond plaats op 11 oktober in Ingelmunster.
Flamish Radio1 Belgium
---
I think I should mention this: the cemetary Kevin will be buried at, St Johannisfriedhof in Nuremberg, is a very special place, one of high renown in all Europe. Its history goes back to the early 16th century. Many of Nuremberg`s greatests artists and other famous people are buried there, among them world-famous medieval painter Albrecht Dürer, a man Kevin has spoken of with the highest regard. So, it is a very appropriate resting place for Kevin. You can have a look at it here or here.
Horst (Kevin Coyne Group)
---
Kevin Coyne ist tot. Am 02.12.04 ist Kevin Coyne einer schweren Lungenkrankheit erlegen. Der 60jährige Künstler lebte seit 1985 in Nürnberg und erlangte als Musiker und Maler europaweite Geltung. Das Concertbüro Franken betreute den eigenwilligen und liebenswerten Künstler als Tourneeagentur von 1985 bis in die neunziger Jahre.
Kevin«s touring agency
---
Kevin Coyne: "Ich liebe es, Aussenseiter zu sein"
Seine Karriere beginnt als Pausensänger bei Bingo-Veranstaltungen in seiner Heimatstadt Derby. Bald gilt Kevin Coyne als einer der exzentrischsten Blues-Sänger der Insel. In den 80ern verschlägt es den Engländer nach Nürnberg. Dort ist der Wahl-Franke im Alter von 60 Jahren gestorben. Der junge Kevin jettet mit seinen Ohren über den Altlantik: Klänge aus übersee faszinieren ihn, britische Musik lässt ihn kalt. Mit Rock- und bald Rhythm-and-Blues-Konzerten verdient er sich ein Taschengeld. Eigentlich will er aber Maler werden. Er studiert am örtlichen College of Art. Bei John Peel unter Vertrag 1968 kehrt die Musik zurück in sein Leben: Er gründet die Gruppe Coyne/Clague, die späteren Sirens. Auf dem Label Dandelion des legendären, jüngst verstorbenen Radio-DJs John Peel erscheinen zwei exzentrische Blues-Alben. Die Kritiker loben die Sirens, die Plattenhändler bleiben auf ihren Werken sitzen. Zitat "Ich bin nie sehr hoch gestiegen, aber auch nie tief auf die Schnauze gefallen. Ich liebe es, Aussenseiter zu sein." Kevin Coyne Coyne schlägt sich in London als Sozialarbeiter durch. 1972 erscheint die erste von rund 20 Solo-Platten, wieder bei John Peel. Schnell gilt er als einer der eindrucksvollsten und kreativsten Blues-Musiker überhaupt. Doch dann geht John Peel als Plattenboss der lange Atem aus. Absturz und Comeback in Nürnberg Nach Mike Oldfield unterzeichnet Coyne als zweiter Artist überhaupt beim jungen Label Virgin. Dort erscheint sein Doppelalbum "Majory Razorblade". Lob gibt es weiterhin, Käufer fehlen noch immer. In den 80ern geht auch Coyne selbst die Puste aus: Er stürzt regelrecht ab. Die Ehe zerbricht, er greift zur Flasche und landet irgendwie in der Nürnberger Bahnhofsmission. In den 90ern feiert er, der überzeugte Wahl-Franke, ein Comeback. 1992 erhält er den mit 20.000 Mark dotierten Kulturpreis der Stadt Nürnberg. 1988 sorgt er mit dem Musical "Linie 1" für Furore am Nürnberg Schauspielhaus. Immer öfter macht er auch als Maler von sich reden. Am Mittwoch gab Nürnbergs Oberbürgermeister Ulrich Maly bekannt, dass Coyne im Alter von 60 Jahren in Nürnberg gestorben ist. Eigentlich wollte er an seinem Todestag eine Tour mit neuen Songs im Gepäck beginnen.
Kultur & Szene
---
Coyne-Bilder im Stadttheater
Werke gehen ins Rang-Foyer
In Erinnerung an Kevin Coyne wird das Stadttheater auch über das offizielle Ende der Gemäldeausstellung hinaus Werke des Künstlers zeigen. Coyne ist vorgestern, wie berichtet, im Alter von 60 Jahren einer schweren Lungenkrankheit erlegen. "Amusing Darkness", eine Werkschau mit rund 30 Arbeiten des Musikers, Autors und Malers, war seit Oktober bis gestern im Erdgeschoss-Foyer des Theaters zu sehen und ist damit die letzte, Coyne zu Lebzeiten gewidmete Ausstellung. Eine Auswahl aus "Amusing Darkness" sowie weitere, bislang an Ort und Stelle noch nicht gezeigte Arbeiten des Engländers stellt Galerist John Hammond ab heute im Foyer des zweiten Ranges aus, wahrscheinlich für die Dauer von drei Wochen. Besucher des Gastspiels des Göteborg-Balletts bekommen damit heute als erste die Gelegenheit, die neue Zusammenschau in Augenschein zu nehmen. Verkäuflich sollen die Werke jedoch nicht sein. "Das halte ich im Angesicht von Kevins Tod für nicht angemessen", so Hammond. Vermutlich wäre "Amusing Darkness" nun auch noch eine längere Zeit im Erdgeschoss-Foyer zu erleben gewesen. Doch der Kunst-Terminplan der Art-Agency Hammond und des Stadttheaters sieht für morgen eine fest eingeplante, neue Vernissage vor. "In bester Gesellschaft" ist der programmatische Titel der Ausstellung von Marlis Albrecht und Rosa Baum. Baum taucht Menschen und Tiere in eine archaische Formensprache; nicht minder ironisch geht Albrecht zu Werke, die mit Wachs-Tempera-Technik den Tücken menschlicher Beziehungen auf den Grund geht. "In bester Gesellschaft" eröffnet morgen um 11 Uhr, Thomas Reher spricht einführende Worte. Das Stadttheater bleibt bis 13 Uhr geöffnet. Bis dahin ist es auch möglich, Kevin Coynes Arbeiten anzuschauen. Wer über diesen Sonntagstermin hinaus Interesse hat an einer Besichtigung der Coyne-Gedächtnisschau, wende sich an die Art-Agency Hammond unter Tel. 77 07 27. mab 4.12.2004 0:00 MEZ
Fürther Nachrichten - Kultur - Fürth und Umland
---
Dezember 2004, 17:32, NZZ Online Musiker, Maler und Schriftsteller Kevin Coyne gestorben
Neue CD erscheint nächste Woche Der britische Musiker, Maler und Schriftsteller Kevin Coyne ist im Alter von 60 Jahren gestorben. Der gebürtige Engländer lebte seit 1985 in Nürnberg und zählte zu den kreativsten Musikern der internationalen Musikszene. (sda/dpa) Coyne, der an einer Lungenkrankheit litt, starb am Donnerstag, wie die Stadt Nürnberg am Freitag mitteilte. "Er hat es meisterhaft verstanden, dem alten-jungen Rock & Blues immer wieder neue aufregende Seiten zu verleihen", sagte Oberbürgermeister Ulrich Maly. Geboren am 27. Januar 1944 im mittelenglischen Derby, begann Kevin Coyne im Alter von 13 Jahren Blues, Rhythm and Blues und Rock'n'Roll zu spielen. Er besuchte die Kunsthochschule seiner Heimatstadt und arbeitete anschliessend als Sozialarbeiter und Kunsttherapeut. 1969 siedelte er nach London über. Mit seiner Gruppe Siren erregte er internationales Aufsehen und feierte mit seinem Doppelalbum "Majorie Razorblade" Publikumserfolge. 1985 liess sich Kevin Coyne in Nürnberg nieder. 1988 sorgte er mit seiner Band in dem ständig ausverkauften Musical "Linie 1" im Nürnberger Schauspielhaus für Furore. In seiner neuen Heimat fand er wieder stärker zu seinen künstlerischen Anfängen als Maler zurück. "Seine Bilder vermitteln Direktheit, Freiheit und Fantasie", hiess es in einer Mitteilung der Stadt. Auch als Autor machte sich der vielseitig begabte Rocker einen Namen. Sein Werk zeichne sich neben einem grossen Mass an Originalität auch durch den typisch britischen Humor und dessen Hintersinn aus. Trotz schwerer Krankheit führte Kevin Coyne sein Tourleben als Musiker fort. Als Produzent und Künstler wollte er am 10. Dezember seine neue CD "Live Rough And More!" vorstellen. Diesen Artikel finden Sie auf NZZ Online unter: http://www.nzz.ch/2004/12/03/fe/page-newzzE2AKM5CT-12.html Copyright (c) Neue Zürcher Zeitung AG
---
Kevin Coyne R.I.P. AUTOR: Markus Hablizel. Kevin Coyne ist tot. Im Alter von nur 60 Jahren ist einer der in den vergangenen Jahren viel zu selten beachteten Musiker in Nürnberg gestorben. Der gebürtige Brite Coyne war Mitte der 80er Jahre nach Franken gezogen, wo er nach dem Ende seiner Ehe und langen Jahren exzessiven Trinkertums eine neue Liebe, Band und Bleibe gefunden hatte. Coyne war einer der ersten Künstler auf Richard Bransons Label Virgin, sein Debüt veröffentlichte John Peel auf seinem nur kurze Zeit existenten Label Dandelion. In den 80ern veröffentlicht Coyne eine Menge obskurer Platten auf unterschiedlichen Labels, eine breitere …ffentlichkeit hatte ihn allerdings vergessen. Am 10. Dezember wollte er sein neues Album vorstellen. Spex.de
---
Kevin Coyne aus Wikipedia, der freien Enzyklopädie
Kevin Coyne (* 27. Januar 1944 in Derby /England;   2. Dezember 2004 in Nürnberg) war ein britischer Rockmusiker, Maler und Autor. Kevin Coyne war von 1957 bis 1961 an der Joseph Wright School of Art und studierte anschlie§end von 1961 bis 1965 am Derby College of Art Grafik und Malerei. Coyne lebte seit 1985 in Franken. 1992 erhielt er den Preis der Stadt Nürnberg für Kunst und Wissenschaft. Zahlreiche Kunstausstellungen und musikalische Auftritte mit seiner Kevin-Coyne-Band machten ihn nicht nur in England sondern auch in Deutschland bekannt. Coyne litt zwar schon seit längerem an Lungenfibrose, sein Tod am 2. Dezember 2004 kam dennoch völlig überraschend. Am 10. Dezember 2004 wollte Kevin Coyne seine neue CD Live rough and more! vorstellen.
---
Rolling Stones Germany, January 2005: cover, contents, pages
---
---
---
---
---
---
"Abschied von Rock-Poet Kevin Coyne"
---
Death notices in a German internet forum
---
---
Szenepunkt.de (including the Nouvau Casino flyer)
---
---
Abendzeitung, front page and article
---
Der Bote, front page
---
NZ, front page and article
---
---
"Kevin Coyne" Zeitonline 51/2004
---
Tom Liwa's newsletter. Uwe die andere nachricht : Kevin Coyne ist heute morgen gestorben. wer ihn nicht kennt : kevin war ein sänger, schreiber, maler - engländer - mit dem ich vor ein paar jahren eine platte aufgenommen hab- \'knocking on your brain \', was eine sehr inspirierende erfahrung war. kevin hat seit über zehn jahren in nürnberg gewohnt, war mit einer deutschen verheiratet, helmi. ich hab ihn als einen äusserst integeren, extrem humorvollen und ziemlich genialischen menschen kennengelernt. von seiner spontanen kreativität hab ich versucht, mir eine scheibe abzuschneiden. ich bete für ihn auf seinem weg nach hause und hör alte platten... euch allen licht und liebe... geiz ist nicht geil - verschwendet eure herzen !!! tom [Tom Liwa, a German musician, played with Coyne on "Knocking on your Brain"]
---
An obituary on Nachruf
---
Another one
---
French press release:
Kevin Coyne est mort chez lui à Nuremberg hier, 2 décembre 2004, des suites d'une fibrose du poumon, maladie diagnostiquée il y a un an. Son dernier concert aura été sur le lieu des ses anciens exploits, au 100 Club à Londres, le 29 octobre dernier.
---
Mort d'un tout grand
Il faisait partie des grands. Il a sorti plus de 40 albums en 34 ans, il composait des textes magnifiques et traitait de ce qui était essentiel dans la vie. Il chantait, il peignait. Kevin Coyne ne donnera plus de concert. J'ai eu la chance de voir un de ses derniers concerts le 27 mars dernier au Spirit of 66, grâce à Francis Géron, un vrai fan. Merci Kevin pour ce que tu as apporté à l'humanité. Tu faisais partie des plus grands.
Death of a Man
He was one of the greatest. He has released more than forty albums in about thirty-four years, he wrote marvellous lyrics, talking about what's important in life. He sang, he painted. Kevin Coyne will never perform in any other gig. I had the opportunity to see one of his last gigs March 27, 2004 at the club The Spirit Of 66, thanks to the owner, Francis Geron, a true fan. Thanks, Kevin, for what you have done for the human kind. You were one of the greatest.
Maurice Maes on www.musicinbelgium.net
---
Je ne pourrais, malheureusement, pas passer sous silence le dernier concert de Kevin Coyne (27 mars 2004) en nos murs [le Spirit of 66, Verviers, Belgique], impérial comme jamais, car il nous faut désormais parler de lui au passé. La flamme de cet exceptionnel artiste s'est éteinte définitivement il y a quelques semaines. Que grâce, honneur et justice lui soit rendus, il nous a donné tant de bonheur qu'il mérite de rester en nos coeurs à jamais ! Didier DIRIX http://www.patfraca.com/
---
Kevin Coyne un de plus grands bluesmen , le Robert Johnson de Derby est mort le 2 décembre à Nuremberg . Peintre, écrivain, avec plus de quarante albums à son actif, infatigable performer à l'humour cinglant, mais cependant d'une tendresse infinie à l'égard des laissés pour compte du système, révéré tant par John Lyndon que par Arno , sourd aux sirènes du star système, adulé en Belgique et superbement ignoré chez nous, son héritage est immense. Plus jeune il aurait pu devenir le Morrison de la MTV génération , mais s'en contre-fichait. Son passé d'ex infirmier psychiatrique le rendait particulièrement sensible à la détresse d'où qu'elle vienne. Devenu, malgré lui, le porte parole des gens de l'ombre, des hommes et femmes invisibles, il était le beaume et la consolation. Cent fois battu, au tapis, mais jamais vaincu, il reprenait inlassablement la route, il aurait pu chanter pour les cintres et les chaises, avec la même rage et la même passion sans en paraitre affecté. Humble, courageux et féroce sa devise était "Un léopard ne change jamais ses tâches" .Puisse t'il dans ce paradis de carton qu'on promet aux âmes tranquilles rester l'éternel adolescent perturbateur qui ne fait toutes les bêtises que pour être mieux consolé. PLAISANTLOUIAN sur Telerama.com
---
"Selon la légende, on lui avait proposé de remplacer Jim Morrison au sein des Doors après la mort de celui-ci. Kevin Coyne avait préféré poursuivre sa carrière loin des pressions commmerciales. Souvent comparé à Joe Cocker pour sa voix de bluesman éraillée, ce chanteur anglais n'a du coup jamais eu le succès de son compatriote, malgré presque quarante albums publiés en un peu de plus de trente ans. Kevin Coyne est mort jeudi, chez lui en Allemagne, à l'âge de 60 ans. Telerama.com
---
Le Monde 7 décembre 2004
---
L'Humanité 11 février 2005
Magnifique infréquentable La chronique d'Evelyne Pieiller
Il y a des moments retournants dans la vie. Jadis, on était à Bourges, pour une soirée qui présentait Kevin Coyne en première partie, puis U2. Le public à l'évidence ne connaissait pas Kevin Coyne. Le public avait choisi d'être sourd. Nous, on était là pour lui. Pour cette voix unique, écorchée, un rasoir sur des nerfs, une voix blessée et royale, dissonante et limpide, mais qui, étrangement, nous rendait sensibles à la pulsation de la vie aux poignets, à la joie fêlée, souveraine, d'être là, inquiétés et à vif, et en résonance à tout ce qui remuait secrètement en nous. Kevin Coyne chantait pour ne pas plaire, il chantait pour faire entendre les cris muets de ceux qui ont peur et de ceux qui ne se débrouillent pas pour oublier qu'il doit y avoir autre chose que ce qu'on leur propose. Ah, évidemment, ce n'est pas de tout repos, Kevin Coyne. Ce n'est pas gentil, mignon, propre sur soi et bien dégagé sur les oreilles. Ce n'est ni charmant ni rassurant. C'est une musique en déséquilibre, du blues cassé, une rythmique qui cogne, une voix qui se pose là où il ne faut pas. On ne sait plus du tout où on est, il y a des étincelles de chanson, des élans rock, des zébrures atonales, on ne sait même pas si c'est triste ou gai - les deux, mon général. Les règles d'étanchéité entre les genres, les registres, les catégories, se volatilisent, et sur scène, ma foi, c'était, dieu merci encore pire. Kevin Coyne invitait à la transe avec cette voix de prière et sa rythmique obsédante, mais il passait de l'incantation brûlée à la bouffonnerie, et on se rendait compte que c'était la même chose, jamais tranquille avec Coyne. On ne pouvait pas se dire qu'on assistait à une cérémonie ravageante non, on était obligé de sauter dans la clownerie, mais le clown avait un couteau... La scène, pour Coyne, c'était un moment où faire advenir une vérité, double, dangereuse, affolante, celle d'une humanité fracassée et splendide brutale et pleine de rêves. Le public de Bourges n'en voulait pas, de Kevin Coyne. Trop dérangeant trop gênant, trop là, présence compacte, voix ébréchée et somptueuse, trop de contradictions, trop de violences faites au confort de celui qui attend gentiment qu'on le séduise. Le public ne voulait pas que la douleur s'affûte en ironie, que le silence soit musique, que quelqu'un chante comme s'il y allait de sa vie et jette le tout comme si c'était, aussi, une blague. Alors Coyne les a « cherchés », comme on dit dans les bagarres. Ils étaient ce contre quoi il chantait, ce qui précisément donnait à sa voix cette beauté absolument nue, cette fièvre en dedans, cette liberté folle, ils étaient ce qu'il refusait d'accepter chez les humains,la peur de ce qui vient de dessous le conscient, la peur de ce qui brouille les pistes, la peur de ce qui refuse les modèles, la peur de ce qui essaie de dire une vérité, et qui doit inventer un langage pour ça. Il fut donc remarquablement insolent, provo, goguenard, teigneux, et finit en montrant ses fesses. Aoh ! Pas beau. Infantile. Oui, Kevin Coyne n'a jamais voulu être « acceptable ». C'est un infréquentable magnifique. Et il faut bien dire que cette insulte finale, devant des jeunes gens persuadés d'être des rockers dans l'âme, n'était pas sans pertinence. Après, il y eut U2. La grand-messe, le message, la voix d'or, le « total contrôle », l'harmonieux comme il faut, les soli comme il faut. Rien qui chiffonne, rien qui détone, le public a enfin une excellente image de lui-même, et de surcroît il en a pour son argent, parce que, hein, quand même, Bono, il fait tout dans les règles pour bien nous montrer qu'il est une grande voix... Ah, non seulement on s'ennuyait (il se passe quoi, là ? Mais rien, bien sûr), mais on était, pour tout dire, bleus de rage. Quelle idée, programmer ensemble un grand dévastateur, un dézingueur des bonnes petites habitudes, un fauteur de troubles qui fait bouger l'âme, qui fait pleurer dedans, et on est en fraternité et en déchirement, et un groupe tout bardé de recettes et de bonne conscience. D'accord, c'étaient les débuts de U2 et Bono n'allait pas encore à Davos. L'ennui, c'est que c'était clair : Kevin Coyne ne pourrait que rester un marginal. C'est vrai que si on vivait, dans un monde capable d'aimer nombreusement, si l'on ose dire, Coyne, ce serait forcément un monde sacrément différent.
Kevin Coyne est mort en décembre dernier, à soixante ans. Les Doors lui avaient demandé de chanter dans le groupe reformé. Mais il n'aimait pas les pantalons en cuir. On trouve difficilement ses disques. Demandez-les. Ils seront peut-être réédités : Virgin est bien moins intrépide qu'autrefois, mais s'il y a demande... Écouter K. Coyne, c'est écouter ce qu'on ne s'est pas dit.
Kevin Coyne : quelques titres : Virgin Marjory Razorblade, Beautiful Extremer etcoetera, Life is almost Wonderful...
---
Télérama, n° 2866 du 18 au 24 décembre 2004

---
Rock n Folk, janvier 2005
---
Rock n Folk, février 2005
---
Libération, 7 décembre 2004
---
Voir aussi Crossroads n°27
---
VSD, by Michka Assayas, rather irritating that one...
---
Mort de Kevin Coyne
Vu sur la scène du Nouveau Casino (Paris) en février dernier, où il partageait l'affiche avec Jeffrey Lewis, Kevin Coyne est mort chez lui à Nuremberg, hier, jeudi 2 décembre 2004, des suites d'une fibrose du poumon, maladie diagnostiquée il y a un an. Son dernier concert aura été sur le lieu des ses anciens exploits, au 100 Club à Londres, le 29 octobre dernier. A lire, l'interview croisée Kevin Coyne / Jeffrey Lewis accordée au webzine Froggy's Delight, organisateur du concert parisien du début d'année.
http://www.foutraque.com/news.php?id=297
---
Homme-moderne.org/le r*ock est m*rt (they have a "radio blog" with many Kevin songs to listen - click on "La radio" then find Coyne)
Kevin Coyne est un petit mec que je trouve roublard, à l'air roublard, et très anglais et j'en ai marre de la musique d'américain, bien souvent j'en ai marre et j'oscille, anglais, ceci dit il fait quand même très fort du blues et il était infirmier psychiatrique je crois bien, mes parents aussi sont de la partie et moi j'ai essayé disons que c'est à cause de Kevin Coyne et disons que c'est un soir dans l'émission de Pierre Lattes que je l'ai entendu la première fois, après j'ai tout acheté et puis je me suis lassé et aujourd'hui il est mort, je ne me suis rendu compte de rien pendant toutes ces années et là je suis triste.
Guy Mercier
Quand Kevin a eu son heure de gloire —disons au milieu des années 70—, je n'écoutais que la radio, les grandes ondes : pas souvenir de l'avoir entendu sur Europe 1. Après, vous m'auriez pas fait écouté un vieux mec tout mal fagoté comme ça, même pas ponque. Heureusement, dans la décennie suivante, le label Cherry Red a eu la bonne idée de s'intéresser à lui et moi de devenir moins con. Quand il joue du blues rock bien gras, je ne supporte pas. Le reste du temps, c'est un Ange. Si le monde était bien fait, on serait tous des anges, nous aussi, des vrais gens, inclassables, irremplaçables, uniques, excentriques, imprévisibles, des p e r s o n n e s. Ça ne veut pas dire qu'on serait plus heureux, sûrement moins, souvent. Mais moins cons, sûrement, oui.
Eric Chabert
---
talking to no one 02/12/2005
Entre Deux Mondes : Kevin Coyne
Il y a un an , jour pour jour, Kevin Coyne mourait chez lui, à Nuremberg, des suites d'une fibrose du poumon.
Ce magnifique infréquentable, dernier des excentriques, au coeur aussi gros que son tour de taille , avait une compassion sans limite et une empathie non feinte pour les laissés pour compte , les outsiders , hommes et femmes "invisibles" broyés impitoyablement par la marchandisation.
Bluesman ( mais pas seulement! ) à la voix unique, écorchée, voix blessée, dissonante et limpide , à la joie fêlée souveraine , qui ne chantait jamais pour complaire à son public mais pour faire entendre les cris muets de tous ceux que l'on condamne au silence, ceux qui cependant ne se résignent pas à oublier (de gré ou de force) qu'il doit bien y avoir autre chose qu'une vie réduite aux acquêts.
Kevin n'était pas une pop star, pas assez mignon , pas assez propre sur lui, pas assez consensuel. Il suait et crachait , montrait parfois son cul, en déséquilibre constant , pleurant sans larmes un blues venu se fracasser sur le pare-brise de la morgue mondialiste.
Sur scène, il invitait à la transe, sautant en un clin d'oeil de l'incantation lacrymale à la boufonnerie la plus débridée, et, conquis , on sautait avec lui, à pieds joints , dans la clownerie la plus hilarante, avant de s'apercevoir ,médusé que le clown tenait un rasoir.
Coyne était trop excessif pour ce monde raisonnable ou l'on impose la sagesse et la résignation à coups de ciboires et de matraques, ou les veaux gras de la réussite sociale regardent passer les trains des licenciements et où les pantoufles ronflent tandis que les cités brulent.
Trop dérangeant, trop génant, trop là, présence compacte comme un bloc de béton (dé) sarmé, trop violent pour gentiment séduire, trop affuté en ironie, trop bruyant dans son silence, trop fièvreux dans son délire, trop libre, trop dangereux....
Comme un croisement (crossroads) entre Francis Bacon et Robert Johnson, il faisait de la récupération, ramassant et intégrant tous les matériaux à sa portée , tous les courants les plus tumultueux (de la peinture à la littérature) dont il se servait à l'envie pour peindre un tableau figuratif et grincant de la décomposition inéluctable de ce monde ou tout n'est plus que marchandise et cash.
Entre deux mondes , entre deux eaux , entre deux bières, mon vieux Kevin, bien trop humain pour survivre sans "blues" dans cette fosse d'aisance qu'est devenu le monde,et, tant de fois mort, terrassé au finish par tes démons intérieurs et ta sensiblité épidermique, hors norme.
Tu vacilles désormais comme sur le fil d'un rasoir entre la mémoire, l'adulation tardive, et l'oubli.
Tu n'aurais pas aimé qu'on pleure , préférant seulement nous voir sourire, alors ....... Here's to you, my absent friend....
---
BRUSSEL Va n o n z e m e d e w e r k e r Vincent Byloo
Toen Jim Morrison in 1971 overleed, werd Coyne door de overige groepsleden gevraagd om de charismatische zanger te vervangen. Hij weigerde
ROCK . KEVIN COYNE (1944-2004)
Kevin Coyne, de zwaarmoedige Britse singer-songwriter, dichter en schilder, is donderdag overleden in zijn woonplaats in het Duitse Nürnberg. Hij leed al ruim anderhalf jaar aan longfibrose, een erg complexe aandoening waarbij de longblaasjes langzaamaan verstenen.
Om zijn steeds zwaarder wordende kortademigheid tegen te gaan, lag Coyne liefst zestien uur per dag aan een zuurstoffles. Woensdag werd de zanger onwel en donderdagochtend blies hij zijn laatste, zo kostbare adem uit in aanwezigheid van zijn tweede vrouw. Hij werd zestig. Met hem is een legendarische figuur uit de Europese muziekgeschiedenis heengegaan.
De Brit, die door de Amerikaanse rhythm and blues van de jaren veertig en vijftig werd ge•nspireerd om zelf muzikant te worden, is op zijn beurt heel wat gaan betekenen voor de ontwikkeling van blues en folkrock op het Europese continent.
In de Verenigde Staten bleef hij zijn leven lang een nobele onbekende, maar in Engeland en vooral ook in onze contreien, werd hij door een bescheiden publiek warm aan de boezem gedrukt. In Belgi' alleen al speelde Coyne tientallen concerten, zijn laatste slechts twee maanden geleden in Ingelmunster. Die vaste schare fans heeft hij voornamelijk te danken aan het in 1973 verschenen meesterwerk Marjorie Razorblade, een standaardwerk in het genre.
Kevin Coyne werd geboren in 1944. Nadat hij was afgestudeerd aan de kunstschool, ging hij aan de slag als sociaal werker in diverse psychiatrische ziekenhuizen. Wat hij daar zag, heeft hem voor het leven getekend. Zijn ervaringen met psychiatrische pati'nten werden een blijvende inspiratiebron voor al zijn latere werk. Labiele figuren en hun sociaal isolement, verwarde personen in het oog van een emotionele storm: dat waren de thema's die steeds weer zouden opduiken in zijn liedjes.
En veel songs schreef hij. In eerste instantie met de groep Siren, dat door - de inmiddels ook overleden - BBC-radiomaker John Peel werd opgestuwd in de vaart der volkeren. Hij bracht Coyne en zijn groep in 1970 onder bij zijn eigen platenlabel, Dandelion, en bezorgde de jonge singer-songwriter de nodige aandacht. In het muziekwereldje bleef hij immers niet onopgemerkt. Toen Jim Morrison in 1971 overleed, werd Coyne door de overige groepsleden van The Doors gevraagd om de charismatische zanger te vervangen. Hij weigerde. Toen Peels Dandelion-label in 1972 al werd opgedoekt en de twee platen van Coynes groep slechts enkele kopers vonden, begon de singer-songwriter ontgoocheld maar moedig aan een solocarrière.
Na zijn solodebuut, Case History, dacht Coyne er nog de brui aan te geven, maar toen diens opvolger, Marjorie Razorblade, een onverwachte voltreffer bleek, kwam zijn carrière dan toch van de grond. De mengeling van bitterzoete love songs, wrange ballads en potige folkrockers kon in Engeland en op het continent plots op forse bijval rekenen. Vooral in Vlaanderen bouwde hij verwoed aan een heuse livereputatie. De laatste show-voorman en wandelende muziekencyclopedie Patrick Riguelle herinnert zich nog die concerten in de jaren zeventig. "Ik zag hem voor het eerst tijdens Nekka", zo staat het hem voor de geest.
"Hij heeft daar toen heel indrukwekkend de zaal ingepakt. Hij kon, louter door zijn stem wat te veranderen, allerlei personages oproepen en dat vond ik best intrigerend. Ooit heb ik hem ontmoet. Ik bezocht Brendan Croker vlak voor een optreden. Coyne was er ook en was net zo grumpy als ik dacht. Maar ik ben er toch niet goed van dat hij nu dood is." Coyne werd een gerespecteerde muzikant, in de eerste plaats door collega-muzikanten. Voor Matching Head and Feet kon hij bijvoorbeeld rekenen op de medewerking van Police-gitarist Andy Summers, op Sanity Stomp werd hij geflankeerd door goed volk als The Ruts en Robert Wyatt, en in volle punkperiode mocht hij complimentjes ontvangen van Sex Pistol Johnny Rotten. Maar gaandeweg begon zijn wankele gemoed op te spelen. In de vroege jaren tachtig brak hij niet alleen met platenfirma Virgin, maar ook met de moeder van zijn twee kinderen.
Coyne sukkelde van de ene depressie in de andere, viel met de regelmaat van de klok ten prooi aan zenuwinzinkingen en stortte zich in de drank. Het sociaal isolement van de personages in zijn liedjes werd ook zijn deel. De platen die hij nog maakte, werden almaar minder toegankelijk en bleken zelfs bijna onvindbaar. Coyne kickte echter kordaat af van zijn drankverslaving, verkaste naar het Duitse Nürnberg, werd weer verliefd en trouwde voor een tweede maal. Slechts sporadisch keerde hij terug naar Engeland, onder andere om er de Peel Sessions op te nemen met zijn eertijdse vriend John Peel. In 2003 werd Coyne het slachtoffer van een vileine longziekte. Hoewel die aandoening een aanslag pleegde op zijn ademhalingsfuncties en hij liefst zestien uur per dag met zuurstof moest worden beademd, bleef Coyne veelvuldig optreden.
In Belgi' deed hij dat voor het laatst op 11 oktober van dit jaar in De Fagot in Ingelmunster. Organisator Jean-Pierre Derven herinnert zich dat concert nog levendig. "Hij heeft haast twee uur gespeeld. Het hele optreden door bleef er een darmpje in zijn neus zitten dat verbonden was met een zuurstoffles. Maar hij kon wél twee uur lang rechtstaan en ook zijn stem was intact." Donderdag werd die zware longziekte Kevin Coyne dan toch fataal. In De laatste show zal hij gepast worden herdacht. "Maandag zullen we ter zijner ere een nummer coveren van Coyne", laat Patrick Riguelle weten. "Waarschijnlijk spelen we dan "Having A Party', dat zou een mooi afscheid zijn." Coyne laat twee kinderen achter.
De Morgen Belgian Press
---
Knack (Flemish weekly newsmagazine) 15-12-2004 Stijn Tormans
De schreeuw van Kevin
De machtige stem van Kevin Coyne schreeuwt niet meer.
De man met de Zeis houdt lelijk huis in Sterrenland dezer dagen. Hoewel: een ster is Kevin Coyne nooit geweest. Net afgestudeerd aan de kunstschool, ging hij aan de slag als sociaal werker in psychiatrische instellingen. Tussendoor ramde hij wat op zijn gitaar. Tot hij door de legendarische dj John Peel ontdekt werd. Coyne was een oertalent: hij speelde slecht gitaar, maar wat een stem en wat een songs: 'Marlene', 'Having a party', 'Tulip'... Deze jongen was veel te koppig om een ster te worden. Toen het management van The Doors hem vroeg om de plaats van wijlen Jim Morrison in te nemen, weigerde hij. Hij wou geen leren broek dragen. 'Ik deed altijd wat ik wilde doen. Applaus krijgen van mensen op elke straathoek was niet mijn idee van de hemel.' Nee, hij maakte liever fantastische platen als Majory Razorblade, Matching Head and Feat en Dynamite Daze. Het leverde hem een plaats op Torhout/Werchter op. En vooral: een handvol fans die hem voor altijd in het hart sloten. Arno noemde hem ooit de Mozart van de vorige eeuw. 'Het ergert mij mateloos dat iedereen de naam kent van elke hippe dj, maar iedereen Kevin Coyne vergeten is.' Begin jaren tachtig werd het duister in Coynes hoofd. Hij scheidde, kreeg een zware depressie en verkaste naar Duitsland. De laatste jaren had hij steeds vaker last van een longziekte - naar het schijnt hing hij zestien uur per dag aan de zuurstoffles. Die andere acht uur stond hij op het podium. Een paar weken geleden voor het laatst in Belgi'- met een darmpje in zijn neus. Dat beeld zal blijven: de man die niet zonder muziek kon. Moge die machtige stem nog veel schreeuwen, daarboven. Opgetekend door Stijn Tormans (Knack, pagina 104, 284 woorden © 2004 Roularta Media Group n.v.
---
Het Parool (Dutch newspaper) 08-12-2004 Patrick Meershoek; Geen principi'le bezwaren tegen succes
ten slotte kevin coyne 1944-2004
Het heeft enkele dagen geduurd voor het nieuws over de dood van Kevin Coyne (60) tot de buitenwereld doordrong, en dat zegt genoeg over de tanende status van de sombere Britse troubadour. In de jaren zeventig vierde Coyne triomfen, maar daarna werd het stil. De laatste jaren kampte de zanger met een longziekte en kon hij niet zonder zuurstofapparaat, wat hem overigens niet verhinderde te blijven optreden voor een kleine groep trouwe fans. Hoogtijdagen beleefde Coyne in de jaren zeventig, toen zijn mengeling van broeierige ballads en voortjakkerende blues kon rekenen op grote bijval. De sociaal therapeut was een ontdekking van de Britse deejay John Peel, ook al dood. Coyne werkte in een psychiatrische inrichting, een ervaring die in veel muziek zou doorklinken. Vanaf zijn debuutelpee Case History uit 1972 leverde Coyne in acht jaar tijd elf platen af. Zij worden gezien als het hart van zijn discografie, die meer dan veertig platen beslaat en eigenlijk geen zwakke plekken kent. Als hoogtepunt van zijn oeuvre wordt Living in black and white beschouwd, een registratie van zijn liveoptreden. In 1975 stond Coyne op Pinkpop, met in zijn band de latere Police-gitarist Andy Summers. Begin jaren tachtig raakte Coyne in een diepe crisis, het gevolg van een hectisch leven in combinatie met een alcoholprobleem. De zanger verdween totaal uit het zicht om enkele jaren later op te duiken in het Duitse Neurenberg, waar een moederlijke fan zich over hem bleek te hebben ontfermd. Coyne legde zich toe op het schilderen en exposeerde onder meer in Amsterdam. Ook schreef hij vier boeken die alle in een kleine oplage verschenen. Daar had Coyne geen moeite mee. "Ik heb geen principi'le bezwaren tegen succes," grapte hij in interviews, "maar echt noodzakelijk is het niet."
PATRICK MEERSHOEK 2000foto hh Het Parool, pagina 99, 293 woorden © 2004 PCM Interactieve Media b.v.
---
NRC Handelsblad, 6 December 2004
---
A Swedish site by Petter Herbertsson.
Here is an English translation by Martin Johansson:
"He starts with a description of a deserted square in the city. Only the homeless moves around. The few passers by don't pay attention. The writer himself gives only a couple of crowns to a drug addict, just by habit. Nobody cares he concludes this image of the demolished swedish welfare society. Kevin Coyne should have cared, he writes and the text continues:
« I like to describe Kevin Coyne with one single word: sore. A so called awkward artist, who always had passionfor the weak, the lonely, the poor and the oppressed in the society. He was a former social worker and also worked in mental hospital. It's imposible to classify his music. Is it folkrock? Pub rock? Progerssive rock? Soul? Hip new wave pop? Arty-farty? The most typical characteristic is, musically, his very special voice. Think of a freaked out Peter Gabriel, or maybe the singer in Family. It's a feature which make you love him, or hate him. Also the voice is a "sore", easy to put off as too hard to listen to, but impossible to not be affected by. He is usually compared too other headstrong british artists like Robert Wyatt, Ivo Cutler, Ian Dury and Syd Barrett. Kevin Coyne has in a similar way something very deep personal in his expression, something you can trace to his childhood and his life in general (marked by depression, alcoholism, divorces). He didn't became more than a footnote in the history of rock, although he did more than 30 records and the won the admiration from important fans as John Peel and
Jonny Rotten.
The song Wonderful Wilderness from the album Sanity Stomp is like the sun suddenly shining over the grey and deserted backyards of the big city where the homeless people keep trying to live their life. A naked and proud song, dressed in a dirty and frayed outdoor suit. Kevin Coyne sang for the weak people in the society. He cared for the homeless and the drog addicts. Who cared about Kevin Coyne?"
---
Another Swedish article by Lennart Persson in Sydsvenska Dagbladet (thanks Martin and Jim)
KEVIN COYNE An angry cynic with a big heart
Kevin Coyne was once offered the chance to replace Jim Morrison in The Doors, only a few days after the confused star had taken his last breath in the bath tub of a Paris hotel. He turned it down. "I don't look good in leather trousers," he explained. The truth is probably that Kevin Coyne would have had difficulty playing the role of an idol.
By that time Kevin Coyne had worked in a mental institution in Lancashire and as a counselor to drug addicts in London, experiences that left a permanent stamp on his life and his music. He wasn't much bothered with the superficial; he was more concerned with exploring beneath the surface. He never became a proper rock star, more a sad footnote in the margin of the rock business, mostly unrecognised by the media.
Coyne died just before Christmas, a passing barely noticed in any Swedish newspapers. He was buried in Nuremberg, where he'd settled in the mid 80s. An exiled English eccentric, he was comparable with others of his kind: Syd Barrett, Robert Wyatt, or Ian Dury.
I met him a couple of times in the 70s, and remember with fondness some gigs at grubby university halls. And one at an ugly old theatre in Brighton, with the trip back to London in a cold and cramped van, which must have made even Kevin Coyne long for a spacious limousine. Most of all I remember his
love of life, writing and playing, and his love of the rock music without which he couldn't live. We discussed everything from "Angel Baby" by Rosie & The Originals and "I Love you so" by Ron Holden to James Brown, David Bowie and Al Green. He loved John Lee Hooker because he played with a "direct connection between the heart and the hand". Everything Kevin Coyne
himself did seemed born of the same connection. He was a sharp ray of sunlight in the musical gloom of 70s Britain. No less than Johnny Rotten called him his role model, and 1973's Marjory Razorblade still sounds like the most passionate album that eternally grey, tea-watery nation has ever produced.
In Eastbourne Ladies he channels his disdain for British class society into an attack on the pale upper class ladies sitting in seaside chairs on the south coast of England, hoping for a tan.
"Eastbourne ladies, with your hair done up so nice.
Eastbourne ladies, with your tea and lemon ice".
He could be seen as an implacable cynic, merciless and unmasking -
"You're always on your own, sitting in your seaside chairs on your own.
Everybody passes you by. Nobody seems to care if you flash your underwear" - but beneath the anger you can sense that, in his heart, he wishes the pale old ladies a better life, far away from the next croquet tournament in the castle park. Coyne was often angry, but never heartless.
The last album I heard was Carnival, almost a year ago. By then he had been through a divorce, a nervous breakdown and alcoholism. Perhaps he'd even become a touch old and crude, but he still shone brightly through alternately bitter and humourous images of an old man's invisible and lonely life. As in the song where he walks to Charlene's house: her knees turn him on and her husband is, luckily, often away from home. Perhaps he'll marry her, as soon as the divorce comes through, even if she is so scared of the dark that she can't use the toilet after eight o'clock. Kevin Coyne always took small and downtrodden folk very seriously, perhaps because he felt himself to be one of them
---
---
see also:
The official website guestbook
---
Photos from Kevin's burial, December 13, 2004 http://www.wulfware.de/Coyne/Kevin.htm by Thomas
Fans brought roses and a teddybear to the grave, along with this
---
---
http://www.homme-moderne.org/musique/carnet/index.html
---
"For all who love and mourn", a text (in English) that I wrote
Thanks to the Kevin Coyne Group for providing all this stuff.