PASCAL's KEVIN COYNE HOME PAGE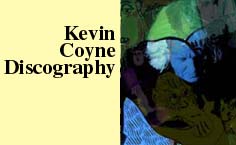 ---
COVERS AND TRIBUTE SONGS


Kevin himself mentioned some of those... thanks! Also many thanks to Uwe too for the help on this page.




(

in

red

: my want list).

beginning with a false track:NEIL INNES (The Bonzo Dog Band, Monty Python, The Ruttles) says somewhere on the net that "back in the seventies", not long after the Bonzo split", he wrote a song for Kevin Coyne called "Lead Us","In fact, Elton John was actually singing harmonies on that"...


That was doubtful but Siren's bass player Dave Clague had played with the Bonzos so maybe there was something to this... In Oct 2005, Tony asked Innes who replied: "

It was on a Kevin Coyne album - with a mostly green cover as I recall, and a drawing of Kevin along with his name in a kind of comma shape..." A good net-search brought out

the solution to this enigma: the song Lead Us - written by Neil Innes - had actually been recorded by Colin Scott, and not Kevin Coyne, on his 1971 "Colin Scott" LP, which, as you can see, has a "comma" cover...
I believe in Love (Ik Geloof in Jou) by Belgian artist KRIS DE BRUYNE

on his LP "Ballerina's" (1977) Image

SIGI MARON, an Austrian artist, translated several Kevin Coyne songs in Wien dialect:
- I'll Go Too (Jo Jo I Geh A) in his 1979 He Taxi LP Image;
- Threw It All Away (Trog Des Weg) and
- Talk is Cheap (Redn Kaun Ma Boid) for a LP called "05 Vor 12" (1980) Image;
- Little Miss Portobello (Miss Salzburg) for his "Der Tag is Net Weit" LP (1982) Image,
Those two LPs with Bob Ward as a producer (other connexion with Coyne: "Der Tag Is Net Weit" was recorded at Alvic, Kevin's favorite studio in the 70s, and Coyne musicians Paul Wickens and Vic Sweeny were playing too).


Sigi is a very nice guy; check his site.
Read more about Sigi and Kevin in this 2010 interview:

it seems he met Kevin at the time of Babble and opened for the Babble shows for a wholeAustria tour. Later, Sigi recorded almost 20 Kevin Coyne covers, the 4 above were the ones included in his albums.




Formula Eyes by THE RUTS, b-side of a "Different View" single, Virgin VS396, 1981. The Ruts had played the song with Kevin Coyne on the SANITY STOMP LP.

Light up your Little Light by the Finnish band KAUKO ROYHKA & NARTTU. The song is called "Kanerva". It is on their LP "Uusia Tansseja" (1981), ("New Dances" in English), reissued on cd in 2003 with a 1980 live version of the same song. Kauko Röyhkä is still making music in Finland. Thanks to Pertti for that one! Image

PIPILOTTO RIST: You Called Me Jacky (Jacky and Edna), 1990, video. 4 " (#V09*). Pipilotto Rist is a video artist. "Some of her video works resemble video clips, like You Called Me Jacky, the song being pregnant with meaning, encompassing the images like a blanket. In "You Called Me Jacky", Rist mimes to a Kevin Coyne song, interspersing the images with shots of a desolate train journey" (from http://absolutearts.com). This video is now on youtube.


Jacky and Edna was recorded by Pipilotto Rist with a band, LES REINES PROCHAINES, a Swiss girl group . It was called You Called Me Jacky and appeared on their 1993 album "Lob Ehre Ruhm Dank" Image (CD/LP, BOY 17, Because Of You, Released in Basel, Distributet by Rec Rec Zurich). You can buy it here

.
See also this hommage to Pipilotto Rist and Kevin Coyne.

Having A Party by THE MEKONS on their Makes No DiffErence single and their F.U.N. "90" EP (1990). Reissued (2001) on a compilation CD: Curse of the Mekons/F.U.N. "90". Said Kevin Coyne: "I think they did it too close to the original. They didn't quite get into the song. They should have mucked it up and messed it around more" (from Beautiful Extremes book).

Image
The Mekons are old fans and friends of Kev (see One Day in Chicago, Sally Timms covers (below), the Whispers cd and the Belgium Tribute shows).


JON LANGFORD (from the Mekons) also played a solo live version of Having A Party (Matrix, ?, 07.12.2008) Check youtube for that one.

The Only One by Austrian band

THE OCCIDENTAL BLUE HARMONY LOVERS on their 1990 HOUSE ON FIRE LP (Big White Phone Records). Image

Good Boy was recorded by ROBERT LLOYD (singer with the Nightingales) for a Peel session on 26 March 1990. Unreleased. (Tony tracked that one!). Robert

Lloyd

did the sleeve notes to the Coyne Virgin CD releases and is a big fan. see also this

- JACQUES MAHIEUX (French jazz artist) recorded:
- House upon the Hill,
- Mad Boy N°2 (in a French translation), both songs on his "Chantages" CD (1991)
- Parler à Personne (Talking to no one) (half English/half French) on his LP "Mahieux" (1993)

I've got the Photographs by VOICE OF THE RAIN (1994)

Saviour by Canadian singer/guitarist COLIN JAMES on his 1995 BAD HABITS CD, with guest Lenny Kravitz on clavinet. (Thank you Tony and 'Canada' Rob for that one) Image

. There's a video for that song. A live video was on youtube but is now unavailable.

Feeding Swans by AL DILY & LAAS on their 1995 album "Chic" echoes with some lyrics by Kevin Coyne

Are You Deceiving Me by RIGUELLE & HAUTEKIET (piano and vocals, Belgium) on their CD A MINOR THING (1998).

Image
Riguelle had played with Brendan Croker. Their web site. A review here. (see also below)

. This cover was Kevin's favorite.

KLAUS GRUNDLICH COMBO - I only want to see you smile live in LVC Leiden 1999? Lt. Ernesto-Voc, Peter Paauw- piano, GM-organ, Ricardo Neut-percussion. "Ernst Kamphuis Tribute part3 - Aftermath. The day after the memorial exhibition people still came in numbers. Friends collected their works while a steady stream of musicians, tourists,down and outs, hip shoe-mates, reverend poets and philosophers sneaked a last peek and payed personal tributes. Photos and film by GM".

- The Sun Shines Down On Me and I Confess by WILL OLHAM (Palace, a.k.a. Bonny Prince Billy) on a single called 'Bonnie Prince Billy Performs Songs Of Kevin Loyne' [yes: Kevin Loyne because - says Oldham - the Portugese label never heard of Coyne before]. Low Fly records, Portugal, (3 different artworks) (1999).

Image1 Image 2 (I miss one...).


Oldham later included the same version of I Confess in his 2006 cd "THE LETTING GO".


Check this Oldham article about Coyne and Babble ("Last night, a record changed my life").
Before 2010 Oldham sometimes played Coyne songs live too, like I Confess on a 2009 medley with his own song Beware Your Only Friend or The Sun Shines Down On Me live at Ashville, 02.07.2001 and on 01.07.02, location unknown (those must be on youtube somewhere).
Then, in Sep 28 2010, on Chicago WBEZ radio show, Oldham and his recent musical partner Emmett Kelly (aka The Cairo gang) played an amazing version of Are you deceiving me and had again many good things to say about Babble.
Oldham says that before Xmas 2010, he would play the whole Babble live, in the US with Angel Olsen singing the female parts. The blog galaxy soon picked up on the subject and we got many live videos and reports:
- Are you deceiving me performed at Lincoln Hall, Chicago, September 29, 2010 (late show, video).
- Sweetheart (Ronnies, Chicago 28 Sep 10, video).
- It Really Doesn't Matter / We Know Who We Are (Dec 2010, video)
- Brooklyn Vegan blog gave out a very interesting low-fi studio version of Come Down Here (Dec 9 2010).
- Lonely Man, live video (12/8/10 at Town Hall, NYC ?)
- Sweetheart live in Chicago, Sep 28 2010
- This website includes an audio mash-up from the Dec 8 10 at Town Hall, NYC show.
- Are you deceiving me performed at Lincoln Hall, Chicago, September 29, 2010 (late show)
There were so many US journalists wondering who the hell was this Coyne guy that Oldham was rambling about that I had to do a special page about it.


In 2001, French artist EVE COUTURIER recorded Votre Sainteté, a French version of Your Holiness (unissued). Hear it here (merci Eve & Palix!). Unreleased.

MARTIN ODSTRCIL (who played with Kevin from 1984 to 1986) recorded a tribute song called Remember Kevin on his

unreleased

home-recordings CD called SONGS (2003). Image

I'm Just a Man by SALLY TIMMS (The Mekons) on her CD called "In the World of Him" (Sep 2004). "There's no better anthem of surrender than Kevin Coyne's I'm Just a Man. A covers album supreme." (Mojo) Image


The cover was also included in "Whispers from the Offing - A Tribute to Kevin Coyne" (2007) as a downloadable bonus track.
There are also live versions of the Sally Timms' cover, one in Chicago Nov 11 2004 and one recorded at THE KEVIN COYNE MEMORIAL NIGHT HIDEOUT CHICAGO in 2005.

Up to here, most of these songs are in a CDR boot collection called "Kevin Coyne Covers".
Most of those below are on another collection called Q: Are We Not Men? A: We Are Kevin Coyne!

RIGUELLE sang Having a Party as a tribute to Kevin on Dec 7 2004, two days after he died, on Flemish TV on a programme called "De Laatste Show"

(if anyone has that somewhere?).

GEERT PELZER, a Dutch artist, recorded Sunday Morning Sunrise, once in English and once in Dutch ("De zondágmaerge is van meej"), in Feb 2005 (Thanks Wil who wrote the Dutch lyrics). The song came out on a 100 copies single IMAGE. In April 2005, the Dutch dialect version went Nr. 1 in a regional Top 15! Buy the single here

.
The English version is included in the "World is Full of Fools" Tribute cd - see below).

J.W. SOUND AND VISION: The Heaven Song, a karaoke version. There's probably more...

RINI (a.k.a. M van Willigen) from the Netherlands, recorded several Coyne songs (all unreleased):
- Saviour, (2005, later a youtube film)
- Fooled Again (2005)
- Juliet and Mark (2005)
- I Realy Live Round Here. (2005 then a youtube film with a different version)
- One Fine Day (2009)
He also wrote a tribute song called: No Competition (these two last songs are included in the "World is Full of Fools" Tribute cd - see below).


Monkey Man (video ; 2010)
Dynamite Days (same as above)
Happy Band (same as above)
Coconut Island (same as above)
Legless In Manilla (same as above)
Sunday Morning Sunrise (same as above)
A Loving Hand (same as above)
Dance Of The Bougeoisie (same as above).
Brothers of Mine.
I Love my Mother (2011) All on youtube.


A Brighton band, THE INFORMERS , play covers of Baby Blue and Last Time Blues, the latter of which they have recorded on a CD called "Last Orders" (2005). Their website (thanks to Nick for the info).

JOWE HEAD recorded Evil Island Home for their 2006 CD "From a Parallel Universe". The song later appeared on the Whispers from the Offing Tribute to Kevin Coyne cd (2007). Image

Robert Lloyd and the NIGHTINGALES recorded a splendid cover of Good Boy for their CD "Out of True", Oct 2006.

Image

Pass into the Night, a song about Kevin by CLIVE PRODUCT.
Clive is the author of the book "Beautiful Extremes, Conversations with Kevin Coyne", he is curently working on an up-date of the book. Download the song here. Clive says about the song: "It is about the last time I visited Kevin Coyne in Nuremburg (in 2004). He died on December 2nd of that year - he was suffering from lung fibrosis (a hardening of the lungs which makes breathin difficult). He wasn't able to walk great distances so I spent much time pushing him around in wheelchair. Despite the obvious sadness - and the fact he needed to be connected to an oxygen cylinder for 16 hours a day - we found ourselves laughing and talking in silly voices (hence th line "we were Pete and Dud and maybe Tony Hancock..."). We walked by the river, stopping of to eat cake at a local cafe, before going into town to do some CD shopping. Later, back at his flat we sat in his room and he played me some of his favourite tracks (King Oliver, Ramones, Tal Talk, some old doo wop stuff, etc). Pass Into The Night is a personal tribute to an old hero who became a dear friend." The song is unreleased. There are two other known recordings of this one, an electric and an acoustic demo.
CLIVE PRODUCT also recorded a cover of Siren's Ze-Ze-Ze (2008-09?). Recorded in 2005 as a present to Kevin's 60th birthday and offered a free download of a remixed version of A Loving Hand (from Whispers tribute).

Smile Right Back, a country music version by LIZ NICHOLS (2006) produced by Michael Lipton (who co-wrote the song with Coyne), featuring some of the Carpenter Ants (Coyne backing band in the US in the 00s, feat. Lipton). Unreleased.

Victoria Smiles by HEINZ RUDOLF KUNZE as a bonus track on his 2007 CD "Klare Verhältnisse". The song later appeared on the Whispers from the Offing tribute to Kevin Coyne cd (2007) Image

Poet and musician FRANK BANGAY has recorded several Kevin Songs:
- I Stood Up for "The World is Full of Fools - A Fan Tribute to Kevin Coyne", (2005),
- Mad Boy n°2 for "Whispers from the Offing - A Tribute to Kevin Coyne" (2007, Frank was one of the organisers of the album),
- Something Gone Wrong, (2007?), released on his 2011 CD "AB Normal"
- Looking for the River (Feb 08) on his myspace page. There are at least two different recordings of this one.
- Are We Dreaming (recorded Jun 08) for his CD "Songs, Poems and Prayers" (2009)
- Good Boy unreleased (also a live video with Tunde Busari) 2010
- The Sun Shines down on me (live in London with Sophie Mirrell, 2010)
- Looking for the River on his album "Good Morning World" (2014). On the same album, the song "Smile" contains a citation of Kevin's "I only Want to see you smile".
Frank is on Facebook - you can get his cds directly from him.

Tracey Thorn from EVERYTHING BUT THE GIRL says: "We did actually used to do a live cover of So Strange - don't think it ever got recorded though" (a live bootleg version was of course eventually discovered...).

The strangest cover: one THOMAS dedicated his version of Sugar Candy Taxi to... Paris Hilton! "Blond Paris on the front seat"... (that was available on his MySpace Page, might be gone now).

For the third tribute album which sadly never happened several artists had recorded songs:
MICHAEL WESTON KING/MIKE COSGRAVE: Raindrops on the Window (2008)
GARY LUCAS: I Wonder Where (2008)
JOHN HOWARD I Only Want to see you smile (2009)

John says: "my recording of Kevin's 'I Only Want To See You Smile' will be featured on a new CD/Download collection of mine, of favourite covers I've recorded, called Loved Songs, in April 2013."


see also Jackie Leven and Pere Ubu below

JACKIE LEVEN - an old friend of Kevin, who contributed to the Whispers Tribute cd with a tribute song called Here Come the Urban Ravens- has recorded under the name of Sir Vincent Lone, a second tribute song to Kevin, called Coyne of the Realm, later included in his Nov 2007 CD "When The Bridegroom Comes: Songs For Women" Image


A live version of Here Come The Urban Ravens (King Tuts, Glasgow, 24.03.2007) can be found somewhere on the Net.

NIKKI SUDDEN recorded Marlene for Whispers. There is another version somewhere.

Another song about Kevin Coyne by MICHIKO 66, called "KC" (Dec 2007). Listen here

PERE UBU put their version of Kevin's Turpentine to download here (Feb 2008). For 1$, check this amazing version where Pere Ubu meets Kevin Coyne! This was initially recorded for the third Tribute to Kev which, sadly, as Pere Ubu singer David Thomas put it "ran out of steam". Line up is David Thomas - vocals, Keith Moliné - guitar, Robert Wheeler - EML synthesizer & theremin, Andy Diagram - trumpet, Michele Temple - bass, Steve Mehlman - drums.

Take me back in your Arms (there are three different known recordings of this one, with two different singers),
Really in Love , (2 known versions),
The World is Full of Fools ,Ponytail Song,
all by MAREK W. and CHRISTOPH NOVE a.k.a. www.erclub.de or November Club. All appeared on youtube with a film shot at Happening 2006 for the 1st song. 2nd appeared in March 2008, 3rd and 4th in Dec 08.

Big White Bird by SERGE ZENI - it used to be on his myspace page. (2008)

VAN BLUUS, a live version of Round And Round (Club Kaulberg, Bamberg, 29.02.2008). The band backed up Kevin in the early 80s for a short time and contributed to the The World is Full of Fools Tribute cd.

House on the Hill by BRUYNEN on youtube (2008)

No Melody by JEALOUSY PARTY (Italy, on their "Jealousy Party Again" CD, 2008, Burp Publications) (myspace page). Very impressive version IMO.

JOWE HEAD had recorded Evil Island Home for the Whispers from the Offing tribute. We now have a 2006 live version of this cover by Jowe's band, Angel Racing Food.

SEXTON MING recorded You can't kill us. I think it was recorded for the Whispers CD but it did not happen in the end. (2006-07?)

DAVID SCULL AND FRIENDS: Sign Of The Times. Same as Sexton above.

PHIL HUNDLEY is a fan of Kevin's and mentions him in the song Jar full of Fireflies on his myspace player.

SKULLFUCKER recorded Evil Island Home (2008?). Download here. The cover is introduced as "Hair-raising lo-fi outsider folk reading of the Kevin Coyne classic, courtesy of the mysterious Skullfucker". Mysterious indeed.

A live version of I Believe In Love by STUMBLE ON THE VALVES (who had also contributed an excellent version of Lonesome Valley to Whispers).

"Jackie & Edna, Homage to Pipilotti Rist and Kevin Coyne" by NICLAS HALLBERG 2008. Watch it here.

T. GEIB: The Sun Shines Down On Me. An unknown (to me) singer and a Wil Oldham fan. He covered more Oldham songs; maybe he thought it was an WO original?

ROBERT COYNE recorded Sugar Candy Taxi (May 2009) - check his myspace page. A live version of the song from 2009 is included on this 2010 album "Woodland Conspiracy".

Elvira by GOGO'S BOX (live you tube film - 2009)

A German band called DYNAMITE DAYS (!) covers I only want to see you smile on their first album 'Greatest Hits' (2010). Their song Pill Poppin Son Of A Bitch also features some reference to the song Marjory Razorblade.

In 2009, THE OCCASIONAL ORCHESTRA played a live version of Lonesome Valley, featuring Robert Coyne on lead guitar. The band had recorded the song for the Whispers CD under a different name (the live video was filmed by Clive Product).

LUNGMUSTARD has a video on youtube of their cover of Eastbourne Ladies (Dec 09)

JOHRAY has recorded I only want to see you smile (2009)

JUSTIN GROUNDS recorded Sunday Morning Sunrise on his live album "Hold onto your Soul - Live in Ireland" (2009, digital only). Here is another live version on youtube (Dec 20 2009).

Marjory Razorblade by THE HIGHLANDERS, blues band from Uzice (Serbia) (live video at the 9th International blues & rock festival in Serbia "IN WIRES" may 29. 2010).

OWEN PATRICK: Mrs. Hooley Go Home (video; 2010)

CHRIS STRICKLAND: We Know Who We Are a-capella on deezer (2011). Very impressive. Something tells me the connection comes from Will Oldham's cover versions of Babble.

THE INVENTIONS OF JERRY DARGE a.k.a. THE OIJD:
The Sun Shines Down On Me. "Recorded in one evening as part of the 'Quick Cover Versions' project." Soundcloud version here (2011).
By the same artist, House on the Hill


A Coyne inspired "I want my Crown" by WEEGINGAYIN

Talking to no-one by KONFRONTERADINANAL (2011)

MRPIERO2012 sings Jacky & Edna (May 2011)

ROBBIE FULKS & KELLY HOGAN sing God Watches Over You (live video at The Hideout, Chicago, December 19, 2011)

Sunday Morning Sunrise by THE AVAILABLE FRIENDS, live 2011.

A remix: KEVIN COYNE/THE SEALS- "Marjory Razorblade/All Coming Back (Soap Company Remix)" Says The Unknown Stuntman: "Remix of the year (2010 that is - come on Steals, get this released!) by the marvellous Soap Company, with old hippie Kevin Coyne lending a bit of vocal at the beginning of this epic, moving track". Jan 2012

UJKO:
"Ujko vs Kevin Coyne", Jackie & Edna (Kilo Repu Remix) (2011)
House upon the Hill (Apr 2012). "Something between Noise Hop, Anti Elevator Music and Hard Listening. Living room coverversions of Ujko's favourite songs by Ujko."


So Strange by TEKETZIS (2012)

Amsterdam by ANDZWE (2012)

Jackie and Edna by BAXTER RHODES. A different version in Feb 13

I Confess, in German (I gibs zua) by UMFELDS (2012?). They are from Munich and the song is in Bavarian language. "We know the song since 30 years. Recently I've listened the Will Oldham version and thought it's time now for our Bavarian transformation". The lyrics are a 1:1 translation. Thanks again to Uwe, best cover-spotter ever.

I want my Crown by SURKART IV Thanks to Uwe

Sunday Morning Sunrise by BRAM DECKERS (Mar 13)

Two versions of Eastbourne Ladies by SURKART IV: electric and acoustic. (well the guy says it's Eastbourne Ladies, that's all I can say...) (spotted by Uwe in April 2013)

Marlene by IPHONE COVERS: "A cover of Kevin Coyne's "Marlene", recorded on my phone. Wasn't too familiar with the song so It's a bit loose. Played on a pretty awful guitar, for the musical genius James Wigginton" (May 2013)

Talking to no-one by BRAM DECKERS (2013)

Check also:
- "Kevin Coyne Covers", a CDR compilation of many of the covers mentioned here.
- "The World is Full of Fools - A Fan Tribute to Kevin Coyne" CDR, by members of the Kevin Coyne Group (2005)
- "Whispers from the Offing - A Tribute to Kevin Coyne" (2007)
- "Kevin Coyne Tribute Night, 5th June 2008, Poetry Cafe, Covent Garden, London" feat. several contributors from "Whispers"
- Memorial Night Hideout Chicago feat Mekons members and more.
- The December 2009 Belgium Tribute shows feat. Robert and Eugene Coyne, Jon Langford, Wrekless Eric, Amy Rigby, Werner Steinhauser and more.
- Q: Are We Not Men? A: We Are Kevin Coyne! a virtual collection of covers by thebestmixtaperintown, volume 1 to 5 (2009-2011).
-"A Night for Kevin Coyne", lecture by Brendan Croker, Leeds 5th December 2005. Video by Waldo here (seems to work better on Explorer). Croker sings 'I know who you are'.


Please send your cover versions: andreperdreau(a)free.fr