PASCAL's KEVIN COYNE HOME PAGE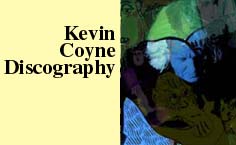 ---
KEVIN COYNE PHOTOS
Thanks to all the friends who gave these photos. I can't find the credits for some of these photos; please refresh my memory if you sent some of those.
- The NME, early 70s
- Rik Walton's photos from a radio session (Rik's website seems to be down)
- A live photo and a concert ticket given by Nigel Burch
- A 1976 poster
- An Evening with Kevin Coyne poster and programme (thanks to Gerhard)
- Live photo with Bob Ward (70s or 80s)
-
A photo from a 1979 show in France
, thanks to Gérard.
sw
-

Unidentified show, late 70s, with Brian Godding, photos by
- A Babble show in 1978 with Dagmar Krause and Brian Godding,

photos

by Michael

Jennings

. probably the Rock Club performance.

- Bruinisse, Holland circa 1979 (this photo by Bozbez on her myspace page)
-
3 photos from a show with Zoot Money (late 70s).

Photos provided by Alviz Presley
- Photos from the 80s, most in London circa 1982, one at the BruPop Festival, in the Netherlands (photos by Adrie Meijer)
- Early 80s show in, Nijmegen, Doornroosje on October 22, 1981. Photos by Wil.



- Rettel Festival (France) 1980 by Francis Prymerski

- 2 photos from the 80s posted on Kevin Coyne's Facebook by Koen Van den Broek: Passific / Antwerp / Belgium 13th of May´93 and Hof Ter Loo / Antwerp / Belgium ´84
-
Some photos
from Brian Godding site (thanks Brian!).
- 3 letters from 1982 provided by Alan Richardson
- The
in Berlin, April 1st or 2nd 1984
-

portrait from

the same show by

Lightning Buck (Kevin played 3 shows at The Quasimodo in December 1983 and 6 shows in April 1984)
- Photos of the early Paradise band in the 80s.
- Some fantastic shots by Jochen Janus, sent by Chris.
- Club7, Oslo, 11.05.1983, photos by Hakon Christensen.
- Hof Ter Loo, Antwerp, Belgium 1984
- Two photos of

Kevin and Martin Odstrcil

(a.k.a Martin Mallone or Martin Ostersehl who played acoustic guitar with Kevin in the late 80s) in Nurnberg in 1985 (thank you Martin!)
-
(early 90s?) from Keili's
- 1986 photos by
- A photo from the 1990s
- A photo (around 1990?) when Nuremberg artists were awarded a prize by the city of Nuremberg (thanks to Horst)
- Passific, Antwerp, Belgium 13th of May 93
-
KC & Friedl Pohrer, Argenteuil
, France, Jun 8 1993, photo by Philippe Le Gal, sent by Patrick who organised the show.
- Photos from 1995 in Korbach with Pohrer and from the 'Adventures of Crazy Franck' show with Julia Kempken - photos by Roterbaron53
- Kevin and Friedl Pohrer in 1995 live at "The Club" in Weiden, photo by Stefan Voit
- 3 photos of Kevin and Friedl Pohrer, provided by Friedl himself (thanks Friedl!)
- A photo ok Kevin performing "The Adventures of Crazy Franck" with Julia Kempken and Keili Keilhofer; given by Horst Spandler.
- Kevin at the London book launch of Show Business. Given by Nigel Burch.
- K

evin Coyne in the USA, 1999, 2001

and 2002 . Also Kevin and Robert Coyne, Euclid Tavern, Cleveland Ohio, August 1999 by Chris McGorey.
- A show on Nov 19 1999 by A. Weyermann on his website (do a 'Coyne' search).
- Some frightening photos from a Sep 28 2001 show in Bamberg, Germany. Photos by Uwe.
- Photos from the 2002 Chicago show with John Langford of the Mekons.
Photos by Chris McGorey and Steve Glabman. Some of these photos were later used for the artwork of the "One Day In Chicago" CD.
- Nov 28 2002 show in Oberhausen (Germany), photos by Alviz Presley.
-
Photos of the 2002 shows with Brendan Croker (the "Life Is Almost Wonderful" tour)
.
- Photos of Brendan Croker and Kevin Coyne, thanks to Waldo van Leeuwen.
- The
Dandelion Reunion
in Shrewsbury, UK on October 5th 2003.
-
, 2003, photos by
- A screening of the film One Room Man at the Leeds Film Festival on Oct 2003. Photos by Graham Corby.
- Photos from the Jeffrey Lewis-Kevin Coyne show in Paris, Feb 9 2004 (photos by Froggysdelight.com). 4 photos of the same show by Bill Pannifer.
- Ypres Mar 26 2004, photo by tjanes.
- Ingelmuster,

Belgium

, Oct 2004 (thanks Bert and Jean-Pierre).
- November 11 2004,
- Photos by Uwe Pabst
- Unknown date,
, Nürnberg
- Two autographs, given by

Erik van der Scheer


- The original
that became the artwork for the So Strange single

- Photos from the
to Kevin in London (June 2008)

Check also the links page