PASCAL's KEVIN COYNE HOME PAGE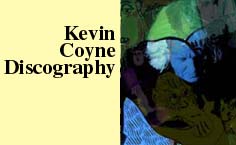 ---
Memories from the UK October 2004 Tour
Thanks to Graham, Rob and Tony. See also photos from this tour here
The shows were:
Oct 25 2004, Sheffield, The Boardwalk, Snig Hill
Oct 26 2004, Lincs, Spilsby Theatre, Church St., Spilsby
Oct 27 2004, Leeds, The New Roscoe, Bristol St., Leeds LS7 1DH
Oct 28 2004, Henley on Thames, The Crooked Billet, Newlands Lane, Stoke Row
Oct 28 2004, BBC Radio Show (Andy Kershaw)
Oct 29 2004, London, England Club Bang Bang @ 100 Club 100 Oxford Street
From the Kevin Coyne Group:
Saw Kevin in Sheffield on Monday night and can only echo Uwe posting.The band had driven from Germany and it had exhausted Kevin.The show was good with the Band being really powerful but Kevin was finding it difficult to stand although the music seemed to compel him to try -only to sing a chorus and sit down again.
I didn't go to Spilsby on Tuesday but Leeds Wednesday night was something else.Kevin was alot more rested and enjoying himself.The singing is as powerful as ever even with the breathing tubes and lots of ad-libs. For those going to London it should be great.
The audiences were smallish but vocal.A call for Marjory got a we don't do that I'm fed up with it but thought better and did it anyway accapella
Tony
Went over to Leeds last night. It was great to see Kevin in such good form. I don't know what was in the gas bottle, but it could have been rocket fuel! His voice was powerful and his wit no less sharp. He was very comfortable, relaxed╩and content with his lot. In fact I haven't seen him so laid back before - nothing really bothered him.
I would estimate there were about 150 people there -not bad bearing in mind the lack of national publicity - and everyone was there to listen to Kevin and the band (how irritating is it when you end up sitting beside the odd couple who want to discuss the ins and outs of their week to the backing of live music)! It was a pleasure to speak to Tony - I understand the book is due back from the printers soon so put aside some cash for it now!!. Also hi to Graham and his lovely wife - queen of the navigators??! Clearly Kevin has mobility problems - but so what! The gig was great. My only sadness is that I won't be able to do London as well.
Rob V
Saw Kevin as he performed last night at The Crooked Billet, near Henley Oxfordshire WOW what a gig. It was fantastic, Kevin was on top form, he still has the most amazing voice, the band was tight. It was a real privilege to be there. I woke up this morning still buzzing. Just wish I could go to London tonight.
David
About the 100 Club show:
Glad I made the effort to get to the London gig - Kevin seated thruout and breathing a bit laboured - but so would mine be if I sang like him - he's got an amazing power and inflection to his voice - not as much range as when younger but more authority (??) and emphasis.
He was in good humoured form and looks in better shape on stage than off. Said he'd hoped to be more inspired on the night ( improvisation wise ?), but what he did was great anyway ( and band fine- esp tight rhythm section).
Incidentally - haven't seen/ smelt so much smoking at a gig since the early eighties (and this for a performer on oxygen ....) - perhaps we should open up a new poll and find how many of the group smoke ( a third of the London contingent ??). As a reformed smoker ( asthma made me do it) I can't abide it more than most (sorry!).
Dynamite Daze packed a punch like the Pistols or Clash - appropriate considering the venues punk days fame.
Marlene got a great extended version with extra words and humour. Missed buying stuff cos noone on merch' stall 'til after gig and had to race for last tube home....pity Amongst songs on DJ tape before gig: Nic Jones, Syd Barrett, Beefheart, Waits and a lot of other good stuff ( who were the blues numbers by ?).
Set List as I remember it ( not in exact order)
Dark Dance Hall
Smile Right Back
Locked Out
I Hear Voices
Donut City
Blow Us All Up ( referred to Dubya Bush)
The Wobble
House on the Hill
Sugar Candy Taxi
Marjory Razorblade
Weirdo
Marlene
Saviour
encores
Sunday Morning Sunrise
Dynamite Daze
Chris Potts
I thought the 100 Club show was a great show too. The guys in the band were a bit nervous to play in London but they were really good (I even heard Werner say 'Thanks for the great show' to Kevin afterwards!)
It was great to see Kevin again and to meet so many people from the group.
It was great also to walk in the dressing room and find Kevin surrounded by his old friends from the 1974 Hyde Park show: Tim Penn, Tony Cousin and Gordon Smith! (Kevin dedicated House on the Hill to Gordon).
But I have to say, having seen Kevin in Shrewsbury in October 2003 then in Paris in February and in March in Verviers, I think his health condition is really worring and getting worse every time. He now has to use the oxygen thing all the time and has to sit throughout the show. To see him stand up for Dynamite Days but having to sit down after a few verses was painful. I know many of us were quite moved to witness that.
On the good side, I got a lot of time to speak with Kevin before the show and here are some of the best news:
- Kevin recorded a SOLO ACOUSTIC ALBUM!
- John Langford is to release the Coyne tapes recorded in Chicago last year
- Cherry Red is to release again Pointing the Finger and Politicz
- the Den Haag Excalibur recordings had all been sold before arriving in London!
- Bowers! (ah!). 'A bower is a tree that sways in the wind... it's a blakeian song' (you should have all seen the look on Paul's face when I told him that one!)
- About John Peel: Kevin liked him a lot ; in fact he did not want to talk about him at the Sheffield show "because he was afraid he would cry"
Pascal Regis
PS: Paul The Girl: a girl, alone on a Gretsch guitar: excelent!
The 100 club was a great show. I was really struck by how good Kevin's voice was sounding with plenty of tone and control. In many ways I thought his singing was more controlled and melodic than it was back in the 'wild' days of the 70s.
Talking to Kevin with Gordon and Tony after the show was strangely like the old days. He still has a wonderfully sharp wit and sense of the ridiculous and likes to prod just a little at people's sensitive spots: just to make sure there is no pomposity lurking. But to my eyes and ears perhaps in a more gentle way than long ago. I can now hear Kevin saying -- 'Tim, you don't know what you are talking about. Stop all that rubbish'. '
Gordon said to me at the end of the show -- 'Well, there really is only one Kevin Coyne, there's no one quite like him and never will be again'.
I really liked the band better than I thought I might. Hard to single anyone out in particular, but I realy thought Werner a very sensitive drummer - the kind I'd like to play with - he made the whole band sound sound relaxed and confident.
The Donut City songs worked really well and made a strong opening to the show, many sounding as good or better than on the album (now that I've bought and listened to it!). But then Kevin always did know how to imbue something more into a live performance.
Strange to see him perform Marlene though, given that he never really wanted to perform it back in 73/74 (I'm sure I never once played it live - but then my memory is not so perfect). Kevin joked that Marlene has become like a hymn in Belgium. Wonderful recitation in the middle of it. A job slicing bacon in the CO-OP, indeed.
As well as Gordon and Tony, several of my friends & my wife came along to see the show (some had seen Kevin back in the 70s). My wife, who had never seen Kevin and never really overly-liked him from listening to CDs (well he is an acquired taste), really wondered what the hell she had come to see when Kevin came out on stage with his oxygen bottle. She really felt that no-one in his condition could possibly perform/sing or be anything other than a pale shadow of his former self. However, it only took one number to make her smile and turn and say -- 'I can see why playing with Kevin must have been an extraordinarily wonderful experience'. She was rivetted by his performance, as I think most of us were.
After the gig I asked Kevin how he was finding the effort of touring, and he said it was just like the old days -- it's the travelling and hanging around that is the worst and most tiring part. We both remarked that the decor of the 100 club had not seemed to change one little bit in 30 years. The dressing room was still a pile of *****. It would appear that he has no plans to give up performing while he still can. Let's just pray that his health condition may stabilise for awhile to allow him some more time to do what he so obviously loves.
Glad I went to see Coyne perform again after a 30 year gap. Yes, without a doubt. Can he still cut it on stage - absolutely.
Tim Penn
(...) As for Friday's performance, as always, Kevin amazes me. What struck me apart from the overall performance was the care with which Andreas, Werner and Harry treated Kevin. There were no egos but a total commitment by all three to support him to the full. Andreas carefully leading Kevin to and from the stage; Harry, like a hawk perched on his five string bass constantly monitoring the situation... So, hats off to those guys for being decent human beings as well as great musicians.
Paul B.
A short quote from Wreckless Eric which gives some measure of the man and his attitude to the music business "I did a gig with Kevin Coyne the other night. Kevin is adamant that neither of us should think of ourselves as anything other than hugely successful. Even if just for the fact that we're both still doing it and pulling in an audience every night".