PASCAL's KEVIN COYNE HOME PAGE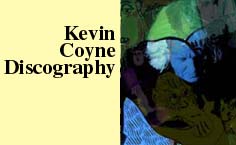 Kevin Coyne's newletters (suscribe here)
Newsletter June 2010
Dear friends, It's been a while since I've been in touch, but a few things have been happening recently that I felt I wanted to let you all know about. Chief among these was the recent opening of an exhibition of Kevin's artwork in Erlangen. This wonderful celebration was very well-attended and proved a great success, but it was especially moving for me. When Kevin first settled down in Germany back in the Eighties, he held his first exhibition in Erlangen, organized by the late great Max Beck, a very well-respected figure in the art world. So this was a special place for Kevin and I was so happy and proud to see his work on display there once again. It brought back so many memories for me.
This time, the exhibition was organized by the curator Dr Sandweg, and his team, who did a really splendid job. I am so grateful to him for the dedication and flair that he brought to the project. An extra special dimension to the opening of the exhibition was a live performance by my stepson, Robert Coyne, who sang some of the songs from his new acoustic album Woodland Conspiracy, which was released on CD and LP in May by Meyer Records. It was a wonderful performance and I'm sure Kevin would have felt very proud looking on. If you're interested in listening to Robert's album, please go to his My Space site or visit Meyer Records website. Also there to honour his father was Eugene Coyne, as well as Robert's wife Wendy (who contributed an illustration to Robert's album sleeve) - so it was quite a family gathering!
I would also like to take this chance to thank Eugene for his tireless efforts in putting Kevin's anthology together. I know that he and Robert worked very hard on the tracklist, on sourcing the material for the booklet and Eugene in particular brought a great deal of skill, diplomacy and patience to the job of liaising with EMI on what turned out to be a very difficult project. I am so grateful for all this hard work and dedication and am pleased to say that it was well worth it in the end! Already I've been getting lots of emails from people who are so happy with it. But our work goes on. There's still a lot of unreleased stuff in the archive which we'll gradually sort through - there are some interesting bits and pieces from the many summers Kevin spent touring in the US, where old friend and collaborator Michael Lipton often recorded his shows, there is the last live show which was recorded in Hamburg, plus the final solo recordings…so don't worry, there's plenty more in the pipeline!
And while we're on the subject of keeping Kevin's music and memory alive, I'd like to say a word of thanks to Karl Bruckmaier who has recently been playing some of Kevin and Robert's songs on his radio show. If you're interested in listening to a lively, thoughtful mix of music, I strongly urge you to check out his show Nachtmix on Monday nights on Bayern 2.
At this point I would really like to say a very special thank you to Werner Steinhauser, who you all know was Kevin's drummer and friend. Werner has become a great friend to me too over the years and I am so grateful to him for his continued support and encouragement and for his work as joint partner in Turpentine Records. In the last few days Werner and myself have begun to make plans for some more tribute concerts to Kevin, which we hope will take place here in Germany in 2011. These plans are of course at an early stage, so if any of you have ideas to contribute, please feel free!
Finally, I say a heartfelt word of thanks to all of you in the Kevin Coyne group all around the world who continue, even five years after Kevin's death, to keep his music and art alive, archiving and collating and just appreciating and listening. I hope you'll keep the spirit and spread the word in the years to come.
Have a great summer. All the best,
Helmi Coyne
Dear Friends,
I'm really pleased to be able to tell you that 'Death Is Not My Destiny', Robert Coyne's solo album, is now out and available to buy through the website.
As most of you probably know, Robert is Kevin's younger son and played with Kevin off and on over the years, touring with him throughout Europe and in the US. Kevin was always very happy to be on stage with his son. In the last few years, Robert has worked with a variety of artists, including Venus Ray, The Barracudas, Sky Saxon, Amy Rigby and, most recently, Chris Wilson and The Groovin' Flames. I know that the making of this record has been a tremendous labour of love and a very emotional experience for him. Kevin often talked about his son's solo album and was excited at the prospect, so I'm sure he's very happy up there listening in his heavenly bungalow...
I asked Robert to talk about his work and here's what he had to say: 'Dad first proposed that I make this album three or four years ago, and although I was pleased and excited about the idea, I was also quite daunted by it. Up to that point I'd done very little singing or lyric writing, and I wasn't at all confident I could do either. I wanted to try, but couldn't really find an approach until some time after Dad died. In a strange way, his death seemed to make it possible and necessary for me to do the work. I was able to make the leap of faith I needed to. My love for Dad has only deepened since his death, and recording this album has been a part of that process. Working on it, I felt his presence â– and absence – in many different ways, most of all while we were completing it in Nuremberg. Working with Werner Steinhauser, Dad's drummer and close friend for many years, in the same studio where Dad recorded his last albums, was a very moving experience for us both. Werner's enthusiasm and encouragement, as well as his playing, were wonderful. I hope some of you will enjoy the album – while the music is quite different to Dad's, we've tried to make it with something of his spirit.'
Another album that is also well worth your attention is the newly released 'Whispers From The Offing â•" A Tribute to Kevin Coyne', which features versions of Kevin's songs by the late Nikki Sudden, Alternative TV, Jackie Leven and many others. The album is being released by Life and Living, a radio show 'composed largely of sounds made by people who have experienced distress in their lives.' All proceeds from the sale of the album will go to The Maudsley Psychiatric Hospital in London, a worthy cause of which I'm sure Kevin would have approved. I'd like to thank everyone involved for their obvious love and appreciation of Kevin's work, and for helping to extend his legacy in such a creative, personal and practical way. For more details, go to the Life and Living website: http://www.lifeandliving.net.
Last but not least, I'd like to invite you to listen to John Callahan's CD 'Purple Winos In the Rain'. The Portland, Oregon-based artist is widely known for his dark and vicious cartoons, comments on everyday life. While Kevin was alive there were plans for some kind of musical collaboration. Sadly, as we know, Kevin died, so it never happened. You can purchase John's record at CDbaby, but do have a look at his website: http://www.callahanonline.com or visit my space.
I do hope you enjoy listening to these albums and, as ever, I'll keep you informed of any news or further projects that might be of interest to you all in the near future.
Until then, my very best wishes,
Helmi Coyne
December 2006
Dear all,
In lieu of a proper newsletter, which I intend to bring to you in January, I just wanted to make contact before the end of another year.
I'm pleased to be able to tell you that Werner [Steinhauser] is currently putting the finishing touches to Robert [Coyne]'s album, Death Is Not My Destiny, and we're hoping the release date will coincide with Kevin's birthday on the 27th January.
Also, an exhibition of Kevin's artwork will open on the 16th January at the Galerie am Schweizer Platz in Frankfurt but, if you can't make it to that, you can view his paintings online at his website.
In addition, plans for Kevin's tribute album are progressing well and I'll have more to tell you about that next month.
Until then, I'd like to thank you for your continued support and enthusiasm and wish you all a wonderful Christmas and a peaceful, prosperous New Year.
With love,
Helmi
Dear Friends,
It's been a year since Kevin died. I miss him every day. Kevin was a deeply spiritual person and believed in a life after death. Despite the awful illness which at times made his life almost unbearable he never asked "Why has this happened to me", he just carried on working and believing.
We often talked about death, especially in his last year. My greatest fear was how I'd carry on without him. He told me I would be strong enough to deal with it. He promised me I would feel his presence. And I do.
I thank you all for your love and support. I know Kevin's work will live on and this gives me the strength to live and to continue to look after his music, writing and art.
On the 20th December Kevin's new album "Underground" will be released. It's the result of recordings Kevin made on and off in that last year, between April and October 2004, and it's thanks to the joint effort of Kevin's band, friends and family that we've managed to get it out.
I'm proud to say that renowned artist Ralph Steadman did the cover (http://www.ralphsteadman.com) and, to coincide with the album's release, journalist Robert Chalmers wrote a fine article for the Independent (to
be published on the 11th December).
You'll find further information about the CD and how to order it on the website. (http://www.kevincoyne.de/News.htm) I hope you like it and I look forward to hearing your comments.
In the course of my recent travels I visited Vienna, a special place for both of us. The day Kevin died he was supposed to play in Vienna. While I was there I met a number of friends and journalists and was overwhelmed by the love and respect they expressed for Kevin's work. It was very touching and I thank you all.
In particular, I'd like to mention the Austrian journalist and DJ, Samir Koeck, who's released a compilation album on Universal records entitled 'Gloomy afternoon', which includes one of my all-time favourite Kevin songs, "No Romance". If you're interested please contact him at samirkoeck@chello.at
We're still trying to organise a tribute show in London. It's proving quite difficult to find the right location, but we'll definitely do it and I'll keep you informed of our progress.
Finally, I'd like to wish you all a happy Christmas and finish my letter with an ancient prayer Kevin liked very much:
DEEP PEACE OF THE RUNNING WAVE TO YOU.
DEEP PEACE OF THE FLOWING AIR TO YOU.
DEEP PEACE OF THE QUIET EARTH TO YOU.
DEEP PEACE OF THE SHINING STARS TO YOU.
DEEP PEACE OF THE SON OF PEACE TO YOU.
Love
Helmi Coyne
Thursday 8th December
Nurmberg
Newsletter July 2005
Dear Friends,
It's been quite a while since the last newsletter but I guess you'll understand when I say how much I miss Kevin, every moment of my life.
Anyway, I do have some news for you.
In December 2002, Kevin and his son Robert were in Chicago to do some recording with Jon Langford, the Mekons and others. The recordings have resulted in a terrific new CD titled "One day in Chicago". Kevin loved playing in Chicago and I'm sure he would have been proud of this record. Jon Langford and his colleagues have done a great job with the production and the record is now released and available. I hope you like it.
On my recent trip to the USA I visited Kevin's former guitar player Hans Pukke, now living in Los Angeles. It was wonderful to see Hans and his lovely wife Sieglinde after so many years. Hans had many stories to tell - some funny and some sad - of the dark days when Kevin was battling against alcoholism. Although he no longer plays professionally, Hans is still never far away from a guitar - he makes them. Really fine instruments. If anybody is interested to know more, please go to www.hanspukkeguitars.com
While I was in the States I paid a visit to the cartoonist John Callahan who's renowned for his sharp wit and dark humour. John is quadriplegic and although he and Kevin had never actually met they had talked over the telephone several times and they were planning to do some recording together. Kevin's friend, the journalist Robert Chalmers had done an extensive interview with John Callahan and introduced them. There are similarities in their lives and their art. I think John's work is brilliant. If you get the chance, check him out at www.callahanonline.com
Another artist and musician you might appreciate is Dan Reeder, an American living in Nuremberg. He and Kevin often exhibited their art together and very much liked one another's work. His highly individual music can be heard on his terrific self-titled CD on Oh Boy Records, available from www.ohboy.com, www.amazon.com or, if you prefer, through me.
Turpentine Records is planning to release a new Kevin Coyne CD towards the end of this year. It's all new material recorded during the last year of Kevin's life when he would go to the studio and just play - that was the way he liked to record. The CD is to be titled "Underground", which is taken from one of the tracks. It's a work in progress at the moment. Kevin's website will be updated but this too is work in progress and will take some time. Please be patient, I'm not finding it easy, but with a little help from friends and the Kevin Coyne Group the update will happen.
Kevin's eldest son, Eugene, is currently trying to organise a tribute show. He's searching for a suitable venue where Kevin's artwork and films could be exhibited and of course his music could be played. If anyone has an idea or knows of such a venue please feel free to contact Eugene at Dr.miaow@virgin.net
The city of Nuremberg is celebrating the 30th anniversary of the "Bardentreffen" festival. This is a festival for singer-songwriters that Kevin attended. There is a commemorative "Kevin Coyne Pin" based on the "Elvis Lives" motif (which has become the Turpentine Records logo) and it's available from www.bardentreffen.de at a cost of 3 Euros. I think it's a marvellous gesture and I'm hoping many people will buy it as it helps the City to finance the festival.
I'm going to close now with a poem. It's one of many written by Kevin during the final months of his life. I find this one particularly moving, sad and optimistic at the same time. The poem is dedicated to "Little Marie", the daughter of Kevin's bass player, Harry. For Kevin little Marie was the synonym for vitality and pure life. It's called "New Lungs".
New Lungs
Get in touch with little Marie
Tell her uncle Kevin needs new lungs and she has to pray for him
"As big as shopping bags?" she asks when the request comes through, "Good and strong?"
and the birds flutter from trees as she closes her eyes
celebrating the spirit that lives
making themselves into a choir
to announce a miracle.
Thank you all for your love and support. I'm sure Kevin is up there watching us, sometimes grumpy but mainly happy, walking his dog, sitting in his heavenly bungalow, waiting for the results of his Derby County Football Team∑
Love,
Helmi Coyne
Newsletter January 2005 ( Update from Helmi Coyne )
Dear Friends,
Some good news to report.
Kevin's latest book "That Old Suburban Angst" has just been published and is available from www.kevincoynebooks.com
The book is a collection of short stories, glimpses of humanity and life's goings on. Kevin never saw the finished product but I know he would have been as pleased with it as I am. I hope you enjoy it.
I must also mention the proposed tribute concert for Kevin. It's likely to be later this year but no date or venue is fixed at the moment. An announcement will be made soon. I'll keep you all posted.

Thanks for your support.

Helmi

Newsletter October 2004
Dear Friends, My short tour of England commences at the Boardwalk, in Sheffield on October 25th. I'll be accompanied by me excellent band from Nuremberg: Andreas Blueml, guitar, Werner Steinhauser, drums and Harry Hirschmann, bass, all musicians featured on my last Turpentine CD "Donut City". After the last English date (the 100 Club in London on the 28th) I'll return to Germany for another brief tour beginning in Zwickau on the 19th of November.
Those of you attending the shows will probably note my reliance on a small oxygen tank and plastic pipe throughout. Recent advice from doctors has led to this. Bravely puffing and panting through songs without extra air is now forbidden. I must preserve my health. This rotten lung fibrosis of mine demands I do what they say.
Recent weeks have seen the start of two exhibitions featuring my paintings. My solo show in Fuerth, Germany at the City Theatre opened on October the 17th to general approval. I get great delight from the pleasure some of my sometimes very silly pictures give people. The Fuerth opening was a happy one with lots of smiling faces around. "Three Britischer Cowboys" is an exhibition of my work alongside that of Mekon, Jon Langford and Rico Bell at the Yard Dog Folk Art Gallery in Austin, Texas. The show will start on October the 30th. I would love to be over there to see it but my lung sickness doesn't allow me to fly at the moment. Never mind. I'm sure my good friend Mr Langford will take care of everything in my absence.
The new release on Turpentine records is to be a re-issue of my 1985 live album "Live Rough and More" and should be available to purchase on my tour and through the website. This record is one I'm particularly proud of, featuring my powerful band of that period (Peter Kirtley, guitar, Steve Lamb, bass and Dave Sheen, drums) in stunning form. The concert was recorded by Radio Bremen. Another "product" (oh how I hate the word) that should be available for sale on my coming tour will be my new book of short stories "That Old Suburban Angst". The book is published by Tony Donaghey publications and will also be available through his "kevincoynebooks.com" website and from here. This will be my first book in English for some time (the last three were in German). So, as they say, watch out for it.
Andy Kershaw has asked me to record a session for B.B.C. Radio 3 on the 28th of this month. It should be an acoustic set, so I'll probably try out some new material. I hope you'll listen in. Robert Chalmers, long-time friend, famous journalist and inspired novelist (his latest book "East Of Nowhere" is an outstanding piece of work), recently put me in touch with American wheelchair bound cartoonist and songwriter John Callahan. It was an inspired move, which has led to some positive communication and the possibility of making an album together in the future. I hope it works out.
And to finish, I'm honoured. The city of Nuremberg football academy has asked me to join them this year. What this entails isn't very clear but I love the idea. A Derby County fanatic asked to air his views amidst a group of equally fanatical German football fans? It could prove interesting. I can't wait for my first meeting. So, there it is. I trust this letter finds you all in good health. Thanks, as ever, for your interest and support. It could be I'll see you on the road somewhere. Who knows? All the very best for now then.
Kevin Coyne
P.S. I almost forgot. A new series of postcards featuring some of my artwork have been printed and will be available on the tour and through the website. Maybe you'll take a look? Thanks again.
Newsletter February 2004: New CD in March: Donut City
It's been some time since I last wrote. My apologies. Last year was tough, with the lung fibrosis dampening my spirits and making touring more difficult. This year feels better already. Your splendid Christmas cards and Birthday greetings (and what a lot of them!) cheered me up no end. Being sixty, white haired and more than a bit doddery can be fun. My special thanks to Michael Ackermann for the cheeky little bear, to Candy and Bones, for their warm greetings, to Clive Product, Paul and Rita Warren, Pascal Regis and all the Coyne loyalists for their support and concern. Your enthusiasm spurs me on.
This round of thanks wouldn't be complete without mention of noted journalist and D.J. Karl Bruckmaier (www.le-musterkoffer.de). His birthday special on Jan 31st on Bavarian National Radio 2 was a thrill for me. I hope you people out there enjoyed it too. And Karl, that January interview in the "Sueddeutsche Zeitung" about my passion for football was something I always wanted to do. Many thanks.
And the guest book! I mustn't forget the guest book! To all of you who write such wonderful things about me, I'm deeply touched. It's great to know my creativity reaches so many people. My gratitude goes out to every one of you. And now to gigs and the new record:
My show with Jeffrey Lewis, an American artist whose work I like, takes place in Paris on February 9th. Details can be found on the website. My thanks to Pascal Regis for putting it all together. Harry Hirschmann (bass) and Andreas Blüml (guitar) will accompany me for this gig.
A tour of Belgium and Holland has been organised for March. Harry and Andreas plus Werner Steinhauser (drums) will make up a powerful backing trio.
"Donut City", a new record put together over the past twelve months that frequently mirrors recent ups and downs, is due to be released on our own Turpentine Records label around March 20th. Further details of the players and content can be found on the press release we're placing on the site. Purchase of the record will be through the site and at gigs.
Tony Donaghey, long time friend and supporter, is currently putting together a new book of Kevin Coyne stories for publication under his own imprint for sale, hopefully, some time in the next six months. We'll keep you informed. A new book from me, as far as I'm concerned, is long overdue. I can't wait to get the finished product in my hands.
Finally: I just want to assure all of you out there that this miserable illness of mine will slow me down (you might well see me taking in oxygen at gigs) but will never crush my determination to give of my best. The help from my band, family and doctors, like my friend the wondrous Dr Velia Wortman - specialist in acupuncture and other alternative treatments, keeps me optimistic. Life is almost always wonderful.
Best wishes to you all and thanks for everything.
Kevin Coyne
P.S. Oh, I mustn't forget! Where would I be without my marvellous wife Helmi? Her love, patience and believe in what I do verges on the miraculous. Thanks sweetheart.
Newsletter August 2003

Many thanks for your good wishes. I'm pleased to report the cortisone therapy I'm currently involved in appears to work and the condition has stabilised. Lung fibrosis is a debilitating illness but modern medicine appears to have an answer. I'm much relieved.
The last few months have been quieter than normal, with me spending much of my time drawing, painting and writing at home. My recent exhibition at the Kunsthaus in Nčrnberg was splendidly put together and well received. Art helps to explain myself to myself, uncovers the hidden horrors and delights of life. I'm glad I have the time to get involved properly.
Helmi, my everloving wife and manager, has decided to put an "all star" show and recording session together in Nürnberg to celebrate my sixtieth birthday in January 2004. Paul Wickens, a seventies member of my band and long term McCartney pianist, has already agreed to come, as has my former manager and guitarist Bob Ward. It should be quite a party (especially if ex Police superstar and former Coyne man Andy Summers answers the call). I'm looking forward to it.
Recent gigs have been most enjoyable. My last show, with veterans Slade in a market square near Brussels, was a lot of fun. I don't think I've worked with such a loud band since Link Wray twenty years ago. I'm surprised the town's ancient buildings didn't collapse. It was that noisy.
Other shows in recent months (Nuernberg, London's Borderline and Cheltenham Town Hall) were all happy, successful occasions. I think Robert Coyne's performance in London was one of the best I've seen from him. His development into a genuinely creative talent has been a delight to behold. It feels good to keep it in the family.
I'm due to go up the North Sea area of Germany for a short holiday at the end of this month. I'm told the sea air will do my lungs a power of good. I hope it's true.
Finally: I've just started work on recording a new album in Nčrnberg. It looks like it's going to be experimental in parts, a challenge for those who like my music straightforward and familiar sounding. I like to try and move forward. My new material should prove this point.
That's it then. I'll keep in touch. Thanks, as ever, for your enthusiasm and support. Take care.
Kevin Coyne
P.S. (1) Coming show dates are at the end of this piece. See you there. 13.9.2003 Kulturgiesserei SchÜneiche, an der Reihe 6, 15566 Schoneiche, Germany 20.9.2003 Schweinfurt, Germany 5.10.2003 Shrewsbury, England (Dandelion reunion) 9.10. 2003 Kaiserslautern, Germany
P.S.(2) Rob Hoogendorp, long time friend and fan from Holland, is currently compiling a book of Coyne memorabilia that includes pictures of albums, single sleeves and posters, some I've never seen before. Coupled together with a short biography it should make a fascinating read. (I've already seen much of the stuff). I'm told it should come out in the new year. We're including Rob's email address if there's anything you have that you think should be added to the collection. I think it's a thoroughly worthwhile project. Support it if you can. E-mail: Rob Hoggendorp at "srh@euronet.nl"
Newsletter May 2003
I'm sorry for the delay in writing. recent events (like the discovery of fibrosis in my lungs, an illness that causes shortage of breath, problems climbing stairs and requires me to take in oxygen at least 16 hours a day) have taken the edge off things of late. Fortunately, however, I can still sing with the same power, still think and create like normal.
All the shows this year have been well received (particularly Vienna) and the addition of German ace guitarist Andreas Blčml to the live line-up has been a wonderful bonus. My future recording plans include both Andreas and my son Robert. I'm expecting terrific results when we start work in May. Future gigs include shows in London (the Borderline) and Cheltenham Town Hall, all part of a very brief tour of England I'm making in late June.
Other shows include Ingolstadt in Germany and Graz in Austria, both in May, and possible appearances in Belgium in early August.
The exact details of all these gigs are featured at the end of this piece.
My artistic career is still flourishing. I've been painting and drawing like a man possessed this past few months. Some of the results should be on display at a mixed exhibition in Nčrnberg later in the year. My Teddy Bear show ended at the Nčrnberg Toy museum in March. The response from the public was a delight, the sight of the old and young enjoying the exhibits (my bear collection exhibited in glass cases acting out scenes from their daily lives with backdrops painted by me) was most uplifting. I don't think I've enjoyed myself so much in ages.
Finally: plans are in the works to release a lot of my live material from the past twenty odd years on C.D. Keep in touch with the website for further information. Thanks, as ever, for your support. I hope I get to meet some of you before the year is out.
Take care
Kevin Coyne
P.S. The lung fibrosis is not according to the specialist doctor, caused by smoking ( I was a heavy addict until seven years ago). It seems I'm just an unfortunate victim of an illness that has no known causes. I'm hopeful of a cure at some point. Cortisone can prove effective. Keep your fingers crossed for me. I'm also told that a house by the sea would help. Keep your fingers crossed for that too, as I know the sea air could do wonders for my breathing.
Finally yet again: A million thanks to Ivan Beavis in London for helping us out on a recent private visit. Ivan, you're a true friend - even though you're a Man United supporter. May the gods smile on you and your family forever.
Newsletter January 2003
My December gig and exhibition in Chicago with Mekon Jon Langford was a great success. The gig, at the Old Town Music School, was well attended (probably the best ever crowd for me in the U.S.) and drew a wonderfully warm response. I can't wait to get back there and do some more. Chicago appears (judging by the excellent review in the Chicago Herald Tribune) to have taken me to its heart.
The Teddy bear project in the Nčrnberg Toy Museum has turned out to be a real hit with teddy lovers young and old. A twenty minute documentary featuring myself and my wife, Helmi, talking with and about our bear collection is to be shown on Bavarian T.V. some time in the near future. I hope some of you can get to see it, as we think the director, Ernst Gortner, has made a splendidly witty and lighthearted film. We love it.
Our nine date tour of Germany (including shows in Vienna and Switzerland) starts on the 14th of February. My band will be Werner Steinhauser (drums), Harry Hirschmann (bass) and new man Andreas Blčml on guitar. The set will include songs from my latest album "Carnival"(released on February 3 by Ruf )
When I was in Chicago I recorded a number of new songs with Jon Langford and The Pine Valley Cosmonauts. It's my wish that some of them are released later in the year. A new version of "Saviour" is already due to appear on "The Executioner's Last Song" Volume 2 on Bloodshot Records, a collection of anti death penalty tunes. My fingers are firmely crossed, as I've already (unusually for me) developed a real fondness for the new stuff. New projects keep me interested.
To close, I'd like to thank everybody for their christmas and birthday greetings. We always like to hear from you. What would we do without your support? I'll be in touch again soon.
Take care and thanks,
Kevin Coyne
P.S. The November 2002 Kevin Coyne - Brendan Croker tour of Belgium and Holland was incredibly well attended. The response to our largely improvised set of songs from the "Life is almost wonderful" C.D was, in the main, astounding. We must do it again. The dates for the February German tour are attached to this piece. Boris Tomschiczek's half hour "One Room Man" documentary, a black and white film of me singing and talking about my work, is proving to be a great success (a January 27th showing at the Rotterdam film festival was a well attended hit). The film will also be shown at festivals in : Nyon, Switzerland "Visions du Reel" Helsinki, Finland "Illumination 2003" and other places. Sorry I haven't got more details, but look out for it.
Newsletter November 2002 New CD: Carnival
Our trip to America turned out to be a real delight, with lots of laughter, lots of travel and some outstanding performances by my rock solid band of Robert Coyne, Michael Lipton and James Little. 'Shubas' in Chicago was the best gig, although an afternoon's performance in an old folk's home in Fredericksburg, Virginia (where I was mistakenly taken for a resident) was probably the most memorable. The life of a rock starlet has many twists and turns.
My new C.D 'Carnival' will be released by Ruf records around this time. It's a record that features heavily the innovative and often startling talents of my son Robert ably assisted by Werner Steinhauser (drums) and the melodically gifted guitarist Michael Lipton. I'm pleased with the result. Hope you like it too.This December will see my return to the U.S with Robert to perform alongside artist Mekon Jon Langford at the Old Town School,Chicago. An exhibition of my work (together with Jon's) will also take place. The concert's on the 14th of December. It should be quite an event.
My November duo shows in Belgium and Holland with Brendan Croker are proving to be a genuine success, with excellent attendances and a wonderfully warm response from everybody. It appears the mixtures of improvised lyrics and strong songs (with a dash of humour) really works. Expext more of the same in the new year.
A band tour of Germany and Switzerland (featuring Werner Steinhause, Harry Hirschmann and new guitarist Andreas Blčml) is planned for February 2003. The gigs will feature material from the 'Carnival' C.D and some old favourites. Check this website regularly for more details.
And finally....! The 'Teddy Coyne Cosmos', an exhibition of large paintings of teddy bears plus cabinets full of bears from the Coyne private collection 'in action' is running at the Nčrnberg Toy Museum from Nov 19th to March 23rd 2003. The show's already received high praise from the press and is being heralded as 'a delight for young and old'. Self designed coffee mugs and postcards of the bears can be purchased ( a CD of bear songs, four have already been written, is also planned). Once again, check the website for additional details.
So, that's about all for now. Hope everyone has a wonderful christmas and new year. I'll be keeping in touch. Thanks for your support.
Kevin Coyne
Newsletter June 2002 Limited Edition: "Life is almost wonderful" - American Tour - August 2002

Dear Friends, This year has been a little more relaxed than usual ... less touring, fewer nights in dark hotels. My eight gig English tour in March 2002 with Brendan Croker (an excellent guitarist and songwriter from Leeds) proved to be a genuine success. We had lots of fun. Playing and singing with Brendan was one of the more pleasurable things I've done in the past few years. Our appearance together on BBC's Andy Kershaw show received lots of positive feedback too. Andy's passion for what we do made everything go with the swing. There was much laughter around. More gigs with Brendan are being organised for October/November in Belgium, Holland and possibly France. A limited edition CD of our show, called "Life is almost wonderful" is available at gigs and on this website.
My art career continues to prosper. A recent exhibition at the Max Beck Gallery in Erlangen, Germany got excellent reviews and I've just heard from Jon Langford (founder member of the Mekons and noted artist) of the possibility of exhibitions and shows together in Chicago and Austin, Texas in December 2002. I'm looking forward to taking part in the latter. It should be a fine thing to do.
A tour of selected American cities takes place throughout the month of August 2002. Details of venues should be appearing on the site soon.
My website is currently being thoroughly overhauled and you should be seeing the results in the very near future. The site will include lots of new paintings and hopefully more writings plus some music to download.
This month has seen the completion of the next Kevin Coyne CD, tentatively called "Blue Carnival", recorded in Nčrnberg and London. The whole package should be available in September/October 2002 on Ruf Records. My multi instrumentalist son Robert and one of my favourite drummers, Werner Steinhauser, are featured heavily on the new record. I'm really pleased with it.
I'm sad to report the untimely death of Steve Smith from London, highly talented drummer and stalwart of recent concerts and records. His natural talent will be sorely missed. God bless his soul.
This is all for now. I just hope England win the World Cup and I get a knighthood at some point in the future (hahahahahaha).
All the best, Kevin
P.S.: Thanks for your support. Keep listening and looking.
American Tour - August 2001
My American tour starts on the 9th of August at Johnny D's club, Someville Mass. Look out for gigs at the Knitting Factory N.Y (August 10) and the Knitting Factory L.A (August 18). The big, bad city normally gives me extra inspiration. I hope I'm in good form, all the dates for the tour are listed on this site.
Future work includes a tour of Germany (10 dates in all) in October, plus 5 shows around Germany and Holland in September. The musicians on the U.S tour are Robert Coyne (guitar, bass, keyboard), Michael Lipton (guitar, bass) and Jupiter Little (drums). Thanks to all those who attended my concerts in England in April. I thoroughly enjoyed myself (particularly London's Borderline). I hope to be doing more in the U.K in the new year alongside my guitar playing-singing chum Brendan Croker. Look out for shows in February 2002.
That's it then. Must dash .... the U.S calls.
Thanks for your support, Kevin Coyne, August 2001
Newsletter April 2001 I'll never stop...
2001 is proving to be another busy and interesting year for me. My German tour in February (like my five date Dutch tour in December 2000) was a resounding artistic success. I discovered, despite feeling old and grey and very fifty seven sometimes, that I still love entertaining people. What could be better than the smile of pleasure on a satisfied customer's face? I'll never stop doing what I do. Dropping dead on stage sometimes seems like the perfect way to go.
My mini April tour of England, which includes dates at the Borderline in London, Derby Flowerpot and the wondrous Shed in Brawby near York, looks like being an exciting musical challenge. I'll be taking Robert Coyne (guitar) and Steve Smith (drums) with me on the trip, so listen out for stirring renditions of many of the numbers from my recent "Room full of fools" C.D. Robert and Steve were the musicians on the record, and should add an authentic touch to proceedings. I can't wait to get at it.
Other projects in the works include a new book of stories, more exhibitons (Bremen, Germany in October) and more drawing for the record review page of the 'Sčddeutsche Zeitung'. Painting, drawing, music and writing help keep me alive. I'm happiest when I'm working.
Changing the subject slightly: My recent documentary for Dutch T.V.* turned out to be the best film about me ever made. I'd like to thank Walter and co for their professional and sensitive work. I really appreciate being appreciated.
Finally, a big round of applause for the musicians I've worked with recently... Much love to Michael Lipton, James Little, Werner Steinhauser, Keili Keilhofer, Robert Coyne and Steve Smith. Their fire and passion is essential to my music.
So, that's about it from me for now. Much more to come, I hope, later. And remember, I never forget it's you out there that keep the wheels rolling. Thanks.
P.S. I almost forgot. Where would I be without the managerial team of my dear wife, Helmi and the soulful, always enthusiastic Martin Hamlet. A big thanks to them too. Turpentine Management rules! Exact details for future shows are elsewhere on this site. Please check them out.
And finally: A great big Thank you to Hans-Peter Schmidt and Michael Perlbach for constructing and maintaining the website. You've opened up the world for me. I'm very grateful.
Regards to everybody, Kevin Coyne, April 2001
*If you are interested in purchasing a video of the 'Loladamusica' music documentary feature from VPRO (Dutch T.V.) please contact: VPRO P.O. Box 10 1200 JB Hilversum ß The Netherlands Phone: +31 (0) 35 - 677 48 25 Fax: +31 (0) 35 - 677 49 02
Newsletter October 2000 New CD: Room Full of Fools
This c.d is for all of those people who might think I'm fading away into feeble old age. It's a set of songs for the passionate, the heartbroken and sometimes cynical. I had a lot of fun making it.
My recording sessions in the U.S. (the first ever for me) were a triumph of fast food, fueled energy and lust for improvisation. I tried to say what I had to say as honestly as possible. The musicians on the album (Robert Coyne, Steve Smith and Werner Steinhauser) all made telling contributions. Robert, particularly, astounded me constantly with his feel for my kind of writing and singing. It's handy when ones son is a talented multi instrumentalist. Songs like "Sugar turning sour", "Room Full of Fools" and "I'm wild' bear" witness to his abilties
(particularly his rough edged powerhouse guitar style). Working with him was a delight. This is something like (I've lost count) my fortieth album. When I started with Siren in 68 I never imagined I'd still be turning them out thirty two years later. Recent gigs in New York, L.A. and the wilds of Bavaria convince there's still an audience for my anarchic humour and determined commitment to reality. I'm a flawed romantic and it feels right. I hope you find a lot of pleasure in this record.
Kevin Coyne, October 2000
Newsletter March 2000 New Book: "Elvis, me and everybody"
The year 2000 looks promising. My new C.d. on ruf Records (untitled as yet) is due to be mixed in Weimar, Germany at the end of March. I'm pleased with what I've done. My son Robert and his drummer friend Steve Smith played their hearts out, with the result that there's an energy and passion on the record that feels naturally soulful. This new release has humour too. I hate it when critics write me off as doomy and self-centered. I laugh at myself (and the world) a lot. I believe this comes through on the material.
And now for the live performances: lots of shows are planned for the summer months, with America (I enjoyed myself so much there in August and September last year) at the top of my list. England looks like a strong possibilty too. There's talk of touring in September. I hope it works out. Details of all my shows will be advertised regularly on the site. Keep looking in.
At this point I'd like to thank all my friends and fans out there for making this website a success. Your kind words are appreciated. My brittle self confidence gains strength from your encouragement. It's great to still be around. My artistic output continues to amuse and interest people (exhibitions in Nice, France and Konstanz, Germany are being arranged for later in the year): More details will appear on the site as they come in. I'm sorry I can't offer you more at the moment.
And literature? Well, the new book of short stories (in German) is due out in March. It's called "Elvis, me and everybody", and I'm hoping (anybody reading this interested?) to find a publisher for it in England. It's been nearly seven years since a book came out in my own language. Maybe now is the time to change all that.
And finally ....... I'm full of optimism for the future. My last record ("Sugar Candy Taxi") was my first c.d. in years to get international exposure. The response to it felt good. I can't wait to get the new record out and test the waters again. An artist and entertainer like me needs a public. Thank goodness you people are about.
Kevin Coyne, March 2000
Newsletter December 1999 A year of change - Release of "Sugar Candy Taxi"
1999 was a year of change. My move from Rockport Records to Ruf Records proved quite traumatic. I left Rockport because of the limited distribution and lack of publicity for my material. It was hard but necessary. The frustration of making heartfelt records that no one outside of Germany could buy almost led to my retirement from the scene. Ruf Records with its universal distribution changed all that. Applause for Mr Thomas Ruf! With the release of "Sugar Candy Taxi" I am becoming truly international again. My touring schedule for 1999 wasn't as busy as some years, although the last five months saw a sudden burst of activity.
A short tour of the U.S., a thirteen date jaunt through Germany, Austria and Switzerland and an eight show visit to Holland and Belgium kept me on my toes. Standout performances were Brussels, Berlin and New York, with my small but powerful band a magnificent support throughout. Many thanks go out to my son Robert (guitar and keyboards) and Steve Smith (drums) for providing such stimulating musical companionship. Every gig was a pleasure to do.
Future plans include a new album release in April/May. The record (some of which was recorded in New Jersey U.S.) should be a more of a rock C.D. than Sugar Candy Taxi. Steve Smith and Robert Coyne (as musician and songwriter) are heavily featured throughout. My new German book of stories (Elvis, ich und die anderen) should be out in February 2000. The publisher is Ars Vivendi. For those awaiting a book in English I can only say I hope to bring one out by the end of 2000. I'm looking for a publisher. Any ideas?
New tours are planned for Scandinavia, the U.S., and England in the new year. I hope it all works out. Please contact us if you fancy promoting something in your area. This is the first of, hopefully, many newsletter from me. Seek out this site for up to date information about myself. Your loyal support is always needed. My gratitude for your interest is great.
Thanks. Kevin Coyne, December 1999
P.S. Some art shows are being planned for the new year (details later). Are you interested in putting one on? If you are, give us a call ( e-mail us). P.S.S. Eventually I have my own website. The site you are on right now.