PASCAL's KEVIN COYNE HOME PAGE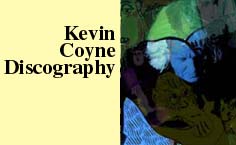 On Aug 19 2005, Jon Langford, Sally Timms and The Pine Valley Cosmonauts hosted a memorial show for Kevin Coyne at The Hideout (Elston & Wabansia) in Chicago. Members of the Kevin Coyne Group report (photos by Chris McGorey).
"ok- it went down like a flash- we had a packed house at the hideout, with Helmi there but Robert nor Eugene could make it. So it started with Jon Langford doing a great version of the Einstein Song. Jim and Chris from the [Kevin Coyne] group were there and though Helmi forgot my Pin, Jim had one for me (I hope your first name is Jim, as I was so distracted with so much last night, but thank you, you know who you are). Everyone was super nice and the Hideout turned out a great little spot. Sally Timms Sang I'm Just a Man, and well I will have to watch the video to get a set list for you, because I can't quite remember, I showed some of the Old Grey Whistle Test performances, House on the Hill and I Want my Crown.
Then I did an acoustic version of Smile Right Back dedicated to Helmi, from Donut City.
John Wesley Harding played with Langford doing a great Blame it on the Night, and Langford did Way of the World from One Day in Chicago.
Sally came back on to do Sugar CandyTaxi. I will have more after work today.
THANKS TO EVERYONE WHO HELPED and THANKS for coming..."
STEVE "SUNNY" GLABMAN
"Here are some more songs that were played. Chris Connelly did Lunatic and Looking For the River, Jon read The Party Dress, Harding came back on to do a version of God Watches Over You, very heartfelt. Langford did Monkey with my Heart from the new CD. Sally joined for Havin' a Party, Then Everyone did Money Like Water, and a rousing version of Saviour. Then I showed more viddies, but the soundman had it cranked too loud and I am afraid scared the people away. Kk Kevin is still playing in my head. MY BURNING HEAD"
STEVE "SUNNY" GLABMAN
<![if !supportEmptyParas]> "Well, my memory of the tribute show is a little foggy, but I do remember a few things... I showed up a little late-- the show was already underway when I got there (after a very long walk through some dark, deserted, desolate streets, drenched with sweat from the Chicago heat and humidity). I got there just in time to hear Sally Timms sing I'm Just a Man, after which Jon Langford announced that the band was taking a break while some of the Kevin Old Grey Whistle Test film footage from the 70s was shown. Thinking I had missed the major portion of the live music, I asked Ms. Timms if they were going to play anymore, and she assured me "There's lots more where that came from!" So, while quaffing a steady stream of Bass and Blue Moon ales, I pushed my way through the standing room crowd and enjoyed another couple hours of songs, readings, and stories told by the Chicago musicians who had spent time with Kevin.
A major highlight was getting to see "Chicago's biggest Kevin Coyne fan", Mr. Steve Glabman, aka Steve in Space, aka "Sunny", perform Smile Right Back. (Steve also was nice enough to give me a ride to the subway station after the show, so I didn't have to repeat my scarey walk through those dark streets!).
I wasn't taking notes, just enjoying the show, so I can't recall all the songs that were played, but I recall John Wesley Harding (who was in Chicago for a show of his own on the following night) singing Blame it On the Night.... Chris Connelly (formerly of the bands Ministry and Revolting Cocks) playing and singing Lunatic and Looking for the River, Sally Timms also sang Sugar Candy Taxi and Havin' a Party, and Langford and company doing Saviour, Money Like Water (the finale, with everyone on stage pitching in), a few others from One Day in Chicago, and many others I can't recall. Maybe my memory will be jogged in a few days, or I'm sure Steve will check in eventually with his recap.
It was good to see and talk to Helmi, who was very happy with the event, and is planning on spending a few weeks in the US, visiting some friends, including Michael Lipton, the Mountain Stage band guitarist who played with Kevin on his US tours.
That's about all I can come up with for now, I'm still pretty exhausted from a busy weekend in Chicago... I took some photos, which didn't turn out too well, but I'll send them to Pascal in the next few days.
Chris M.
John John Hyatt - referred to in Langford's Obituary of Kevin as having styled his vocal approach on Kevin- has this memory:
"I'll never forget Kevin at Birmingham Town Hall when I was just a firebrat of a lad. The night the band didn't get there until the very end. His solo, acoustic guitar on knee, big thumb pressed down set, lives on in my mind forever, especially "Fat Girl". Also, that play he did for Second City Firsts (I think it was) about the flooded nightclub - "What's that down in the Water? It's a microbe!" Genius at play!"

Steve Glabman a.k.a Sunny a.k.a. Steve in Space

Mr. Glabman, with teddy bear shirt

Chris Connelly

Jon Langford reading a story

John Wesley Harding

Sally Timms
Finale (Helmi Coyne on the right)
PASCAL's KEVIN COYNE HOME PAGE