An article I wrote about every Kevin Coyne albums. It was published in Crossroads, a French Rock magazine in December 2004 a couple of days after Kevin died (although this had been written before). Here is an Engish translation. I did some update recently ("One Day in Chicago" and "Underground").
Kevin Coyne
Better mad than sad...
by Pascal Regis (English translation by Jim Landon)
Kevin Coyne died of a respiratory illness on December 2, 2004 at his Nuremberg home, at the age of sixty. Despite forty albums to his name wasn't Kevin Coyne all but forgotten? He'd gone missing from the racks of most record shops but was still able to fill the 100 Club in London in October 2004, after a short UK tour. Back in the 70's he was deservedly compared to some great names: Beefheart, Van Morrison, Joe Cocker, and even Dylan.
One of the first signings to Virgin, he packed London's Hyde Park in 1974 and made the cover of NME. Nik Kent showered him with praise... It's just that Coyne's approach never fitted with the designated record company career path: he was too demanding, not brainless enough, without enough of the Sid Vicious. He was just Kevin Coyne, with lyrics as well as a voice, a singer with something to say. Uncompromising, honest, sensitive, intelligent; a rock critic rolls out words that aren't supposed to apply to the dumb universe of sex and drugs and rock and roll...
The comparison with Captain Beefheart is interesting for many reasons. Both men were consumed by an incurable artistic sensibility, with a love of the blues shaping their voices, but while the Captain apparently settled for comfortable dementia, Coyne was clearly engaged from the outset in a struggle against madness. The 1979 Rockpalast show, for example, where a new audience got to know him, displayed such a powerful character, such a disturbing and fired-up live performer that he was immediately classified as a parading lunatic. But there Coyne was only pretending, giving a performance. Better to be mad than sad... Coyne the former mental therapist knew so well how to portray madness that later it did come close to consuming him. In his final years, sane and sober, but ageing and in poor health, Coyne continued his work in the face of indifference contrasted with the deep respect of a handful of fans. His concerts remained absolutely unique experiences that usually left the audience in wonder.
THE "SIREN YEARS"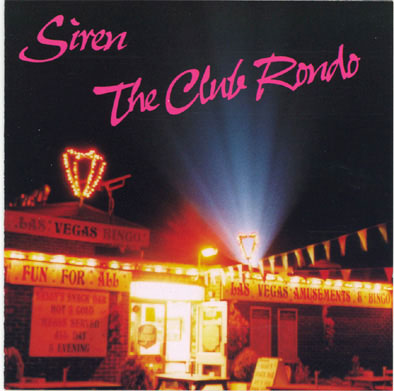 Siren (1969) **
Strange Locomotion (1971) ***
Rabbits (1970) **
Let's Do It (1970) **
The Club Rondo (1970) ****
Ruffstuff (1969-71) **
John Peel's Dandelion-The Complete Dandelion Records Singles Collection 1969-1972 ***
Kevin Coyne The Dandelion Years 1969-1972
****
Kevin Coyne with Nick Cudworth (kbds, gtrs), Dave Clague (bs, gtrs), John Chichester (gtrs), Mick Gratton (gtrs), Mick Sweeney (gtrs), Tat Meager (dms), Colin Wood (flute, kbds).
From 1969-71, Kevin Coyne was the singer with Siren, one of the last bands of the British blues boom. Initially courted by Blue Horizon, the English blues label that put Fleetwood Mac on the map, Siren were finally signed by John Peel's Dandelion Records. In the US, they were handled by Elektra, President and fan Jac Holzman even considering Coyne for The Doors, the very day after Jim Morrison's death. Coyne's reaction: "I didn't fancy the leather pants."
Siren and Strange Locomotion are two really good albums of blues and English-style boogie, along with some beautiful ballads, certain of which ("Asylum") already suggest the tormented songs of later solo albums. Nick Cudworth's magnificent piano work leads the group through some tasty boogie-woogie while Coyne puts himself and his lyrics through their paces. He is feeling for his voice. It sounds promising.
In 1994, Siren bassist and producer Dave Clague released three CDs of studio out-takes. Rabbits and Let's Do It explore similar bluesy territory but The Club Rondo is a neglected little masterpiece. It was entirely improvised in one studio session. Cudworth and Clague keep up a monotonous drone while Coyne lets rip with lyrics, sketches, ditties, Bavarian marches and dialogues with comic provincial English accents. Then, suddenly anticipating Case History, comes "Our Jack", the terrible story of a young mental patient, told by his mother. Stupefying and dazzling.
In 2005, Clague released another rather anecdotal outakes album Ruffstuff. Cherry Red Records had the good idea of releasing all the Siren singles in their 2006 John Peel's Dandelion-The Complete Dandelion Records Singles Collection 1969-1972 3 cd-box. Finally, in 2007, Cherry Red Records again issued a wonderfully remastered 3 cd-box: Kevin Coyne The Dandelion Years 1969-1972, featuring Siren, Strange Locomotion + Case History (see below) and a couple of Siren rarities.
<![if !supportEmptyParas]> <![endif]>
Case History (1972)
Kevin Coyne with Mick Sweeny (gtrs), Nick Cudworth (gtrs), kbds, Dave Clague (gtrs).
Produced by Kevin Coyne.
"It's not just an album, it's a whole period of my life." Recorded in an afternoon and a single take in a little Twickenham studio, Case History is one of those incredible albums that contain such power and intensity they become almost difficult to listen to. Dandelion released it just as it was, without embellishment or overdubs (as Jeffrey "Anti-Folk" Lewis told Kevin when they met in 2004, it is "very low-fi, very raw"). Fuelled by his experiences as a social worker and therapist, Coyne describes the lives of the mentally ill, the social outcasts. Solo on most of the songs and accompanied by members of Siren on the rest, Kevin's delivery immediately sounds as if he had 20 years of experience behind him. From the beautiful melody of "White Horse", through the shrill onomatapoeia of "Araby" to the howls of "Mad Boy", his vocal palette is already of impressive richness and range. The bouncy "God Bless the Bride" is a reprise of Siren, while the dreamlike universe of "White Horse" is ostensibly calm and serene, yet somehow awkward. This dreamy delirium leaves a sense of disquiet but "Uggy's Song", where Cudworth's pretty arpeggios are replaced by Coyne's savage acoustic strumming, grabs you by the throat. It tells the life of a black tramp beaten by the police, who call him Uggy "because they thought he was ugly". The two main poles of the Coyne Universe are here: a compelling tenderness for his outsider friends and a revolt against the indifference of the world towards them. So Coyne remains the social worker, bearing witness. In a few years, cornered by his own demons, he himself would come close to madness. "Sand All Yellow" recounts a psychiatric case where Coyne switches voices to evoke patient and doctor, against a hypnotic backing, all in all quite disturbing. This album marked the appearance of the trademark minimalist Coyne guitar style: an open-tuned acoustic across his knees, his thumb barring the strings while his right hand beat out a frenzied rhythm. ("Evil Island Home" is one amazing example). This primitive guitar, the fiery voice; the ingredients were there to establish Coyne as a major artist, one who would later be described as "the only British musician who ever really had the blues". Blues, yes, but it was provincial working class blues, grimy pub blues, complete with dominant mother, abused children, alcoholic father and other horrors: the blues of a certain time and place. Unfortunately, the demise of Dandelion Records blew any chance of the record's success. Still, Case History is one of the greats. It belongs with Syd Barrett's The Madcap Laughs, or Nick Drake's Pink Moon. One of those timeless albums that after thirty years can still send shivers down your spine.
* * * * *
<![if !supportEmptyParas]> <![endif]>
Marjory Razorblade (1973)
Kevin Coyne with Gordon Smith (gtrs, mandolin), Jean Roussel (kbds), Tony Cousins (bs),
Chili Charles (dms, congas), Steve Verroca (kbds), Dave Clague (gtrs).
Produced by Steve Verroca.
Wiser after the flop of laid back, hippie Dandelion, Coyne signed with Virgin Records, then the new "indie" label. Kevin was the second signing, after Mike Oldfield. It was even suggested that Kevin might add vocals to Tubular Bells, which he wisely declined! Backed by Virgin's clout, Coyne was finally about to show the world what he could do. The album was recorded in a few days at Manor Studios, initially as demos with Dave Clague from Siren, then with session musicians assembled for the occasion. Some of them would form the first Kevin Coyne Band. After Kevin, the album's hero is Gordon Smith, the great acoustic slide guitarist (he'd released the album Long Overdue on the Blue Horizon label). The sound and cohesiveness of the album are largely down to him; the arpeggios of "Everybody Says", the slide of "House on the Hill". Smith is the ideal accompanist; supportive yet modest, brilliant yet subtle.
Over thirty years on, MRB remains the flagship Kevin Coyne album, delivering some of his most famous songs: the moving "Talking to No One"," Eastbourne Ladies" and "House on the Hill", but also the comic "Karate King" and "Good Boy". Or "This is Spain", a satire of the paranoid British holidaymaker who perceives Spain as primitive and hostile. Hungry for studio time, frustrated by the demise of Siren but sure of his ability, Kevin threw body and soul into this record, a double album of rare inventiveness. He was convinced fame was round the corner and freely declared: "I really think I'm a better vocalist than almost anybody I see on stage" and "I'm quite prepared to take on the whole world." He was also very demanding and unwilling to compromise. The record's opener, for example, where he wails a-capella "Marjory's" morbid lament, must have put more than one listener to flight and helped create his reputation as a mentally ill alcoholic. The Virgin bigwigs probably tore their hair out trying to persuade him to open with the catchy "Marlene". But the stubborn Coyne would always defend the integrity of his work at all costs, even at the risk of scuppering his career.
The album has been reissued by EMI in January 2010 including an extra cd full of rare or unheard songs.
* * * * *
<![if !supportEmptyParas]> <![endif]>
Blame It On The Night (1974)
Kevin Coyne with Gordon Smith (gtrs), Tony Cousins (bs), Chilli Charles (dms),
Ruan O'Loghlainn (sax), Fi Trench (kbds).
Produced by Steve Verroca.
The unobtainable record. For mysterious marketing reasons this essential album was only pressed in limited quantities and today can only be found at crazy prices, being also the sole title excluded from the CD release of Coyne's Virgin back catalogue in the 90s. Fans still scour the internet in search of this overlooked masterpiece, and masterpiece indeed it is. Perhaps less startling than Marjory, Blame It On The Night is nevertheless in the same vein. On the one hand there is the folk-blues-boogie of "I Believe In Love" and "Poor Swine" (and its amazing lyrics where Coyne feels pity for a coal mine boss facing his employees). On the other, the disturbing madness of "Witch" or "Don't Delude Me" (is Coyne presenting a clinical case, or is he himself mad?). The album is again perfectly served by Gordon Smith and band, a solid blues-rock combo compliant to every whim of the maestro Coyne. The album begins with the opening cackle of "River Of Sin", a laugh that some feel was echoed by Johnny Rotten in "Anarchy In The UK". Rotten later admitted to being a Coyne fan. Rebels Of The World, Unite.
The album has been reissued by EMI as a download only in January 2010 including bonus rare or unheard songs.
* * *
<![if !supportEmptyParas]> <![endif]>
Matching Head And Feet (1975)
Kevin Coyne with Archie Leggett (bs), Tim Penn (kbds), Andy Summers (gtrs),
Gordon Smith (gtrs, harmonica), Peter Woolf (dms).
Produced by Geoffrey Haslam.
"The power we had was becoming a little too orthodox. I didn't have the power I needed." The sound of the first two albums was no longer enough. Coyne wanted big venues and a big sound. The spiral that would lead to to a live double album (that inevitable '70s beast) was set in motion, probably stoked by Virgin, who wanted hits and commercial success. The faithful Tony Cousins was replaced on bass by Archie Leggett (ex Kevin Ayers). Gordon Smith stayed, but was buried beneath the sound of Andy Summers (studio guitar-hero just out of Eric Burdon's New Animals) who would bring the house down with The Police a couple of years later. (Kevin always remembered bumping into him in the studio during the recording of Outlandos d'Amour, and chuckling at his new peroxide hairdo : "We thought, this is Andy's last chance to make something." Apropos The Police, Sting is also a declared Kevin Coyne fan). The battle of egos between the two guitarists swang in favour of Summers, who remained to shine alone on the next two albums. Matching Head and Feet is an imperfect album full of gems. While "Saviour" or the marvellous "Sunday Morning Sunrise" always remained live crowd pleasers, songs like "Rock'n'Roll Hymn" or "Tulip", plus the '70s production, leave the album somewhat dated. Still, the critics found it more "accessible" at the time, more "commercial" than Marjory or Blame It, which they considered too "introspective". Geoffrey Haslam had production credits with The Velvet Underground (Loaded), The MC5 and The J Geils Band, but contented himself with simply adding the odd touch of strings or brass.
The album has been reissued by EMI as a download only in January 2010 including bonus rare or unheard songs.
* * *
<![if !supportEmptyParas]> <![endif]>
Heartburn (1976)
Kevin Coyne with Zoot Money (kbds), Andy Summers (gtrs), Steve Thompson (bs),
Peter Woolf (dms).
Produced by Norman Smith.
This album is not unlike Matching Head & Feet, but is more problematic. The coldness of the sound and the cleaner production rob us of the wild side of Coyne. "Strange Locomotion", with its pleasant psychedelic imagery, is superb but is an old Siren number. "America" is both strangely lyrical and comic, while "I Love My Mother" wallows in thick layers of strings. Most of the songs were set to benefit from live renditions on the next album. Heartburn is a transitional work that has some aces in the pack but doesn't quite manage to succeed. The disturbing sleeve is by Hipgnosis.
* *
<![if !supportEmptyParas]> <![endif]>
On Air (1975, issued in 20008)
Kevin Coyne with Zoot Money (kbds), Andy Summers (gtrs), Steve Thompson (bs), Peter Woolf (dms).
Recorded for German Radio, this album – not unlike the 'In Living Black & White' album – documents the amazing Kevin Coyne band at its peak. Out of the very few cds curently available, this one is highly recomanded
***
In Living Black and White (live 1976)
Kevin Coyne with Zoot Money (kbds), Andy Summers (gtrs), Steve Thompson (bs), Peter Woolf (dms).
Produced by R. J. Lange and Steve Lewis.
One of the best known Kevin Coyne records, with its famous cover (on the back we find that the smiling Coyne conceals a cut-throat razor..), it attracted a whole new audience. The concerts were billed as "An Evening With Kevin Coyne, His Music, His Words, His Band". The band is a perfect whole, in sound and in power. Summers is a giant, whether with lavish solos, the frenzied rhythms of "Eastbourne Ladies", or even the acoustic purity of "Big White Bird". Virgin must have rubbed their hands in glee at three sides of great rock. Yes, only three, since the first side succumbed to the inevitable Coyne axiom: when it gets too obvious or easy, do the opposite of what people expect. So this live double opens with "Case History #2" - an unprecedented piece, perhaps one of the most astonishing of his career. Accompanied by the sublime Zoot Money on electric piano, Coyne delivers strange dreamlike texts and poetical ravings, followed by some grotesque and distressed crooning. Then come the famous roars of "Fat Girl", with Coyne's primitive guitar lashing out a furious rhythm. When the full band eventually comes together on a diabolical Eastbourne Ladies, it is clear that we are dealing with an unclassifiable artist, a giant personality. Unclassifiable, and unmarketable... Were there economic reasons that forced the break-up of this group, or did Coyne decide to take risks again? "The last band I had was so good I don't think we could do very much more," was his comment. Whatever it was, Virgin were keen to capitalise on the live album but found themselves on the next tour with only Coyne and Money alone on stage, low-budget music-hall style. Some memorable TV appearances around this time won more than a few converts: on the French show Chorus, where he broke the acoustic guitar's strings one by one, and in Germany on the later, unforgettable Rockpalast, where Kevin pushed theatre to a point where it was hard to believe he wasn't actually mad. The legend was born.
The album has been reissued by EMI as a download only in January 2010.
* * *
<![if !supportEmptyParas]> <![endif]>
Beautiful Extremes 1974-1977 / Beautiful Extremes Et cetera (compilation 1974 - 1978)
Kevin Coyne solo, and with Bob Ward (gtrs).
Another famous record and a favourite of many fans, although never reissued on CD. Everyone has their own favourite track : it's a cult album. Completists be advised, Beautiful Extremes 74-77 was released in 1977, while Etcetera came out in a different cover and with two different songs in 1983. Maybe one day Virgin will wake up and re-release these gems. An acoustic Coyne album is a rarely offered pleasure, and Beautiful Extremes is one of the most successful examples. Recorded alongside the "official" albums, the pieces here are either fine jewels ("So Strange", "Poor Little Actress") or uncut diamonds ("Mona", where Kevin cries endlessly, "Mona, where's my trousers?" in the left speaker, and relives a painful childhood memory in the other). This is pure art-rock, as well as the realm of the short story, such as Kevin would begin to publish in the 90s. If you had to gauge the talent of the man by listening to only one album, perhaps this would be the one to seek out.
* * * * *
<![if !supportEmptyParas]> <![endif]>
Dynamite Daze (1978)
Kevin Coyne with Zoot Money (kbds), Bob Ward (gtrs), Al James (bs), Vic Sweeney (dms),
Paul Wickens (accordion, dms, mini-moog, congas) and Tim Rice (kbds).
Produced by Kevin Coyne and Bob Ward.
Dynamite Daze is a tremendous album. Coyne burnt his bridges and changed direction radically. The success that was emerging with In Living Black And White eluded him with this album, which rejected any easy options and challenged anything that moved. It was recorded in a tiny London studio (Coyne didn't believe in studio tricks and overdubs, and prefered to improvise as fast as possible and waste as little money as possible, so as to keep the rest for himself and his family). The musicians who accompany him here Ð soon to be McCartney pianist Paul Wickens, for example - were all flabbergasted to hear him completely change a song's lyrics from one take to the next. "I never write lyrics down." Each side of the record opens with a jubilant, aggressive boogie ("Dynamite Days" and "Amsterdam"), passing onto moving and unnerving ballads ("Lunatic", "I Only Want To See You Smile", "Are We Dreaming"). The production is intimate and concentrated compared to earlier albums, with no guitar solos. The arrival of guitarist Bob Ward, doubling as producer, changed the set-up. He would stay with Kevin for several years. Lyrically, things were a little more worrying. "Brothers Of Mine" ("Workers of the world unite and put the poor boy down") and "I Really Live Round Here" ("You're laughing at my wife... My children are scared") revealed depths of paranoia no longer concealed by artistic or clinical detachment. Coyne was beginning to stumble. Dynamite Daze was also a rare example of a '70s artist gleefully welcoming the punk explosion of '76-77. Delighted by the trouble-making Sex Pistols, Coyne hoped naively that their healthy slap in the face of showbusiness was about to change it.
The album has been reissued by EMI as a download only in January 2010 including bonus rare or unheard songs.
* * * * *
<![if !supportEmptyParas]> <![endif]>
Millionaires and Teddy Bears (1978)
Kevin Coyne with Bob Ward (gtrs), Paul Wickens (kbds), Vic Sweeney, (dms), Al James (bs).
Produced by Kevin Coyne and Bob Ward.
No more photos, here come the paintings. Coyne, forever a painter, illustrated all his album covers from here on. Painting had always been a second form of expression for him but would become especially important in the 90s, with his first exhibitions in Germany. Millionaires And Teddy Bears was the logical follow-up to Dynamite Daze : the same sound, same atmosphere, and same musicians. "Having A Party" is a head-on attack against showbiz and the record companies, where Coyne dreams he's trapped in a hall full of golden discs and someone asks "which one is yours?" - he has to confess that he "hasn't got a single one at all". In concert, the chorus of "spot the millionaires" usually became "fuck the millionaires"... Millionaires And Teddy Bears was to have been called Women. The album is effectively full of songs dedicated to women. Battered women, exploited women, a woman who dreams of baking a beautiful cake to throw at her husband, who responds, "Marigold, you're dreaming...".
* * * * *
<![if !supportEmptyParas]> <![endif]>
Babble with Dagmar Krause (1979)
Kevin Coyne and Dagmar Krause, with Zoot Money (kbds), Bob Ward (gtrs), Al James (bs), Vic Sweeney (dms), Paul Wickens (kbds) and Jerry Decade (kbds).
Produced by Bob Ward.
The fuss surrounding Babble was not about to cure Coyne's galloping paranoia. As he began staging this musical comedy (written in 1976) with Dagmar Krause (German art-rock muse, ex-Slapp Happy, Henry Cow, and Art Bears), Kevin had the bad idea of pointing out that the story of "lovers struggling to communicate" could have something in common with the lives of Myra Hindley and Ian Brady, the serial killers whose story had shocked Britain ten years before. The famous rabble-rousing vulgarity of the British tabloids was immediately unleashed. They ridiculed the long-haired highbrow who sought to justify the terrible crimes and the play was eventually cancelled. The record, in the same musical vein as Dynamite Daze and Millionaires, is an ultra-powerful and compact masterpiece (even if Krause's hysterical soprano put off more than one). Over a three year period, Coyne had released a stream of progressively stronger songs. He was literally overflowing with creativity (for England England, another strange musical comedy, that remained unpublished, Coyne wrote as many as six songs a day!). Add to that the endless touring, record company pressure, frustration over a lack of commercial success and increasing alcoholism. Something had to give...
* * * * *
<![if !supportEmptyParas]> <![endif]>
Bursting Bubbles (1980)
Kevin Coyne with Brian Godding (gtrs), Bob Ward (gtrs), Vic Sweeney (dms), Chris Hunter (sax).
Produced by Kevin Coyne and Al James.
Kevin Coyne apparently suffered several nervous breakdowns and lived through some tough times at the start of the '80s. Bursting Bubbles with its alarming cover is both unbearable and magnificent. There were some changes in the line-up, with crucially the arrival of the magnificent Brian Godding, a little-known jazz-rock guitarist from the legendary sixties band Blossom Toes. A strong character - Kevin considered him one of the rare geniuses he had come across but also admitted they had terrible fights during their collaboration - Godding leads Coyne in a very different direction from previous albums. The sound is cold, the atmosphere disturbing. With drum machines, heart-rending sax, and Coyne's improvised moaning, we are steeped in anxiety as if finally in a true blues record, the artist describing his pain frankly, without frills. A bizarre and stripped down blues.
* * * * *
<![if !supportEmptyParas]> <![endif]>
Sanity Stomp (1980)
Disc 1.
Kevin Coyne with The Ruts: Paul Fox (gtrs), Segs (bs), Dave Duffy (dms), Gary Barnacle (sax) and Paul Wickens (kbds).
Produced by Paul Wickens.
Disc 2.
Kevin Coyne with Brian Godding (gtrs, kbds), Robert Wyatt (dms), Bob Ward (gtrs).
Produced by Kevin Coyne.
A double album with no coherent link between the two records. Or perhaps just a typically uncompromising Coynesque coherence, agreeing to record the first disc with The Ruts from a "commercial rock-pop" angle, while the second disc would be a more extreme experiment with Brian Godding and Robert Wyatt... Always full of ideas, Virgin saw Coyne as a replacement for the recently deceased Ruts lead singer. Coyne saw it merely as a chance to show that he was just as punky as any of these youngsters. The result is a strange disc one: not bad but no great revelation either, although Coyne does well in the role of punk singer pushing forty. But the real jewel is disc two: it still seems a shame that Wyatt wasn't invited to sing at all but apparently Kevin's mental state at this time did not allow him to share the spotlight. Some superb pieces, built on Wyatt's subtle percussion and Godding's odd arpeggios, provide Kevin with an amazing and solid backing for some long dreamlike ravings ( "New Motorway", "Wonderful Wilderness") as well as comic pieces ("My Wife Says" or "The World Speaks" with its hilarious roll call: "Yoko, peace...cabbages, peace"). The album ends abruptly with "You Can't Kill Us", a return to plain, aggressive Coyne blues: " you can say I'm neurotic, say I'm psychotic.. but you can't kill me".
* * * *
<![if !supportEmptyParas]> <![endif]>
Pointing The Finger (1981)
Kevin Coyne with Brian Godding (gtrs), Steve Lamb (bs), Dave Sheen (dms), Steve Bull (kbds).
Produced by Kevin Coyne and Brian Godding with G.L.S.
The break with Virgin was followed by another attack of depression. The sleeve - the autistic painting on the front and the depressing rear photo - said much about the suffering of the guy. And the music isn't playful either. Yet, Pointing The Finger is a favourite among fans. It's the only album recorded with GLS (Godding-Lamb-Sheen, plus Steve Bull on keyboards), the group accompanying him on stage, a brilliant combo of young musicians from the jazz-rock scene. Godding is the master of ceremonies and the missing link between Jimmy Page and Jeff Beck, a monster guitarist capable of the most sophisticated jazz-rock arpeggios as well as killer riffs ("As I Recall"). Coyne harnesses all this energy to express his discontent and carry his lyrics. His sleeve notes, detailing the theme of each song, are a valuable glimpse into the Coyne creative process. An extremely powerful album, bearing witness to the schism between rebellion and impotence which resided in the artist.
* * * * *
<![if !supportEmptyParas]> <![endif]>
Politicz (1982)
Kevin Coyne with Peter Kirtley (gtrs), Steve Bull (kbds).
Produced by Kevin Coyne, Peter Kirtley and Steve Bull.
Another good example of the way Coyne used the talents of his sidemen. Steve Bull offered him some rough synthesiser demos which Coyne seized on. Refusing to re-record them, he improvised lyrics on top and released the result intact. The album was completed with songs accompanied brilliantly by Peter Kirtley on acoustic guitar (he had replaced Godding in the live band). Despite the electronic-acoustic dichotomy, Politicz works perfectly: Coyne is at the peak of his art. "Banzai" and "Tell The Truth" are harrowing plunges into the world of madness over heady techno loops. "I've Got The Photographs" and "Flashing Back" are examples of precious - and all too rare - acoustic moments in the the Coyne oeuvre.
Cherry Red re-released Politicz with Pointing the Finger on one cd.
* * * *
<![if !supportEmptyParas]> <![endif]>
(LP, 1st CD, 2nd CD reissue)
Rough, Kevin Coyne Live (1983)
Kevin Coyne and Peter Kirtley (gtrs), Dave Sheen (dms), Steve Lamb (bs).
Recorded live at Schauburg, Bremen, Germany, 6th December 1983.
A fantastic band just before the break-up and breakdown. Coyne was about to collapse under the weight of divorce, alcoholism and depression. He'd move to Germany with some desperate years ahead. His fans would hear nothing of him and would file him accordingly - in the forgotten section. The sound of Rough is powerful, with Kirtley's guitar and his inspired solos, and rhythmically perfect: Lamb is a virtuoso of the fretless bass. Coyne revisits "House On The Hill" and "Pretty Park" in forceful and lyrical style, and lets rip with "Monkey Man", and a mutilated version of "Lucille". Disappointingly short as an LP but the '90s CD reissue restored several unreleased numbers.
* * *
<![if !supportEmptyParas]> <![endif]>
(LP, CD)
Legless In Manilla (1984)
Kevin Coyne with Dave Sheen (dms), Steve Lamb (bs), Pete Hope-Evans (harmonica).
Produced by Kevin Coyne.
Released on his own label ( "Collapse", which duly collapsed immediately), Legless In Manilla is a superb if rather forgotten album. The absence of a guitar soloist (Coyne and Kirtley no longer getting on... how many musicians did Coyne exhaust in this way?) makes it one of the bluesiest Kevin Coyne albums. "Big Money Man" and "Money Machine", are almost solo Coyne. The album's big moment is the superb hypnotic lament of "Gina's Song". The blues are well balanced by the good old improvised ravings of "Zoo Wars" or "Raindrops On The River".
* * *
<![if !supportEmptyParas]> <![endif]>
Stumbling Onto Paradise (1987)
Kevin Coyne with Hans Pukke (gtrs), Robert Steinhart (bs), Falk Steffen (dms).
Produced by Hans Pukke, Kevin Coyne and Wolfgang Eller.
The first German album, which passed almost unnoticed at the time due to lack of distribution. In retrospect, this isn't such a bad one, it's the next albums that are really poor.. Still, the clean break between this and earlier albums, the violent immersion into a sound overworked by neat studio musicians is hard to take for a Marjory Razorblade fan. If "Tear Me Up" and "Victoria Smiles" manage to explore new avenues, the rest succumb to some disheartening clichŽs ("Back Home Boogie", "How Is Your Luck" ).
* *
<![if !supportEmptyParas]> <![endif]>
Everybody's Naked (1988) *
Kevin Coyne with Hans Pukke (gtrs), Robert Steinhart (bs), Falk Steffen (dms) and Henry Beck (kbds).
Produced by Hans Pukke and Wolfgang Eller.
Romance-Romance (1990) *
Kevin Coyne with Hans Pukke (gtrs), Henry Beck (kbds), Friedl Pohrer (bs), Martin Mueller (dms).
Produced by Hans Pukke and Wolfgang Eller.
Wild Tiger Love (1991) *
Kevin Coyne with Hans Pukke (gtrs), Henry Beck (kbds), Friedl Pohrer (bs), Martin Mueller (dms), and special guest Norbert Nagel (sax).
Produced by Hans Pukke and Charlie Bauerfeind.
Nothing could be further from earthy Coyne blues and studio improvisation than the meticulous chill of the German musicians who formed the Paradise Band from 1985 to 1992. However, they don't deserve a stoning. On arrival in Nuremburg, Coyne was a depressed, alcoholic wreck, a virtual tramp. He was divorced, had abandoned England, had no guitar and lived in a squat. The local musicians' association got him playing in return for food and board, to stop him from drinking everything. They formed a group around him made up of the best musicians in the area and eventually managed to straighten him out. Without all those fine people - particularly his second wife - Kevin would probably have paid with his life. Depressed and disinterested, he recorded three poor albums with these guys, without much conviction. In contrast to earlier albums, where he controlled the musicians, taking the best of each and "Coynifying" it, here he was merely strolling. "The most important thing was to get what they call a good studio sound. What the hell is that? I've never known, and I've never found out!" Super clean, with ordinary music, these discs have next to nothing memorable about them, even if hard-core devotees perhaps find traces of former genius within the syrup or the hard teutonic middle-of-the-road. ("Take Me Back In Your Arms", "The Bungalow Song"). This was apparently a necessary step in escaping from the abyss.
<![if !supportEmptyParas]> <![endif]>
Peel Sessions (compilation 1973-1990)
Attention, masterpiece! John Peel was always a fan, first signing Coyne to Dandelion records, then continuing to invite him regularly to BBC sessions. Coyne often brought along new songs, unreleased versions or improvisations. This collection is superb (but very incomplete - there is enough quality material in the archives to fill 4 CD's). This album covers the Marjory and Matching line-ups (the improbable and clownish "Dance Of The Bourgeoisie"), through to Bob Ward let loose on electric guitar ("That's Rock'n'Roll", a homage to punk to take your breath away), by way of poignant ballads often invented on the spot ("Do Not Shout At Me Father" or the harrowing "Rivers Of Blood"). Coyne shows himself, for those who missed him on stage, as an incredible performer. The lucky ones who saw him improvise on stage with the playful Jeffrey Lewis in February 2004 in Paris had proof that age and illness never diminished his stage presence.
* * * * *
<![if !supportEmptyParas]> <![endif]>
Burning Head (1992)
Kevin Coyne with Hans Pukke (gtrs, kbds) and Robert Coyne (gtrs).
Produced by Hans Pukke.
What a daft idea! Coyne had returned to painting and by the start of the '90s his German exhibitions were going pretty well. So record company Rockport suggested he release his next album as a limited edition of 1000, including an original artwork with each copy, at a price of.... 350 deutschmarks! Suffice it to say that over ten years later the 1000 copies are still not sold out (notice to converts: negotiation possible..). Burning Head was a turning point. Most of it is like earlier German efforts, dominated by Hans Pukke and his immaculate, insipid production, but Coyne was waking up and penned several songs with his rudimentary guitar accompaniment of old. Burning Head also marked the appearance of Robert Coyne, Kevin's second son, who would soon aid his father's musical reawakening. "Hope The Devil Don't Come" has a flavour of Springsteen, and "Totally Naked" is 100% Coyne. He would soon be back!
* *
<![if !supportEmptyParas]> <![endif]>
Tough And Sweet (1993)
Kevin Coyne with Henry Beck (kbds), Robert Coyne (gtrs, kbds, dms, bs), Eugene Coyne (vocals), Hans Pukke (gtrs, kbds).
Produced by Kevin Coyne and Henry Beck.
Tough And Sweet confirmed the comeback. With the help of his two sons, Coyne returned to basics. Soulless virtuosity was on the way out, along with impersonal production. Kevin was once more provided with the necessary backing for his improvisations. Robert is a basic guitarist, the rough sound of his Les Paul recalls Bolan. Kevin was back in form. "Let's Get Romantic", a duo with his older son Eugene, is a joy. Hans Pukke and Henry Beck still provided their compositions, unbalancing the album somewhat, but this kind of fire and ice had become familiar in a Coyne album. Things were back on track: Tough And Sweet already anticipated the excellent Sugar Candy Taxi.
* * *
<![if !supportEmptyParas]> <![endif]>
Elvira / Songs from The Archives (1979/1983)
Elvira: Kevin Coyne with Bob Ward (gtrs).
Produced by Kevin Coyne.
Archives: Kevin Coyne with Brian Godding (gtrs), Steve Bull (kbds), Martin Normington (sax), Dave Sheen (dms), Steve Lamb (bs).
Produced by Kevin Coyne and Bob Ward.
In 1994, Rockport had the good idea of releasing some old, unheard tracks. Elvira is a musical comedy in the Babble mould. Here are the simple demos sung by Kevin and it's a real treat to discover these '70s gems. The songs From The Archives date from 1983 and it's easy to understand why no label released them at the time. They spring from probably the maddest Coyne period. The musicians improvise and Coyne screams. It's Beefheart territory, tough.
* * *
<![if !supportEmptyParas]> <![endif]>
The Adventures Of Crazy Frank (1995)
Kevin Coyne with Friedl Pohrer (gtrs, bs, kbds), Werner Steinhauser (dms), Henry Beck (organ), Willi Pichl (oboe), Keili Keilhofer (gtrs).
Produced by Friedl Pohrer and Kevin Coyne.
Coyne was always fed by English music-hall tradition (for example in the hilarious old songs "Karate King" or "Good Boy" as well as in the theatrical flavour of his performances). The Adventures Of Crazy Frank is a complete piece inspired by the life of Frank Randle, the alcoholic English comedian of the '40s and '50s. Coyne, who was attending Alcoholics Anonymous, turned over a page of his past in telling these stories of the DT's and broken marriages, all in good humour. Crazy Frank is a pleasant acoustic album, and ex-Paradise Band bassist Friedl Pohrer reveals himself as a good accompanist, discreet but effective.
* *
<![if !supportEmptyParas]> <![endif]>
Knocking On Your Brain (1996)
Kevin Coyne with Gary Lucas (gtrs), Tom Liwa (synthesizer), Ali Neander (gtrs),
Wily Wagner (bs), Ralf Gustke (dms, percussion), JŸrgen WŸst (organ, kbds),
Constanze Posth (cello, saxophone).
Produced by Ali Neander and Kevin Coyne, co-produced by Tom Liwa.
A step backwards, although Knocking On Your Brain got a good press at the time, mainly thanks to the presence of Beefheart guitarist Gary Lucas, who co-wrote two titles, "Wonderland" and "English Rose". The other musicians were top German session-players who jammed together, leaving Coyne free to improvise at will. The results were mixed, and some terrible gaffes (the awful German reggae of "Aching Heart") ruin a double CD where greater selectivity should perhaps have reduced it to a single disc.The fine autobiographical ballad "Weirdo" is notable.
* *
<![if !supportEmptyParas]> <![endif]>
Sugar Candy Taxi (1999)
Kevin Coyne with Robert Coyne (kbds, gtrs, dms), Eugene Coyne (vocals, kbds),
Hans Raths (sax, flute), Alexander BŠtzel (dms).
Engineered by Thomas Adapoe.
"My most honest record in years." Robert Coyne had a free hand and co-wrote all the songs. His almost naive style sets the tone of a charming album, the most effective of all Kevin's '90s output. Robert embellishes the production with some beautiful layered organ that lends a pleasing subtlety to the title track (a jokey incident involving Al Capone). Besides some pleasant and effective boogie ("My Wife's Best Friend" and "Happy Little Fat Man", which Kevin usually dedicated to himself on stage), the album also marked the return of barmy numbers ("Almost Flying", and "Fly"), and solo ("Porcupine People").
* * * *
<![if !supportEmptyParas]> <![endif]>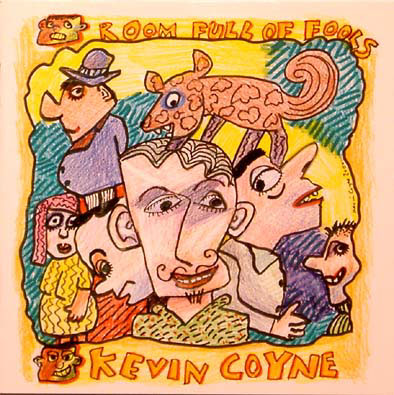 Room Full Of Fools (2000)
Kevin Coyne with Robert Coyne (gtrs, bs, kbds), Steve Smith (dms), Werner Steinhauser (dms).
Produced by Kevin Coyne and Robert Coyne.
Engineered by Thomas Adapoe and Ben Elliot.
A worthy successor to Sugar Candy Taxi, this album drives home the point. The title track is again an effective T. Rex-type boogie. Strange songs alternate with nice nostalgic ballads. A pleasingly similar flavour to its predecessor has Coyne in good form improvising in the studio again ("The Einstein Song", "Whispering Desert").
* *
<![if !supportEmptyParas]> <![endif]>
Life Is Almost Wonderful with Brendan Croker (2002)
Kevin Coyne and Brendan Croker (acc gtrs).
Recorded by Werner Steinhauser (Nuremberg) and Bruce Wood (Leeds).
Why this one didn't win a four star rating in all the rock (or folk) magazines and a place among the classics of 2002 is a mystery.. except that a complete absence of distribution didn't exactly help. Also the CD was only sold - expensively - at concerts by the duo. If they had set out to be invisible they couldn't have planned it much better. Coyne and Croker - who has played with Clapton and Knopfler - are two artists not bothered about record company deals, distribution and other practical matters. Never mind, the main thing is this marvellous acoustic album. Although "recorded by post" (Croker sent the basic guitar tracks and Kevin improvised the lyrics on top), the album is an amazing symbiosis, as if the two were on exactly the same wavelength. The promotional tour also confirmed this: it was a joy to see Croker guffawing at Kevin's rants. There are too many great titles to detail here. Life Is Almost Wonderful is a masterpiece where Coyne, with Croker's acoustic backing (some lavish guitar-harp included), conjures up wartime memories, the '50s of his childhood, catholic schools and other peculiar subjects such as the multicoloured eyes of parrots and the story of an English clerk trying to dig through his garden to Australia.
* * * * *
<![if !supportEmptyParas]> <![endif]>
Carnival (2002)
Kevin Coyne with Robert Coyne (gtrs, kbds), Werner Steinhauser (dms), Michael Lipton (gtrs).
Produced by Kevin Coyne and Robert Coyne.
Carnival is in the same vein as Sugar Candy Taxi and Room Full Of Fools but the songs are perhaps a little less easy. It marked the arrival of American Michael Lipton, a fine guitarist who played with Coyne on his US tours (Kevin had only begun performing in the US about ten years earlier, to polite indifference..). Lipton would also appear on the next CD and here contributes "Charlene", a fine ballad. Robert leads his dad in an improbable quasi-techno reprise of "Rolling And Tumbling" that is quite effective.
* * *
<![if !supportEmptyParas]> <![endif]>
One Day In Chicago with Jon Langford & The Pine Valley Cosmonauts (recorded 2002, issued 2005)
Kevin Coyne with Jon Langford (vocals, guitar), Robert Coyne (guitar, drums), John Rice (guitar, mandolin, bazouki), Pat Brennan (keyboards), Tom V. Ray (bass, guitar), Dan Massey (drums), Lil' Willy Goulding (drums), Dave Alvin (guitar), Dean Schlabowske (vocals).
Tracks 1-11 recorded at Western Sound Lab, Chicago, IL, Dec 2002 by Ken Sluiter.
Tracks 12 -14 recorded live at the Old Town School Of Folk Music, Chicago, Dec 15 2002.
Produced by Jon Langford
Invited to play a show in Chicago by his old friend Jon Langford (of Mekons fame), Coyne agrees to spend time in the studio with Langford musicians. In a frenzied session, Kevin rushes into an amazing and endless improvisation the musicians just have to follow. The bonus tracks recorded live make of this One Day in Chicago an excellent album, a proof how Coyne had lost nothing of his creativity and edge only two years before he died.
* * * *
Donut City (2004)
Kevin Coyne with Robert Coyne (kbds), Andreas Blüml (gtrs), Michael Lipton (gtrs), Harry Hirschmann (bs), Werner Steinhauser (dms), Andrea Fleissner (backing vocals).
Produced by Kevin Coyne et Werner Steinhauser.
For Kevin Coyne fans this album is a real celebration, kind of a collection of his various strengths. For others it's the perfect disc to discover a character with his creativity intact despite age and ill health (Coyne, 60, was one year into a respiratory illness but his voice remained undiminished). In full control of his skills, Coyne controls the album perfectly form start to finish. The sound is plain, the musicians working only to enhance the voice and lyrics. This band was also his last stage combo: Andreas Bluml, Harry Hirschmann and Werner Steinhauser, who also co-produces. They are joined on a few tracks by Robert Coyne, again contributing some of his slightly troubled, hypnotic pop tunes, and Michael Lipton, who closes out the album banging on his reverb unit. But Coyne is the star. The incredible vocalist, the songwriter with lyrics that are personal, distressing, alarming or just plain crazy. He composed several songs on the piano, and he had a very personal playing method. To use the Beefheart analogy again, Kevin played piano as the Captain used to play sax. Musically, we run through all aspects of his talent. Acoustic blues-rock, with the trademark basic strumming. "No More Rain", a kind of country-pop ballad recalling the classic "Marlene". Then a swerve into pure delirium with the eerie "I Hear Voices" or the pure madness of "Come Back Home", a gospel prayer backed by fisted, distorted piano. Not to forget "Big Fat Bird", with the Coyne speciality of a background voice repeating a rhythmic phrase throughout the song, reminiscent of the unforgettable "Mona Where's My Trousers". "Crocodile" works as a metaphor for his illness, while the superb "Smile Right Back" is worthy of Beautiful Extremes. It all defies any kind of labelling. It's just Kevin Coyne. It shifts from blues to avant-garde without warning. As on most of his albums, Coyne improvised both music and lyrics in the studio, so that the musicians recorded their parts after the vocals: a back to front world. He often sang "I'm Still Here!" He was almost forgotten, playing small venues and selling few discs but he didn't care. He knew his worth and he carried on. He left us at his artistic peak. Let yourself be moved.
* * *
<![if !supportEmptyParas]> <![endif]>
Underground (recorded 2004, released 2006)
Kevin Coyne with Andreas Blüml (guitars, ukelele, banjo), Harry Hirschmann (bass), Werner Steinhauser (drums, percussion, bass, keyboards) and Michael Lipton (bass, guitar) and Andreas Fleissner (backing vocals).
Produced and engineered by Werner Steinhauser for Coyne-Steinhauser Productions.
As with any posthumous record, one wonders how the artist would have wanted the final product. Compared to the roughness of One Night in Chicago, there are here some pretty arrangements and backing vocals as well as some rather weak songs. Still, two songs will stand as Kevin Coyne's testament: "Underground" and "Baby Billy" will be remembered as beautiful and moving songs by an artist lucidly facing the idea of his death.
* * *
Also:
Let's Have A Party (compilation 1973-76)
An LP compiled from a few singles, plus live tracks from the Heartburn era on the B-side.
Non-essential, and virtually unobtainable anyway.
<![if !supportEmptyParas]> <![endif]>
Sign Of The Times (compilation 1973-80)
This CD is a fine collection from the Virgin years, with several titles from Blame It On The Night.
<![if !supportEmptyParas]> <![endif]>
Bittersweet Love Songs (compilation 1984-95)
A compilation from the German period that you might do well to carefully avoid.
I want my Crown - The Kevin Coyne Anthology - 1973-1980 (compilation)
The perfect anthology, compiled in 2010 by Kevin's sons Eugene and Robert. A 4-CD box set.
<![if !supportEmptyParas]> <![endif]>
<![if !supportEmptyParas]> <![endif]>