PASCAL's KEVIN COYNE HOME PAGE
---
BURNING HEAD ARTWORK
In 1992, Kevin painted 1000 different paintings, on fine paper, for his « Burning Head » CD.
The CD was available as a limited edition of 1000 copies.
Each copy was numbered and signed by Kevin Coyne and came with one of the 1000 paintings, signed too.
Our friend Horst recently suggested we scan the paintings and collect them on this page.
So here's the very few the Kevin Coyne Group owned or tracked down so far. Any addition is very welcome.
Here is the standard Burning Head artwork:

Horst's copy (#955)
Egil's copy, # 610
Martin's copy, #503
My copy, #789
Bones, #584
Bones again, 846
and again, 511
and again, 677
Wil ,#327
Wil #585
and Wil #202
Ken Hottmann #586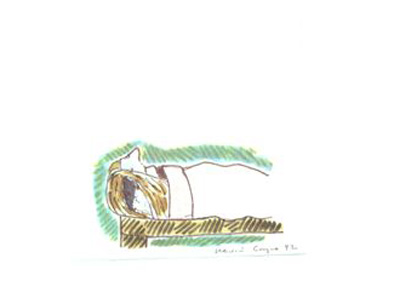 Two copies for sale on e-bay
A flyer for an exhibition:
Tony sent several drawings collected over the years (not out of the Burning Head series):
Another flyer sent by Horst:
This page made with help from the KEVIN COYNE GROUP, a place where fans can meet and share.